In the recent years, Advanced Micro Devices has reduced the amount of new graphics processors it releases per annum, which lead to massive erosion of its market share and revenue. While the company hopes that its latest product lineup will help it to regain some of the lost share and improve earnings, the firm pins considerably more hopes on an all-new family of products that will be released in 2016.
AMD's code-named "Arctic Islands" family of products will include three brand-new chips – "Greenland", "Baffin" and "Ellesmere" – a source with knowledge of AMD plans said. The "Greenland" will be the new flagship offering for performance enthusiasts, whereas the "Baffin" and "Ellesmere" will target other market segments, such as high-end and mainstream. It is unclear whether the "Arctic Islands" family will take in any existing products, but it is possible that AMD may address certain markets with previous-gen products.
"Greenland" will be AMD's first graphics processing unit based on the all-new micro-architecture, which development began a little more than two years ago. While the architecture is currently known as another iteration of GCN, the new ISA [instruction set architecture] will be so considerably different compared to the existing GCN that it has every right to be called "post-GCN", the source said. It is likely that the "Greenland" will retain layout of the contemporary AMD Radeon graphics processing units, but there will be significant changes in on the deeper level.
The only official thing currently known about the new architecture, which Mark Papermaster, chief technology officer of AMD, calls the next iteration of GCN, is that it is projected to be two times more energy efficient compared to the current GCN. Essentially, this means means major performance enhancements on the ISA level. Thanks to the fact that the "Greenland" graphics processing unit will be made using either 14nm or 16nm FinFET process technology, expect it to feature considerably larger number of stream processors than "Fiji".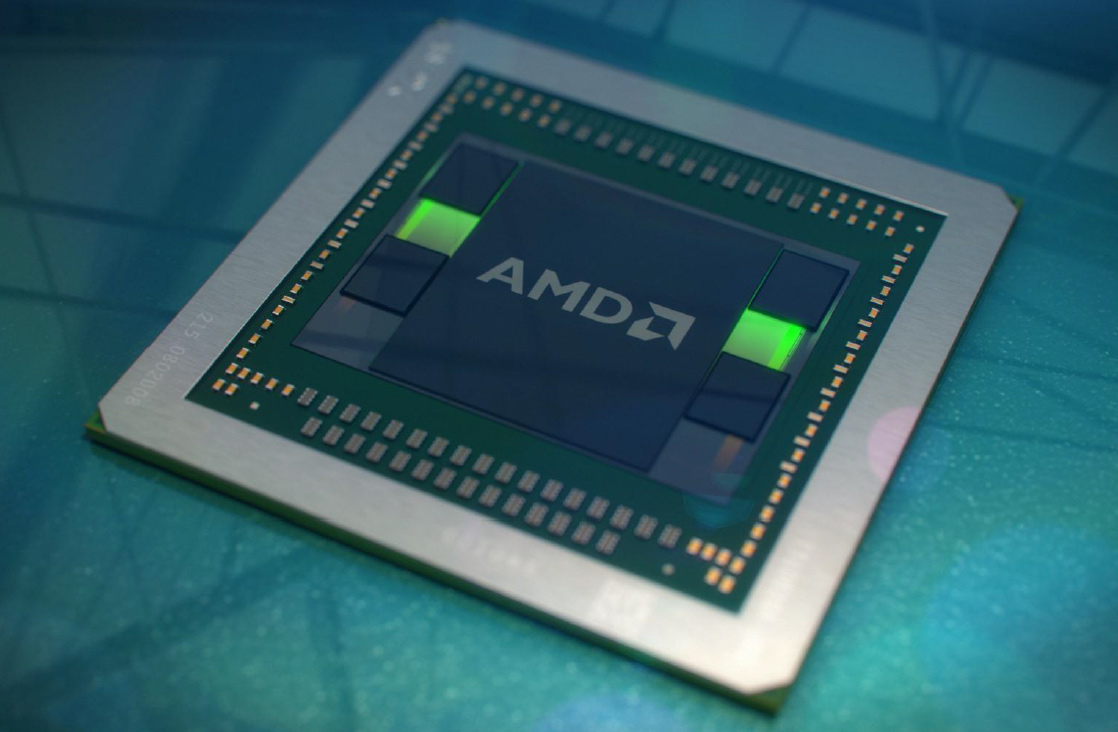 The "Greenland" graphics processor will rely on the second-generation high-bandwidth memory (HBM), so expect ultra-high-end graphics cards and professional solutions with up to 32GB of DRAM onboard with bandwidth of up to 1TB/s. Consumer-class "Greenland"-based products will likely come with 8GB – 16GB of memory. Due to usage of HBM, expect the "Greenland" chip and upcoming graphics cards on its base to resemble the currently available AMD Radeon R9 Fury-series adapters.
The number of transistors inside the "Greenland" as well as its die size are unknown. Since 14nm/16nm FinFET manufacturing technologies have considerably (up to 90 per cent) higher transistor density than contemporary TSMC's 28nm fabrication process, it is logical to expect that the new flagship product will feature 15 – 18 billion of elements if it retains around 600mm² die size from the "Fiji".
It is believed that AMD has already taped-out its "Greenland" graphics processing unit and is about to get the first silicon in the coming weeks.
Not a lot of information is known about the "Baffin" and the "Ellesmere". The source stressed that both GPUs are brand-new and will be designed from scratch. Since the "Baffin" and the "Ellesmere" are named after bigger and smaller islands in Canada, it is likely that the former is a mainstream graphics chip with moderate die size, whereas the former is a small entry-level GPU. AMD began to work on "Ellesmere" about a year ago.
Expect AMD to begin talking about its next-generation graphics architecture in the coming months.
AMD did not comment on the news-story.
Discuss on our Facebook page, HERE.
KitGuru Says: As it traditionally happens, everything looks very good on paper. If AMD manages to release three brand new chips within a reasonable amount of time in 2016 and the chips will be competitive against Nvidia's, then it has all the chances to win back market share. However, one should keep in mind that the "next GCN" or the "post-GCN" will not compete against Nvidia's "Maxwell", but will have to compete against Nvidia's "Pascal", which promises to be very powerful. As a result, expect 2016 is going to be an interesting year for the GPUs…