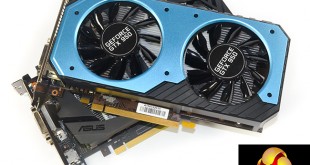 Nvidia has launched the GTX 950 to combat AMD's R7 370 at the £129 price point. We take a look at Palit's factory-overclocked, dual-fan GTX 950 2GB StormX Dual graphics card to see what sort of performance the solution can offer.
We have taken a more in-depth look at the GTX 950 GPU in our review of the Asus STRIX model. This review will focus on the performance of Palit's GTX 950 StormX Dual solution.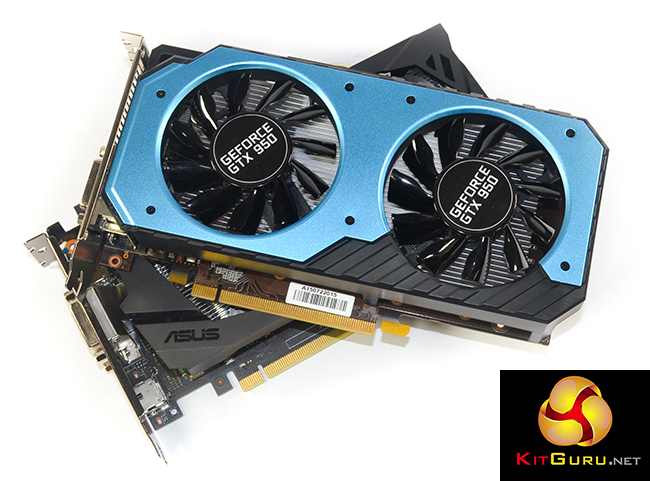 The Palit GTX 950 StormX Dual graphics card uses a dual-slot cooler with two 80m fans. This is similar to what we saw with Asus' STRIX model, and it is representative of what we expect to see from many Nvidia partners shipping their factory-overclocked unit.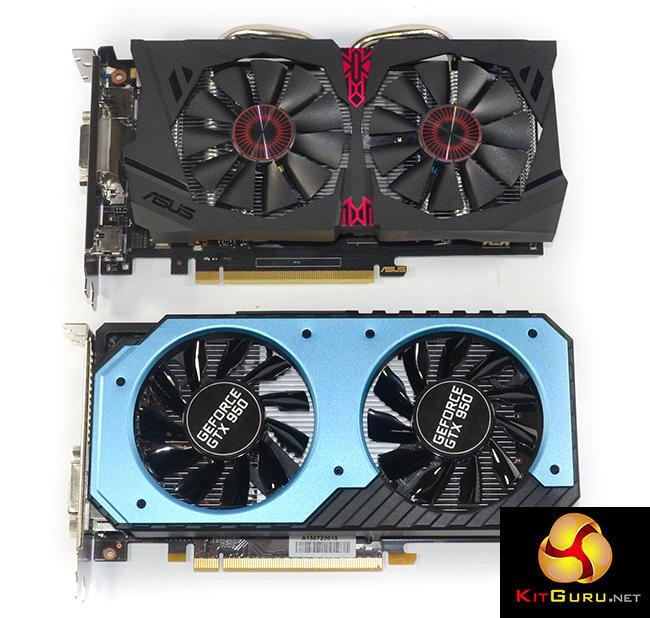 Referencing the newly-released GPU, Nvidia says that the GTX 950 is designed to offer the best performance in its class. With an MSRP of £129 and a TDP of 90W, the GTX 950's goal is to beat AMD's similarly-priced R7 370 while using less power to do so. Both in terms of TDP and price, the GTX 950 is sat directly between its GTX 750 Ti and GTX 960 siblings, both of which will remain in Nvidia's current product stack.
GPU
GeForce
GTX 750 Ti (Maxwell)
GeForce
GTX 950
(Maxwell)
GeForce
GTX 960 (Maxwell)
GeForce
GTX 970 (Maxwell)
GeForce
GTX 980 (Maxwell)
GPU Codename
GM107
GM206
GM206
GM204
GM204
Streaming Multiprocessors
5
6
8
13
16
CUDA Cores
640
768
1024
1664
2048
Base Clock
1020 MHz
1024 MHz
1126 MHz
1050 MHz
1126 MHz
GPU Boost Clock
1085 MHz
1188 MHz
1178 MHz
1178 MHz
1216 MHz
Total Video memory
2GB
2GB
2GB
4GB
4GB
Texture Units
40
48
64
104
128
Texture fill-rate
40.8 Gigatexels/sec
49.2 Gigatexels/sec
72.1 Gigatexels/sec
109.2 Gigatexels/sec
144.1 Gigatexels/sec
Memory Clock
5400 MHz
6600 MHz
7010 MHz
7000 MHz
7000 MHz
Memory Bandwidth
86.4 GB/sec
105.6 GB/sec
112.16 GB/sec
224 GB/s
224 GB/sec
Bus Width
128bit
128bit
128bit
256bit
256bit
ROPs
16
32
32
56
(following correction)
64
Manufacturing Process
28nm
28nm
28nm
28nm
28nm
TDP
60 Watts
90 Watts
120 Watts
145 Watts
165 Watts
On a technical level, the cut-down iteration of the GM206 GPU is, in many areas, effectively 75% of the core used on a GTX 960. The GTX 950 version of the GM206 GPU ships with 768 CUDA cores and 48 texture units. Those numbers are more closely aligned with the GTX 750 Ti version of Nvidia's first-gen Maxwell GM107 core, however specifically focussing on the number of ROPs puts clear daylight between the GTX 950 and its lower-end sibling.
The same 128bit memory interface found on the GTX 960 is present, however that may be less of a potential choking point given the reduced raw horsepower of the GTX 950's cut-down GPU. As was the case with the GTX 960, the same argument for more efficient utilisation of the GM206's 128bit memory interface, in comparison to Kepler, is made by Nvidia.
Clock speeds for the GTX 950 are sliced by comparison to GTX 960 frequencies. The reference core clock is rated at 1024MHz, with a maximum boost speed of 1188MHz. The 2GB of GDDR5 memory is rated to run at 1650MHz (6.6Gbps effective) to produce a bandwidth level of 105.6GB/sec. With that said, most board partners will be unlocking the GM206 core's overclocking potential and shipping their cards with higher, factory-overclocked frequencies.
Palit, for example, ships the StormX Dual with a core clock of 1064MHz, boost frequency of 1241MHz, and memory speed of 6610MHz effective. At 40MHz over Nvidia's reference core clock, and 53MHz greater boost, this is actually one of the more conservative overclocked GTX 950 configurations that we expect to see board partners shipping.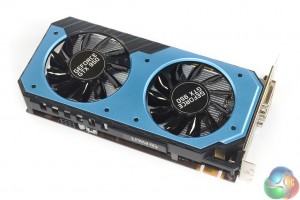 Extending to the GTX 950's features, the card supports the DirectX 12 API at feature level 12.1. A H.265 (HEVC) encoder/decoder engine built into the GPU, along with HDMI 2.0, shout loudly for the GTX 950 to be used inside a gaming HTPC. With the 90W TDP being low enough to comfortably fit inside SFF cases, the ability to output 60Hz video to a 4K TV (most of which do not have DisplayPort connections) is an important feature. HDMI 2.0 is a feature that team red's competitor card cannot offer.
One of the more notable changes between the GTX 75x cards and the GTX 950 is the TDP differential. While the GTX 750 Ti had a 60W TDP, the GTX 950 ups that number to 90W. Approximating TDP as an indicator of power consumption, the 90W rating narrowly tips the GTX 950 into a region where it requires a 6-pin PCIe power connector. This emphasises that Nvidia is focused on gaming performance with its new card, while the GTX 750 Ti, for example, still remains to cater for those wanting a graphics card to run on a PSU without a 6-pin PCIe cable (think Dell, HP, or some SFF units).
You can read more about the GM206 GPU's architecture and feature support in my colleague Allan's GTX 960 review HERE.