MSI and Corsair have teamed up to launch the GTX 980Ti Sea Hawk, combining the best of air and liquid cooling. The new GPU was officially announced at the Tokyo Game Show this week, combining MSI's expertise in graphics cards with Corsair's highly rated closed loop liquid coolers.
The GTX 980Ti Sea Hawk uses a blower style cooling shroud, which takes care of the VRM chips, while the Corsair H55 cools the core directly, using its micro-fin copper base for efficient heat transfer to the high-speed circulation pump. The closed loop system also comes with an easy to install, low-profile 120mm radiator, along with a quiet 120mm fan.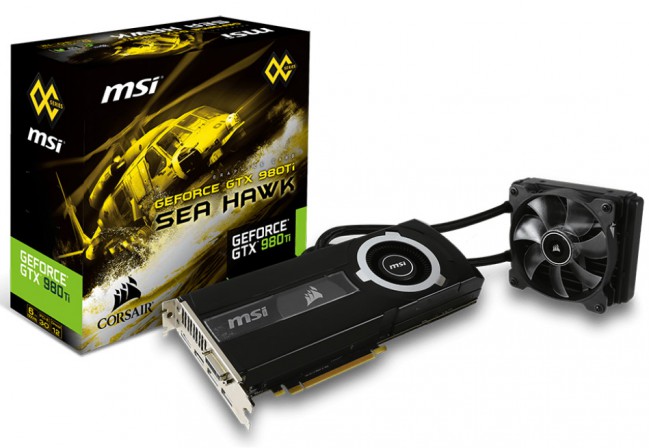 The liquid cooling should help users achieve higher overclocks than they typically would on air cooling alone. The GTX 980Ti Sea Hawk comes with a base clock of 1190 MHz and can boost up to 1291 MHz, though you will be able to use MSI Afterburner to push this even further.
In all, this 980Ti should run around 30% cooler and quieter than a reference model while also being around 20% faster. UK pricing and availability is expected to be announced soon.
Discuss on our Facebook page, HERE.
KitGuru Says: Custom water cooling a graphics card can be a scary process to some, so it's good to see GPU companies making it easier for users to take advantage of liquid cooling with closed loop systems. What do you guys think of the MSI GTX 980Ti Sea Hawk?