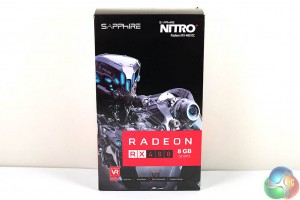 Not really a surprise to see identical box artwork between the 4GB and 8GB cards. Both cards are classed as Nitro+ OC models.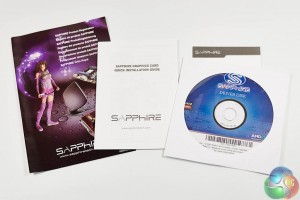 The bundle includes literature on the card, alongside a software disc. As always, best to snag the latest drivers from the AMD website. You don't want to be running with older drivers as bug fixes and performance enhancements are often added to new revisions.
The Sapphire RX 480 Nitro + OC 4GB is a good looking graphics card. We like the silver and black colour scheme, ideal for any system with coloured LED lighting.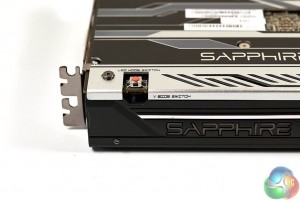 At one edge of the card is an LED Mode Switch called 'Nitro Glow'. This switch changes the colours of the LED lights. Sapphire say it will be fully customisable when TriXX 3.0 is available. The red switch changes the mode, from a total of six available.

It makes sense for Sapphire to include LED lighting with their newest iteration of the Nitro+ cards. In practice it works very well, up at the level we would expect from the company. We look forward to playing with TriXX 3.0 at a future date, when it becomes available.
The Sapphire RX 480 Nitro + OC 8GB takes power from a single 8 pin PCI e connector at the end of the card.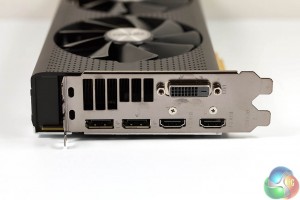 These are the first non-ASUS RX 480 samples we have seen to include two HDMI ports. One DisplayPort is removed in exchange, which seems a good move to me. This is to support users who want to run VR headsets and a TV via their card.
The HDMI port is 2.0b standard and DisplayPort is 1.3HBR3/1.4 HDR ready. this allows for 4K support up to 120hz and 5k @ 60hz, and even 8K @ 60hz with two cables in play.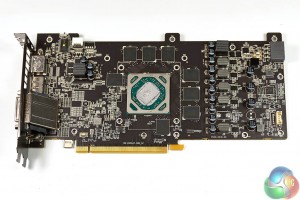 The cooler shroud can be removed once all the screws are taken out of the PCB. We see above the dual fans mounted in the plastic shroud. The backplate covers the rear of the PCB, which is a dark brown. The cooler is substantial, comprising multiple heatpipes which connect to the base which cools both the core, memory and VRM's. The 8GB card is fitted with Samsung GDDR5 memory.
Both cards are using proprietary Black Diamond Chokes (V4) which reduce coil temperatures by a further 15% over the previous version.
UPDATE 28th July: We noticed that the 4GB model has 6 GPU phases and 2 memory phases, while the 8GB model appeared to have one less GPU phase. We spoke with Sapphire who referred us to an engineer in the company. He said that our particular 4GB sample was made before the 8GB version and indeed has an extra phase on the PCB. It is apparently disabled in the BIOS – giving a total of 5 GPU phases and 2 memory phases.