Many of the leading graphics manufacturers have been working hard on developing new coolers and fan technology to reduce noise emissions as much as possible. This is never more important than when building a media center for a living room or bedroom. If you are unwilling to accept any noise at all, then why not bypass the use of fans completely and opt for a totally silent solution? Sapphire have just released their latest silent R7 250 Ultimate, a fan less design to target the high definition television audience. Is it worth the modest £70 asking price?

We have no confirmed pricing at time of article publication, however we can make some educated guesses. Current R7 250 pricing indicates 2GB models around £80 and 1GB models for a little less. The Sapphire R7 250 Ultimate ships with 1GB of GDDR5 so we would factor in the final retail cost, close to the £70 mark.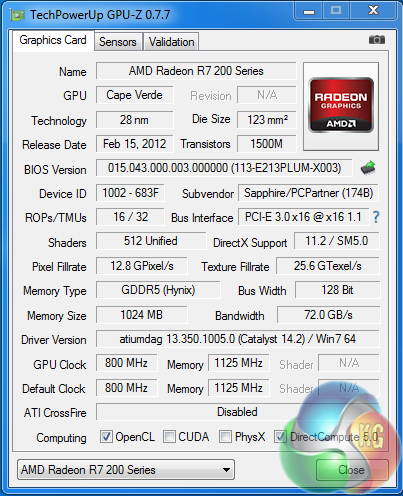 Above, an overview of the Sapphire R7 250 Ultimate. The core is modestly clocked at 800mhz and the memory 1,125mhz (4.5Gbps effective) – connected via a 128 bit memory interface. The 28nm Cape Verde core is equipped with 16 ROP's, 32 Texture units and 512 shaders.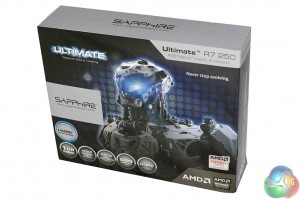 The Sapphire R7 250 ships in a small box. Sapphire recently ditched their 3D rendered women for 3D rendered robots. Good call we say.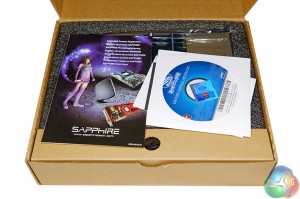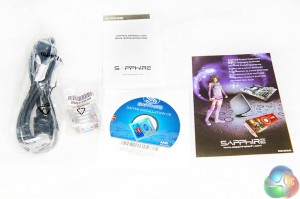 Sapphire include a reasonable bundle for a budget priced card, including some literature on the product, a software disc and best of all, a good quality HDMI cable.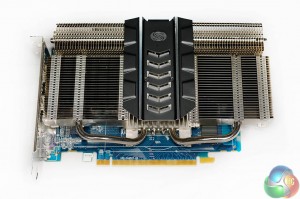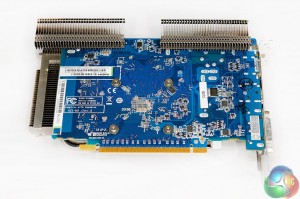 As this is a passively cooled card, there are no fans fitted to the cooler. Instead the PCB is almost completely covered from the front with a giant aluminum heatsink. The rear view of the card shows a blue PCB, with two large cooling blocks which 'wrap around'.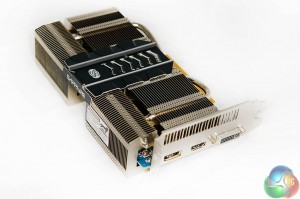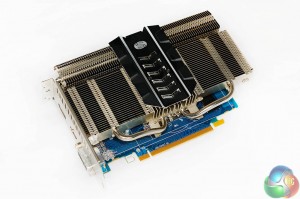 If you need a single slot card for a space restricted media center, then you will need to look elsewhere. The reason for this is simple – to passively cool the core, the heatsink needs to be a substantial size. We don't think it would be possible to keep temperatures in check with a single slot heatsink fitted.
The card takes all the power from the PCI e slot, no external connectors are needed.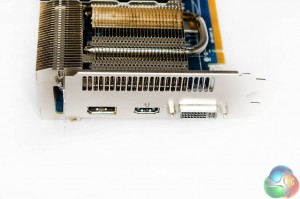 The R7 250 Ultimate is equipped with a DVI, full sized HDMI and DisplayPort connector. It has full support for up to 4,096 x 2,160 resolutions.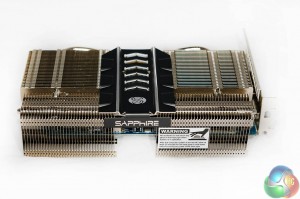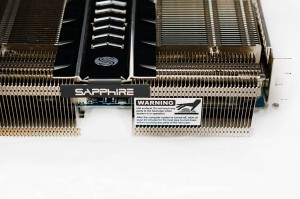 During operation this card gets very hot. Sapphire include a warning on one of the heatsinks, just as a warning. We don't advise you to kiss it, during operation. Plastic surgery may be required.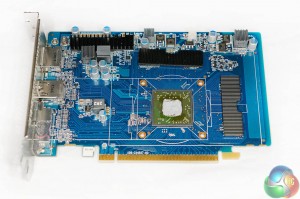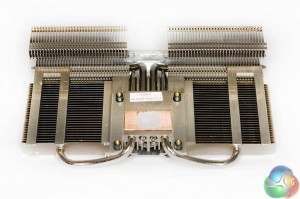 The heatsink is held in place with the four main mounting screws and slips out from one side of the PCB. It may look like there are only two racks of aluminum fins on either side of the core, but there are actually four. Each heatpipe runs into a single heatsink from both sides of the design. The GDDR5 memory chips are cooled by heatsinks which are attached from above. The VRM's are also cooled by a heatsink.
On this page we present some super high resolution images of the product taken with the 24.5MP Nikon D3X camera and 24-70mm ED lens. These will take much longer to open due to the dimensions, especially on slower connections. If you use these pictures on another site or publication, please credit Kitguru.net as the owner/source. You can right click and 'save as' to your computer to view later.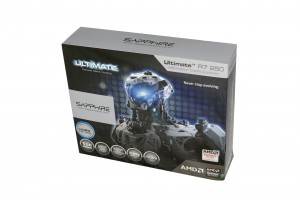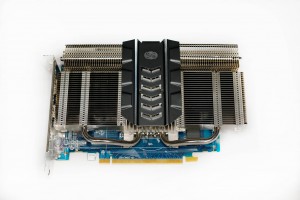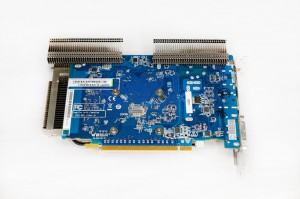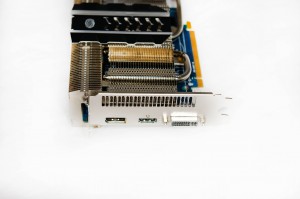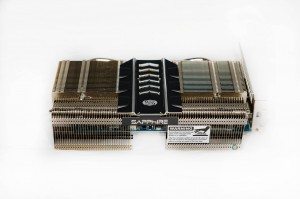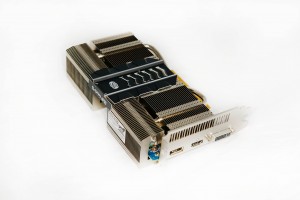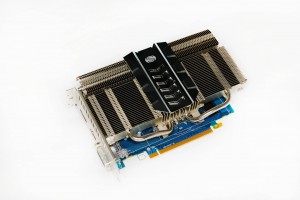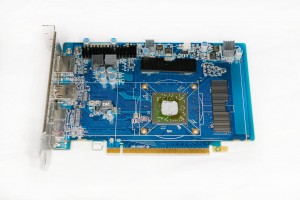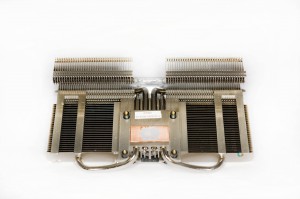 For this review today we are using the latest Catalyst 14.2 and Forceware 334.89 drivers.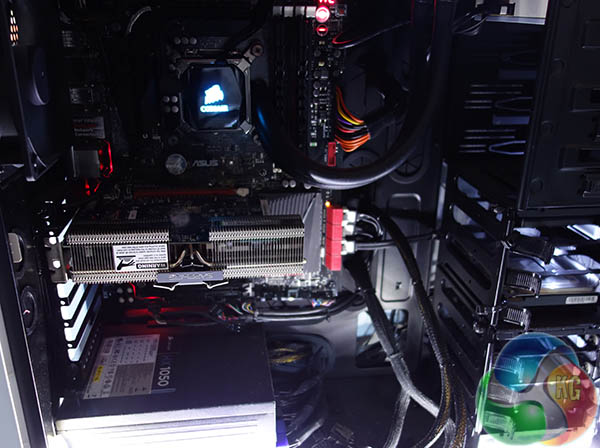 We are using one of our brand new test rigs supplied by PCSPECIALIST and built to our specifications. If you want to read more about this, or are interested in buying the same Kitguru Test Rig, check out our article with links on this page.

We are using an Apple 30 inch Cinema HD monitor for this review today.
Comparison cards: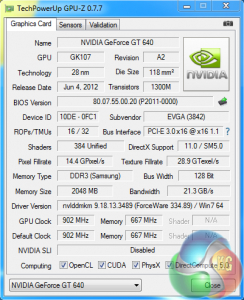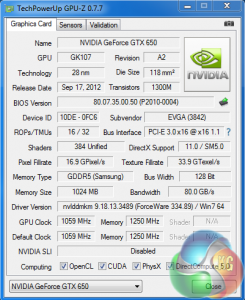 eVGA GTX640 2GB (902mhz core / 667 mhz memory) – Forceware 334.89. £79.65 inc vat.
eVGA GTX650 1GB (1059mhz core / 1,250 mhz memory) – Forceware 334.89. £64.96 inc vat

Software:
Windows 7 Enterprise 64 bit
Unigine Heaven Benchmark
Unigine Valley Benchmark
3DMark Vantage
3DMark 11
3DMark
Fraps Professional
Steam Client
FurMark

Games:
Alien V Predator
Sleeping Dogs
Tomb Raider
Dirt Showdown
Metro Last Light
GRID 2
Thief
Battlefield 4
All the latest BIOS updates and drivers are used during testing. We perform generally under real world conditions, meaning KitGuru tests games across five closely matched runs and then average out the results to get an accurate median figure. If we use scripted benchmarks, they are mentioned on the relevant page.
Unigine provides an interesting way to test hardware. It can be easily adapted to various projects due to its elaborated software design and flexible toolset.
A lot of their customers claim that they have never seen such extremely-effective code, which is so easy to understand.
Heaven Benchmark is a DirectX 11 GPU benchmark based on advanced Unigine engine from Unigine Corp. It reveals the enchanting magic of floating islands with a tiny village hidden in the cloudy skies. Interactive mode provides emerging experience of exploring the intricate world of steampunk.
Efficient and well-architected framework makes Unigine highly scalable:
Multiple API (DirectX 9 / DirectX 10 / DirectX 11 / OpenGL) render
Cross-platform: MS Windows (XP, Vista, Windows 7) / Linux
Full support of 32bit and 64bit systems
Multicore CPU support
Little / big endian support (ready for game consoles)
Powerful C++ API
Comprehensive performance profiling system
Flexible XML-based data structures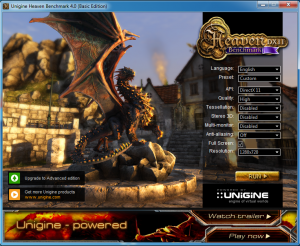 We use the settings shown at 1270×720.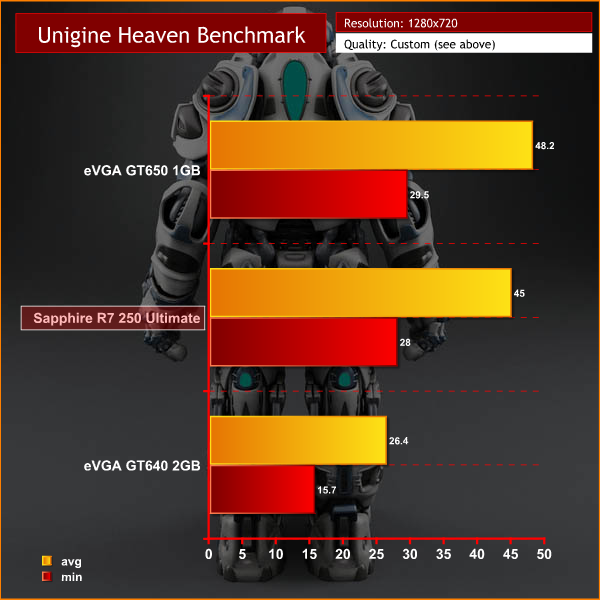 Overall performance at 720p is quite good, averaging 45 frames per second and dropping to 28 frames per second in the most intensive sections of the benchmark. The GT640 2GB is quite a poor performer with this benchmark, holding an average frame rate less than the minimum frame rate of the R7 250 Ultimate. The GT650 1GB is however the leader in this benchmark, by a small margin. Considering there is only £15 separating the GT640 (£64.96 inc vat) and GT650 (£79.65 inc vat), the performance differences are extremely noticeable.
Valley Benchmark is a new GPU stress-testing tool from the developers of the very popular and highly acclaimed Heaven Benchmark. The forest-covered valley surrounded by vast mountains amazes with its scale from a bird's-eye view and is extremely detailed down to every leaf and flower petal. This non-synthetic benchmark powered by the state-of-the art UNIGINE Engine showcases a comprehensive set of cutting-edge graphics technologies with a dynamic environment and fully interactive modes available to the end user.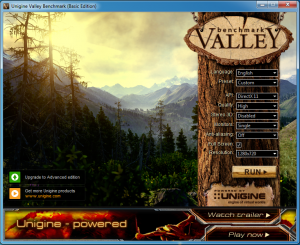 We test with the settings above at 1280×720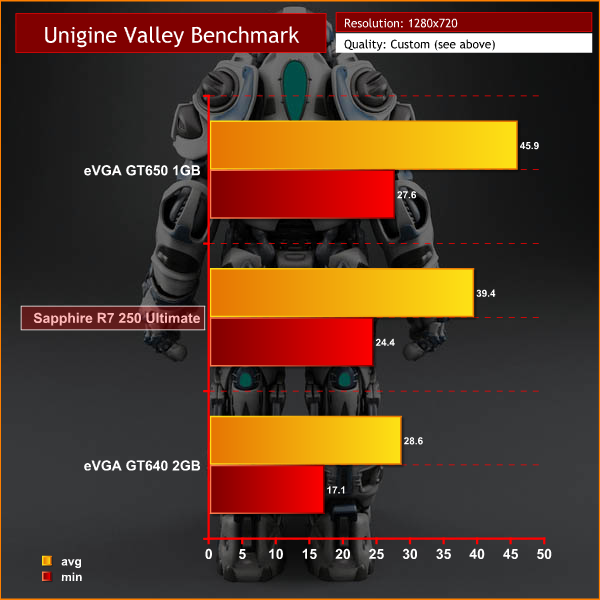 The same performance positions as we recorded on the previous Unigine Heaven test page. the GT650 1GB claims top spot easily, with the Sapphire R7 250 Ultimate slotting into the middle.
Futuremark released 3DMark Vantage, on April 28, 2008. It is a benchmark based upon DirectX 10, and therefore will only run under Windows Vista (Service Pack 1 is stated as a requirement) and Windows 7. This is the first edition where the feature-restricted, free of charge version could not be used any number of times. 1280×1024 resolution was used with performance settings.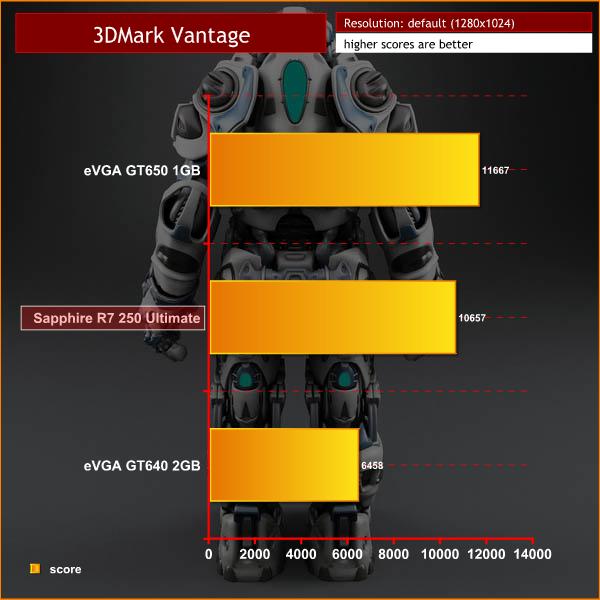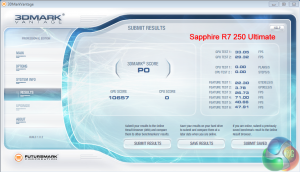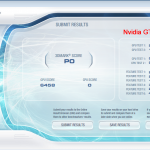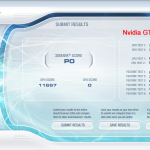 The eVGA GT650 1GB leads this particular benchmark, scoring 11,667 points. The Sapphire R7 250 Ultimate isn't too far behind, scoring 10,657 points. The GT640 2GB trails the pack, scoring a measly 6458 points.
3DMark 11 is designed for testing DirectX 11 hardware running on Windows 7 and Windows Vista the benchmark includes six all new benchmark tests that make extensive use of all the new features in DirectX 11 including tessellation, compute shaders and multi-threading. After running the tests 3DMark gives your system a score with larger numbers indicating better performance. Trusted by gamers worldwide to give accurate and unbiased results, 3DMark 11 is the best way to test DirectX 11 under game-like loads.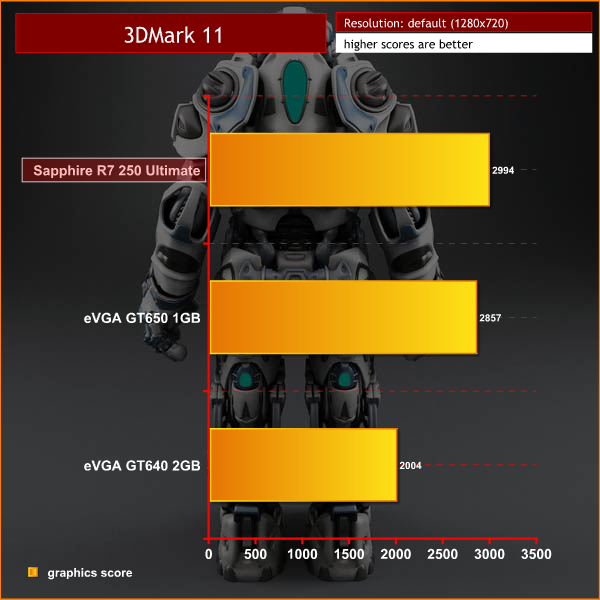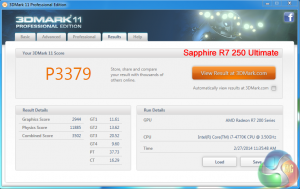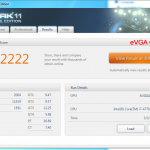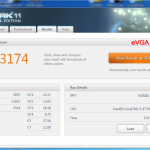 The Sapphire R7 250 Ultimate trades places with the eVGA GT650 1GB at the top of the chart, scoring just under 3,000 points in the graphics section of the 3DMark 11 test.
3DMark is an essential tool used by millions of gamers, hundreds of hardware review sites and many of the world's leading manufacturers to measure PC gaming performance.
Futuremark say "Use it to test your PC's limits and measure the impact of overclocking and tweaking your system. Search our massive results database and see how your PC compares or just admire the graphics and wonder why all PC games don't look this good.
To get more out of your PC, put 3DMark in your PC."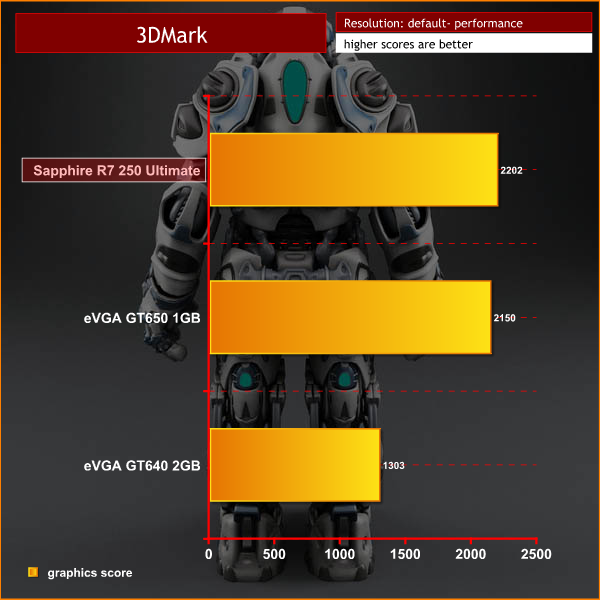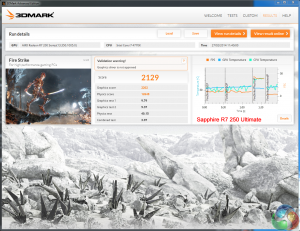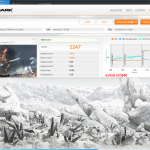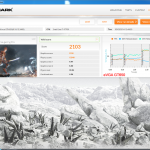 Very closely matched between the Sapphire R7 250 Ultimate, and the eVGA GT650, scoring 2,202 and 2,150 points respectively.
Aliens V Predator has proved to be a big seller since the release and Sega have taken the franchise into new territory after taking it from Sierra. AVP is a Direct X 11 supported title and delivers not only advanced shadow rendering but high quality tessellation for the cards on test today. To test the cards we used a 1920×1080 resolution with DX11, Texture Quality Very High, MSAA Samples 1, 16 af, ambient occulsion on, shadow complexity high, motion blur on.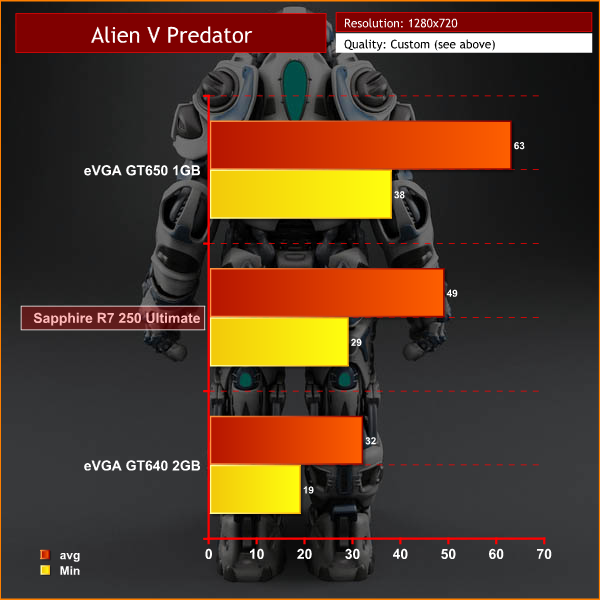 The eVGA GT650 1GB scores the highest in this game, by a considerable margin, averaging 63 frames per second.
Sleeping Dogs started development as an original title, but was announced in 2009 as True Crime: Hong Kong, the third installment and a reboot of the True Crime series.As a result of the game's high development budget and delays, it was canceled by Activision Blizzard in 2011. Six months later, it was announced that Square Enix had picked up the publishing rights to the game, but the game was renamed Sleeping Dogs in 2012 since Square Enix did not purchase the True Crime name rights.


We selected 1280×720 resolution, with the EXTREME image quality setting, shown above.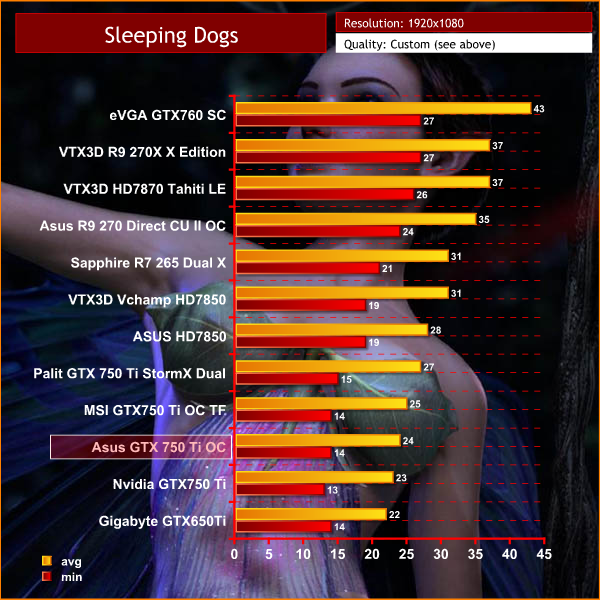 None of the cards are really able to handle such high image quality settings, even at 720p. The eVGA GT650 slightly outperforms the Sapphire R7 250 Ultimate however, with a 3 frames per second average advantage.
Tomb Raider received much acclaim from critics, who praised the graphics, the gameplay and Camilla Luddington's performance as Lara with many critics agreeing that the game is a solid and much needed reboot of the franchise. Much criticism went to the addition of the multiplayer which many felt was unnecessary. Tomb Raider went on to sell one million copies in forty-eight hours of its release, and has sold 3.4 million copies worldwide so far.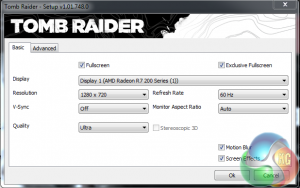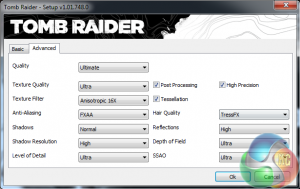 We tested the hardware with the ULTRA profile, at 1280×720 resolution.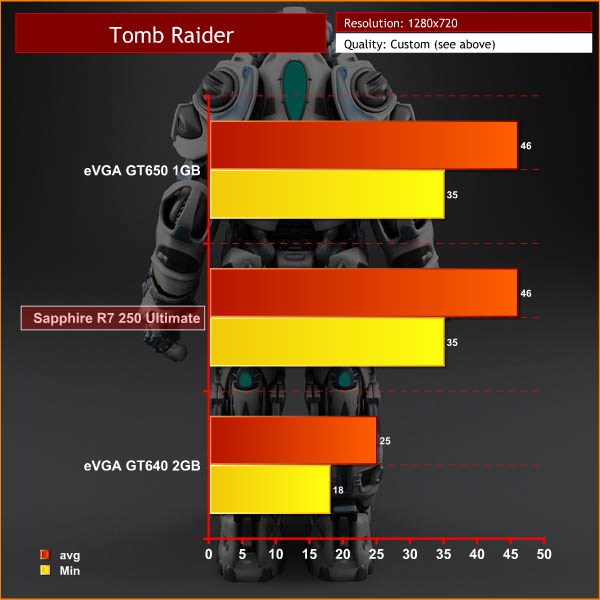 The eVGA GT650 1GB matches the Sapphire R7 250 Ultimate frame for frame at our settings.
Dirt Showdown is the latest title in the franchise from Codemasters, based around the famous Colin McRae racing game series, although it no longer uses his name, since he passed away in 2007.


We selected 1280×720, with 8MSAA and the ULTRA profile.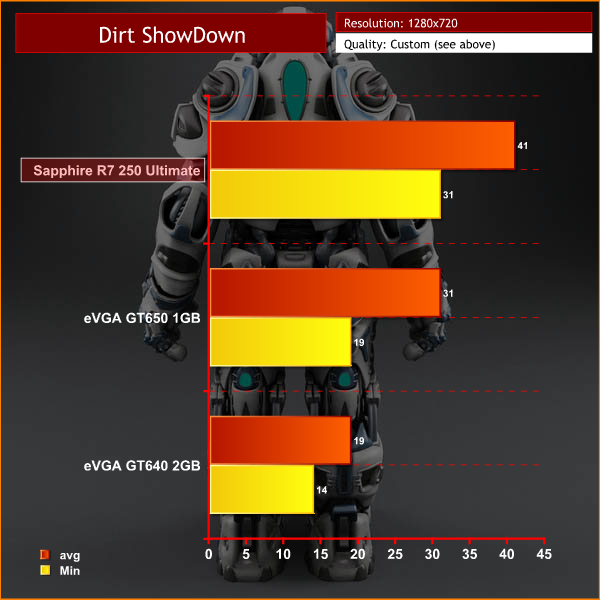 This is a very strong engine for AMD hardware and we can see that the Sapphire R7 250 Ultimate is the clear leader, with an average frame rate of 41.
Metro: Last Light takes place one year after the events of Metro 2033, proceeding from the ending where Artyom chose to call down the missile strike on the Dark Ones. The Rangers have since occupied the D6 military facility, with Artyom having become an official member of the group. Khan, the nomad mystic, arrives at D6 to inform Artyom and the Rangers that a single Dark One survived the missile strike. 4A Games' proprietary 4A Engine is capable of rendering breathtaking vistas, such as those showing the ruined remnants of Moscow, as well as immersive indoor areas that play with light and shadow, creating hauntingly beautiful scenes akin to those from modern-day photos of Pripyat's abandoned factories and school.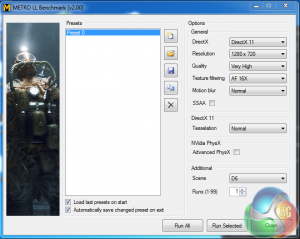 We test the game with the built in benchmark at very high quality image settings at 1280×720. Details are in the image above.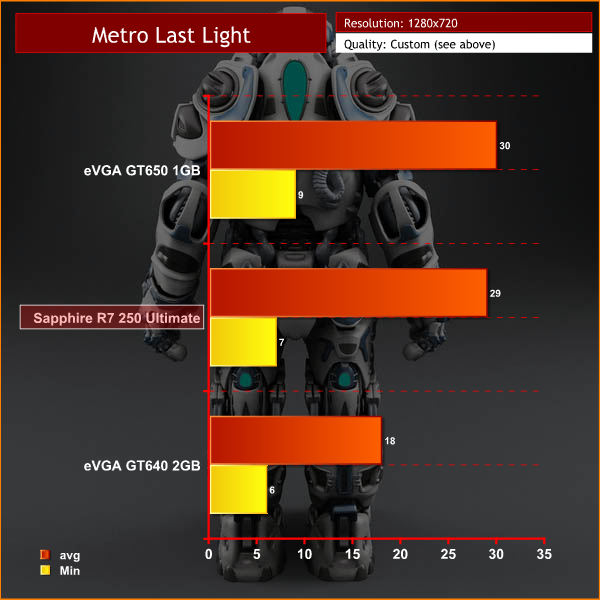 The eVGA GT650 1GB has the slight edge on the Sapphire R7 250 Ultimate, although the results are very close indeed.Grid 2 is the sequel to the racing video game Race Driver: Grid. It was developed and published by Codemasters. The game includes numerous real world locations such as Paris, numerous United States locations, and many more, and also includes motor vehicles spanning four decades. In addition, it includes a new handling system that developer Codemasters has dubbed 'TrueFeel', which aims to hit a sweet spot between realism and accessibility.


The test at 1280×720, with 8MSAA and high/ultra image quality settings – shown in the screenshots above.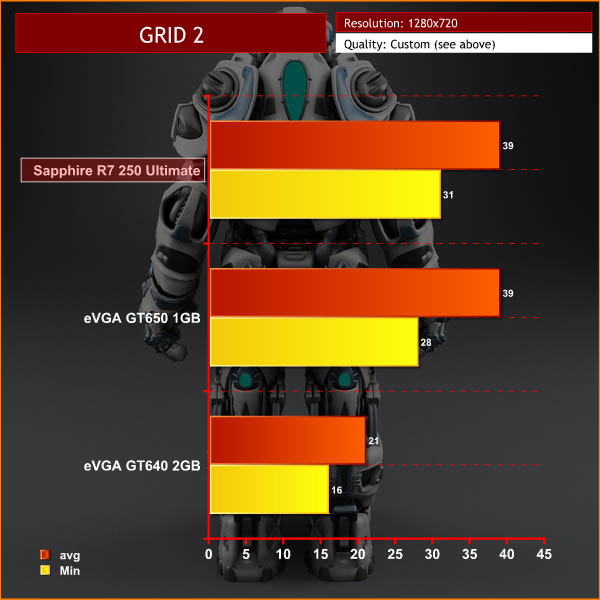 The Sapphire R7 250 scores well with this engine, averaging 39 frames per second.
Battlefield 4 (also known as BF4) is a first-person shooter video game developed by EA Digital Illusions CE (DICE) and published by Electronic Arts. The game is a sequel to 2011′s Battlefield 3. Battlefield 4 is built on the new Frostbite 3 engine. The new Frostbite engine enables more realistic environments with higher resolution textures and particle effects. A new "networked water" system is also being introduced, allowing all players in the game to see the same wave at the same time. Tessellation has also been overhauled.


We test at 1280×720 with high image quality settings, as shown above.


The GT640 is seriously underpowered, struggling to average smooth frame rates. The GT650 however is much better, averaging 51 frames per second. The Sapphire R7 250 Ultimate is closely matched, but loses out a little in a direct head to head.
The latest version of Thief (known as '4' or '2014') places the player in control of Garrett, a master thief, as he intends to steal from anyone and everything in his path. Similar to previous games in the series, players must use stealth in order to overcome challenges, while violence is left as a minimally effective last resort.


We test at 1280×720 with high image quality settings, as shown above.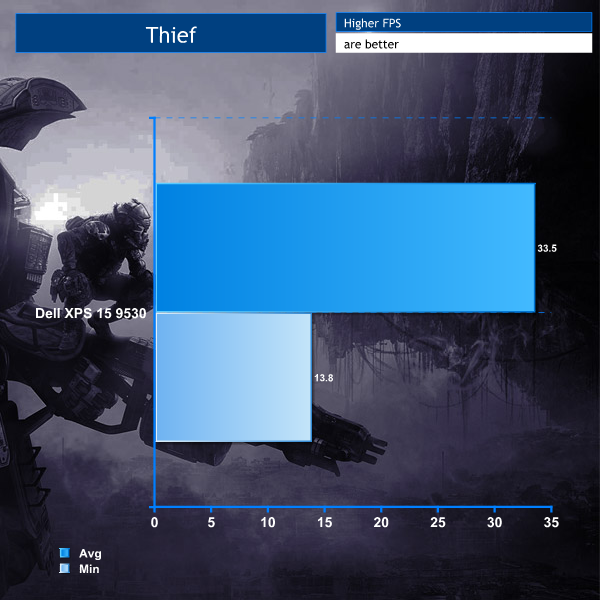 None of the solutions are powerful enough to handle this engine at 1280×720 with high image quality settings. Resolution or image quality would need to be reduced to ensure smooth frame rates throughout.
The tests were performed in a controlled air conditioned room with temperatures maintained at a constant 24c – a comfortable environment for the majority of people reading this.Idle temperatures were measured after sitting at the desktop for 30 minutes. Load measurements were acquired by playing Crysis Warhead for 30 minutes and measuring the peak temperature. We also have included Furmark results, recording maximum temperatures throughout a 30 minute stress test. All fan settings were left on automatic.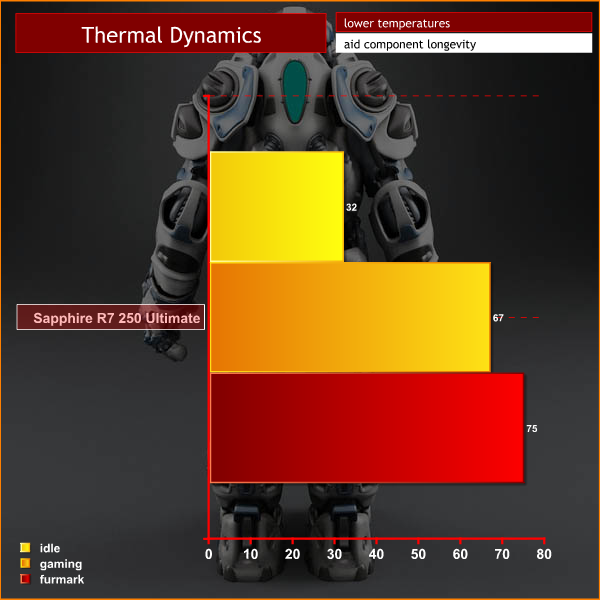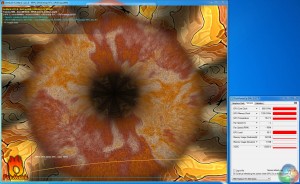 As the Sapphire R7 250 Ultimate is a fan-less solution, we had to stress the card for a long time to see how the cooler handled with continued heat from the core. It peaked at 67c when gaming, and 75C when under Furmark load. These are good results.
To test power consumption today we are using a Keithley Integra unit and we measure power consumption from the VGA card inputs, not the system wide drain. We measure results while gaming in Crysis Warhead and the synthetic stress test Furmark and record both results.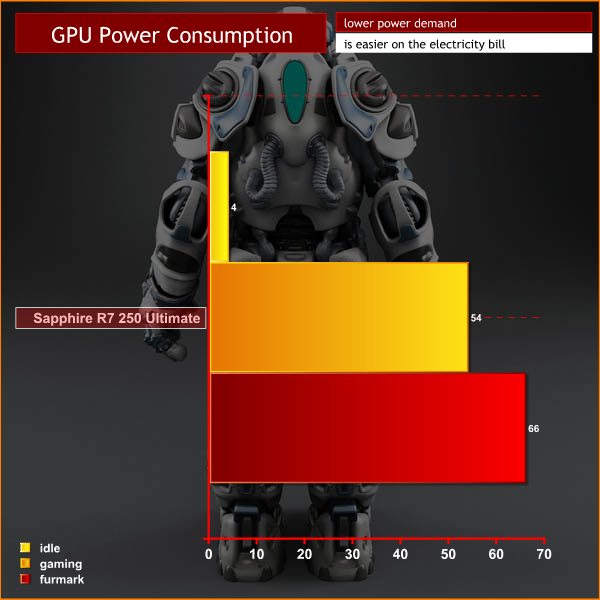 The Sapphire R7 250 Ultimate takes all the power it needs from the PCI e slot, which when gaming is 54 watts. This rises to 66 watts under Furmark load.
We wouldn't recommend you overclock a passively cooled card, as the tolerances can often be close to borderline, especially if you are installing into a chassis with poor airflow. For the purposes of this review however we used the AMD Catalyst Control center to overclock the Sapphire R7 250 Ultimate today.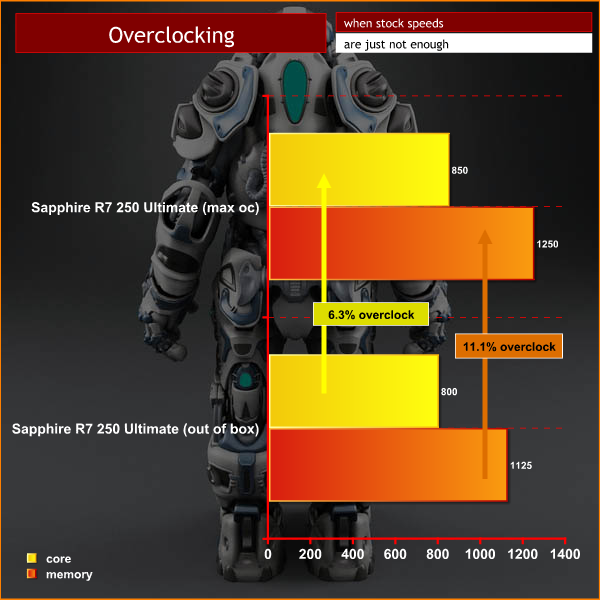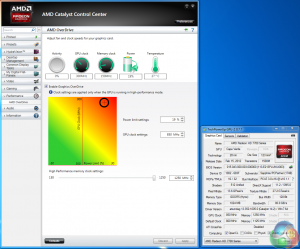 Considering the passive nature of the hardware, we managed to achieve a decent 6.3% overclock on the core before artifacting would occur. Memory could be overclocked to the maximum range of the Catalyst Control Center slider – hitting 1,250mhz (5Gbps effective).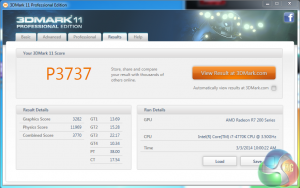 The additional overclock helps improve the graphics score in this benchmark to 3,282 points.
The Sapphire R7 250 Ultimate is designed for a very specific enthusiast audience. Those people who want a silent system, and the audience building a low cost media center with a need for video acceleration, high image quality and a secondary demand for casual gaming duties.
The Sapphire R7 250 Ultimate is fan less. In real world terms this means that it produces no noise at all. Additionally, it doesn't require power from a PCI-e connector, getting all the juice it needs direct from the PCIe slot on the motherboard. If you are building a system into a small chassis, this can help with cable routing.
When dealing with a fan less graphics card, it is important to ensure that the computer chassis has some air flow, to help expel hot air. Sapphire include a heat warning sticker on the heatsink of the Ultimate cooler and we can confirm it does get really hot after a modest gaming session.
Without any air flow next to the graphics card, this hot air would rise inside the chassis, potentially raising temperatures for all the other key components. In a small, space restricted media center chassis, this issue would be even more of a concern.
Sapphire's R7 250 sits almost exactly between a pair of popular nVidia cards. Considering there is only £15 separating the GT640 (£64.96 inc vat) and GT650 (£79.65 inc vat), the performance differences are extremely noticeable between the two Nvidia cards. We would go as far to say that for high definition gaming, the GT640 is close to useless – unless you were happy running with low image quality settings. The GT650 on the other hand is an excellent graphics card, offering solid frame rate performance for less than £80.
For gamers dealing with a restrictive budget, the R7 250 offers decent performance for around £70 – it very closely matched against the more expensive Nvidia GT650. More serious gamers will need to spend a little extra cash to get smooth frame rate performance at 1080p. If you have around £100-£110 to budget for a new graphics card, then we recommend either the AMD R7 265 or the newly released Nvidia GTX750 Ti. Both are excellent solutions and offer a considerable performance boost over the R7 250, but at a cost.
You can discuss on our Facebook page, over here.
Pros:
decent performance at 720p.
silent.
HDMI cable included in bundle.
good price point.
does not require a PCIe connector.
some overclocking headroom, although we advise good surrounding airflow.
very low demand on a power supply.
Cons:
Without supporting air flow, hot air from the heatsink will rise inside the case.
Will not be powerful enough for the latest Direct X 11 titles at 1080p.
Not single slot.
Kitguru says: A well designed, competitively priced solution for gamers on a strict budget.