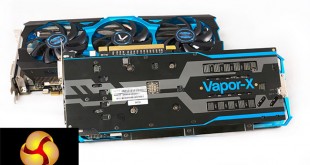 Today we finally get the chance to look at Sapphire's R9 290X Vapor X 8GB graphics card. Prices of Ultra HD 4k screens may have dropped in price recently – but sadly this is only part of the overall cost. Driving smooth frames at 3,840×2,160 places a very intense demand on the system – particularly the graphics card. Even current generation cards such as Nvidia's GTX980 struggle in single formation. Today's article focuses on Sapphire's new 290X 8GB Vapor X cards in Crossfire against a selection of other high end hardware running in Crossfire and SLI.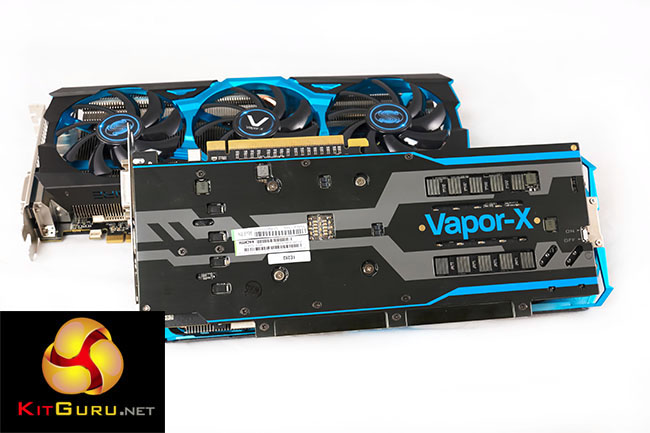 But wait, you have seen these Sapphire cards months ago, right?
Yes … this isn't the first time that Sapphire have released 8GB R9 290X graphics cards. They produced a limited 8GB run that was bought exclusively by CaseKing, and sold by Overclockers in the UK. This time around – with AMD's approval, Sapphire have relaunched the larger 8GB models. A handful of additional AMD partners will also be launching their own custom 8GB models.
With the GTX980 stealing all the headlines, OverclockersUK have dropped the R9 290x 8GB price to £379.99 inc vat – a massive £240 reduction on the original asking price of £599.99 (head to the end of this review to get a special OCUK CODE deal for KitGuru readers). If you bought one (or two) of these 8GB R9 290X cards at the previous price we can't imagine you are jumping with joy today, but in the crazy world of technology price bombing to stay competitive is a fairly commonplace practice. Early adopters beware.


For comparison today we raided our storage room to bring out some high end cards to compare in SLI and Crossfire. The Sapphire R9 290X Vapor X cards are custom, overclocked flagship solutions, so it seemed only fair to grab the best competing hardware we could find.
First up, the award winning MSI GTX980 Gaming 4G which we reviewed back in October – these are fantastic cards. Next, a couple of Nvidia's GTX Titan Z cards – which we test today in both single and dual configurations. Tri SLI has always worked great for us, but Quad SLI can be prone to driver related performance issues so it will be interesting to see how two Titan Z's perform with a selection of games.
We supplement the testing by slotting in the excellent watercooled Sapphire R9 295X2 – a card I rate very highly due to the combination of killer  performance and low noise levels. Lastly we add in a pair of overclocked 6GB Palit GTX780, which are priced very similarly against the Sapphire R9 290X Vapor X 8GB cards. Nvidia owners wanting more than 4GB of memory have to choose between these GTX780's or the Titan series of cards … the choices are currently quite limited.