Western Digital's Gold range of hard drives have been designed to service nearline enterprise environments and as such they have a range of sensors and technologies onboard to help them maintain peak performance in such environments. The latest Gold model launched has a 12TB capacity and is the new flagship drive for the range.
The 12TB Gold uses WD's 4th generation HelioSeal helium technology allowing eight 1.5TB platters and 16 heads to be built into an enclosure that is 26.1 mm high. Like all the Gold range it has a spin speed of 7,200rpm and comes with a 256MB cache. The 12TB drive currently sits at the top of range of seven drives starting at 1TB. The smaller capacity drives (1, 2, 4 and 6TB) have 128MB caches while the 8TB and 10TB models have 256MB of cache.

Quoted peak transfer rate for the drive is 255MB/s and WD claim a 550TB a year work load.
WD back the Gold range of drives with a 5 year warranty.
Physical Specifications:
Usable Capacities: 12TB
Spindle Speed: 7,200rpm
No. Of Heads: 16
No. Of Platters: 8
Cache: 256MB
Recording Method: Perpendicular Magnetic Recording (PMR)
Interface: Serial ATA (SATA) 6Gb/s (SATA III)
Form Factor: 3.5in
Dimensions: 147 x 101.6 x 26.1mm
Drive Weight: 660g
Firmware Version: 01.01H01
Built on a standard 3.5in format but with a thickness of 26.11mm, the 12TB Gold has a spindle speed of 7,200rpm and 256MB of cache.
The drive uses WD's 4th generation HelioSeal helium technology and PMR (Perpendicular Magnetic Recording) to support eight 1.5TB platters (discs) each with an areal density of 864 Gbit/inch2 and 16 reading heads.
A quick look at the flip side of the PCB reveals a Avago 6097 drive controller and a single Nanya NT5CC128M16IP-D1 DDR3-1600 256MB cache IC.
For testing, the drives are all wiped and reset to factory settings by HDDerase V4. We try to use free or easily available programs and some real world testing so you can compare our findings against your own system.
This is a good way to measure potential upgrade benefits.
Main system:
Intel Core i7-7700K with 16GB of DDR4-3200 RAM, Sapphire R9 390 Nitro and an Asus Prime Z270-A motherboard.
Other drives:
Seagate NAS 8TB
Seagate BarraCuda Pro 12TB
Seagate IronWolf Pro 12TB
Seagate IronWolf 10TB
Toshiba N300 8TB
Toshiba P300 3TB
Toshiba X300 6TB
WD Black 6TB
WD Black 4TB
WD Red 4TB
WD Red 8TB
Software:
Atto Disk Benchmark.
CrystalMark 3.0.3.
IOMeter
All our results were achieved by running each test five times with every configuration this ensures that any glitches are removed from the results. Trim is confirmed as running by typing fsutil behavior query disabledeletenotify into the command line.
Crystalmark is a useful benchmark to measure theoretical performance levels of hard drives and SSD's. We are using V3.0.3.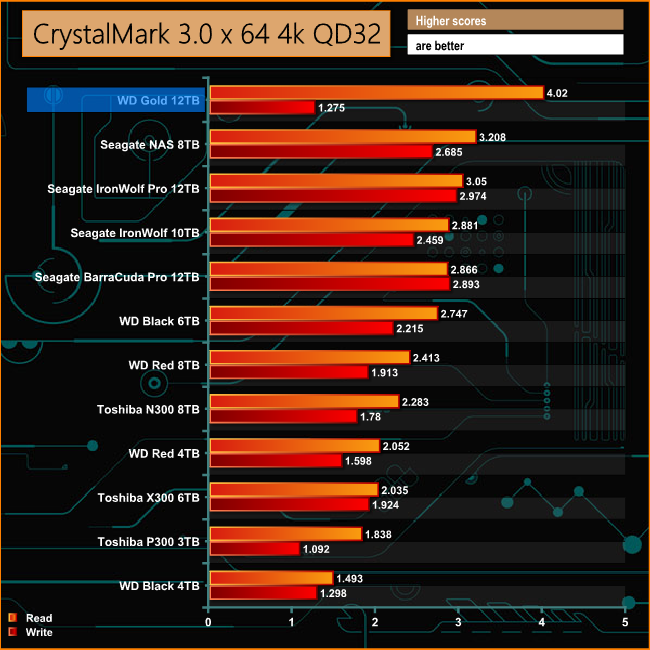 When dealing with random small bity files at a deep queue depth, the WD Gold 12TB is very much a mixed bag. Its read performance makes it the fastest HDD drive we've seen to date but its write performance by comparison is disappointing.
The ATTO Disk Benchmark performance measurement tool is compatible with Microsoft Windows. Measure your storage systems performance with various transfer sizes and test lengths for reads and writes. Several options are available to customize your performance measurement including queue depth, overlapped I/O and even a comparison mode with the option to run continuously.
Use ATTO Disk Benchmark to test any manufacturers RAID controllers, storage controllers, host adapters, hard drives and SSD drives and notice that ATTO products will consistently provide the highest level of performance to your storage.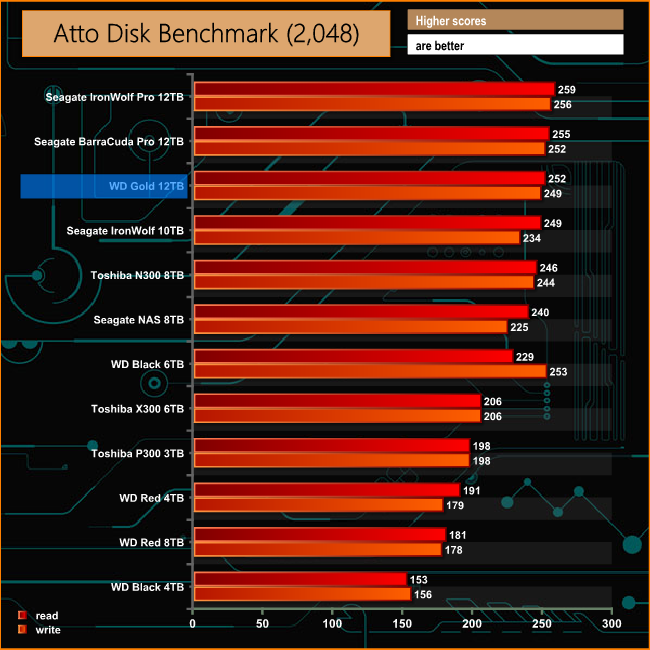 WD quote a peak transfer rate for the 12TB Gold drive at 255MB/s and our ATTO benchmark results were certainly in the ballpark of that figure with reads coming in at 252MB/s and writes at 249MB/s, not quite as quick as the two recent 12TB Seagate drives.
IOMeter is another open source synthetic benchmarking tool which is able to simulate the various loads placed on hard drive and solid state drive technology.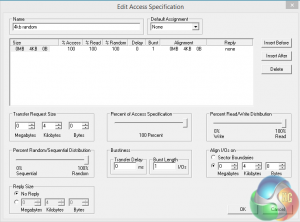 We test with both random read and write 4k tests, as shown above.  We do test all drives in exactly the same way, so the results are directly comparable.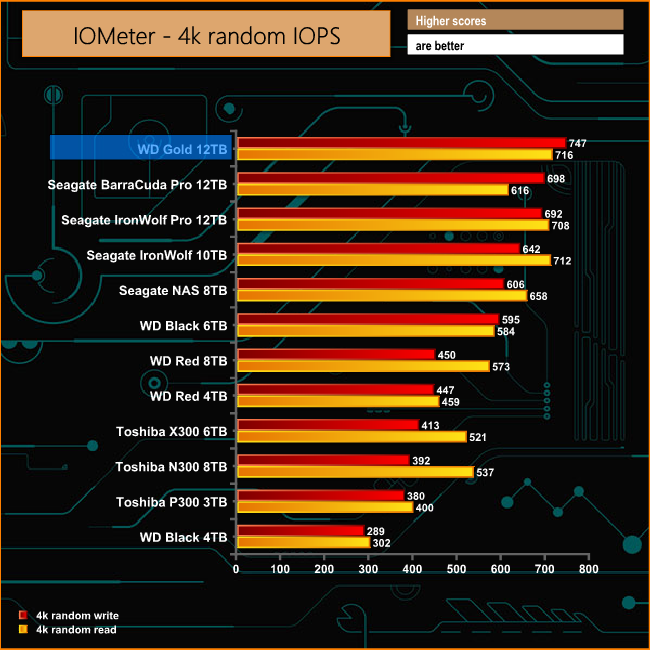 When the 4K random read/write IOPS performance of the drive at shallow depths was tested, the drive came back with the best speeds for a HDD drive we tested to date with writes at 747 IOPS and reads at 716 IOPS.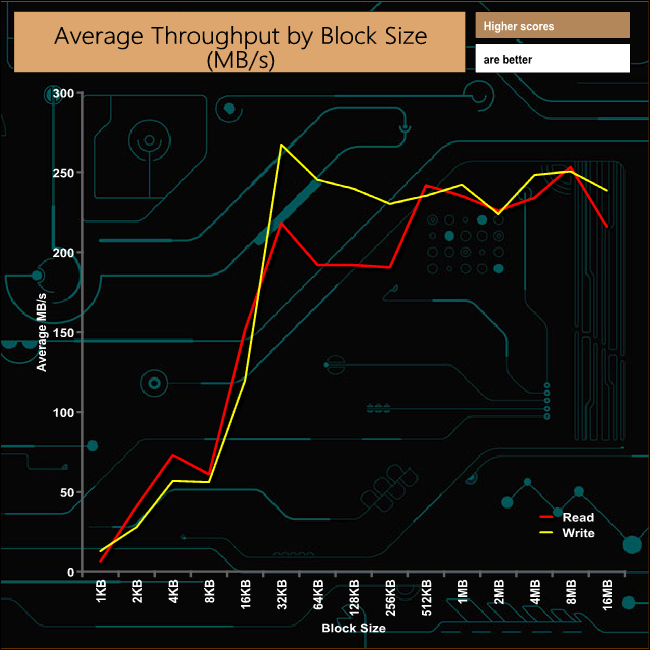 In the throughput test, the drive's performance plateaued out between 4KB and 8KB blocks sizes for both read and writes before the write performance raced away to a peak of 267.27MB/s at a 32KB block size. Reads were slower to reach their peak, which came at the 512KB block stage at 241.83MB/s.
We tested the drive with a few workload scenarios to see how it might perform in a real life setting compared to the latest 12TB Seagate IronWolf Pro.
File Server:
File Size: 512MB,  Block Size: 16KB,  I/O Queue Length: 128,  Read/Write: 80% / 20%,  Seq/Random: 0% / 100%
Web Server:
File Size: 1GB, Block Size: 16KB,  I/O Queue Length: 64, Read/Write: 100% / 0%, Seq/Random: 0% / 100%
Workstation:
File Size: 1GB, Block Size: 16KB,  I/O Queue Length: 64, Read/Write: 70% / 30%, Seq/Random: 50% / 50%
Database:
File Size: 2GB, Block Size: 4KB,  I/O Queue Length: 128, Read/Write: 90% / 10%, Seq/Random: 10% / 90%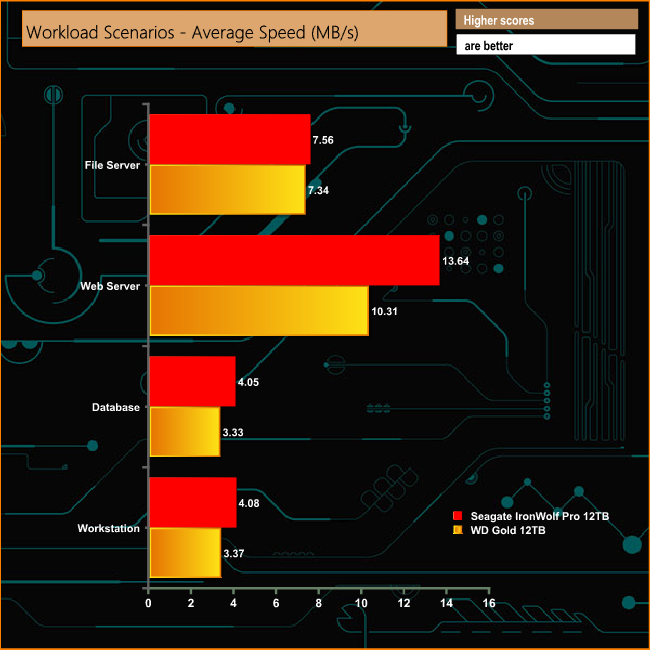 With both drives having a 7,200rpm spindle speed and the same amount of cache at 256MB, the greater areal density of the Seagate platters (923 Gbit/inch²) over the WD ones (864 Gbit/inch²) give it the edge in these scenario tests.
To test real life performance of a drive we use a mix of folder/file types and by using the FastCopy utility (which gives a time as well as MB/s result) we record the performance of drive reading from & writing to a 256GB Samsung SSD850 PRO.
100GB file.
60GB iso image.
60GB Steam folder – 29,521 files.
50GB File folder – 28,523 files.
12GB Movie folder – 24 files (mix of Blu-ray and 4K files).
10GB Photo folder – 621 files (mix of .png, raw and .jpeg images).
10GB Audio folder – 1,483 files (mix of mp3 and .flac files).
5GB (1.5bn pixel) photo.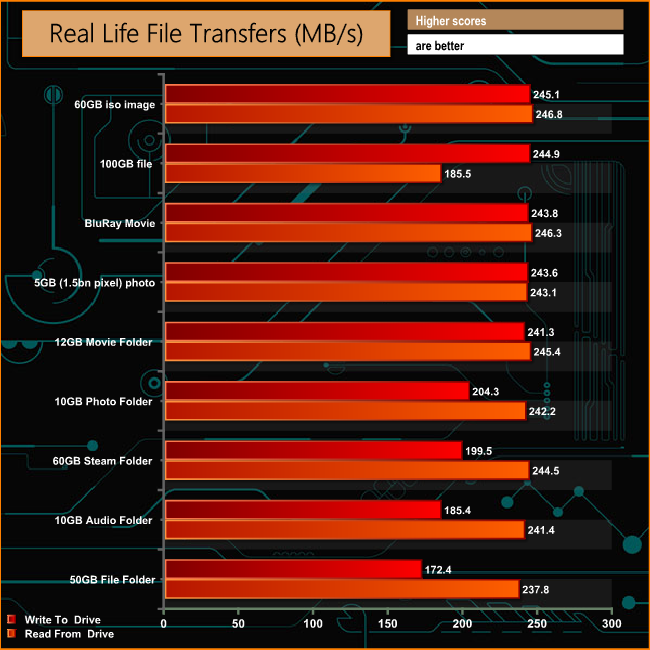 Our real life file transfer tests proved no obstacle to the WD Gold, the drive averaging 245.58MB/s for writes and 237.01MB/s for reads for the nine tests.
The Western Digital 12TB Gold is the latest and currently largest capacity drive in WD's drive range aimed at the enterprise market where the demands for increased storage density are growing ever larger. The Gold range of drives have a number of built in technologies to help them survive 24 x 7 365 days a year in the most demanding storage situations and to this end have a 2.5m hour MTBF rating. The drive uses WD's 4th generation HelioSeal helium technology. Since its inception HelioSeal has been used in over 15 million (and counting) shipped drives.
Helium technology has allowed drive manufacturers to produce larger capacity drives thanks to its property of being 1/7th the density of air, reducing the internal turbulence and friction on the platters, actuating arms and heads. The reduction of turbulence inside the enclosure means that more platters and heads can be built in the same internal space.
Another benefit of the reduced friction is lower thermals and power consumption, so not only are these disks much larger than previous generations, they are also cheaper to run per gigabyte of storage in power consumption terms, a very important attribute in the environments they are aimed at.
To help keep the drive protected against vibration in large multi disk housings Western Digital have the drive spindle attached at the top and bottom of the drive. The drives also have enhanced RAFF technology which monitors the drive and corrects, in real time, rotational vibrations to improve drive stability.
DFH (Dynamic Fly Height) technology ensures that the fly height of each read/write head on the dual-stage head actuator's are adjusted in real time for consistent, reliable performance. TLER (Time Limited Error Recovery) comes into focus in RAID arrays and helps to reduce time lost to drive fallout due to excessively long error recovery times.
The 12TB Gold drive is power efficient and performs the neat trick of using less power through every stage of its use than the 6TB Gold model. Average power requirements for the Sequential Read/Writes is 7W and 6.8W respectively, for the 6TB model it's 9.3W and 8.9W respectively.
Random Read/Write average power for the 12TB drive is 6.9W (9.1W for the 6TB drive) with the 12TB drive using 2.1W less power when in idle mode; 5.0W than the 7.1W of the 6TB drive.
We found the 12TB WD Gold available to pre-order on Overclockers UK for £489.95 (inc VAT) HERE
Discuss on our Facebook page, over HERE.
Pros
Overall Performance.
Performance protecting technologies.
5-year warranty.
Cons.
Its not cheap but then it is aimed at the enterprise segment.
Kitguru says: WD's Gold 12TB offers huge capacity with good overall performance with plenty of onboard technoloiges to help it survive in its intended environment.