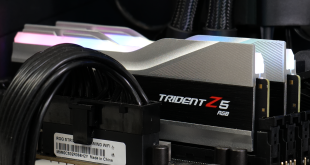 DDR5 is still relatively fresh on the scene but thankfully availability has now improved since its launch about half a year ago. With improved availability comes not only the chance to actually buy a kit, but also the ability to buy some higher-end, more boutique modules. That's where G.SKILL's Trident Z5 RGB 32GB set comes into play, with an impressive 6000MHz operating speed and CAS Latency of 36. 6GHz RGB DDR5 from G.SKILL – let's take a closer look!
Timestamps
00:00 Start
00:52 Specifications
02:08 Appearance / Styling / Lighting
03:11 RGB Management
03:37 Pricing
04:20 Test system
05:16 Test results
07:22 Luke's findings / overclocking
08:18 Closing Thoughts
In terms of styling, G.SKILL has shifted the design slightly from the DDR4-era Trident Z. Now, we get a little more curved flow to the angles of the tri-fin, aluminium heatspreader instead of the sharp corners of DDR4 Trident Z.
G.SKILL sells the modules in matte black or metallic silver colour; we have the silver set which I think contrasts the black naming strip nicely.
I would describe the Trident Z5 module design as sensible, high-quality, and eye-catching. At around 45mm tall, module height is reasonable.
G.SKILL's specs for the Trident Z5 RGB kit we have here are impressive. This is a DDR5 kit running at 6000MHz XMP 3.0 frequency, it's a dual-channel 2x16GB 32GB set using single-rank modules, and the timings are 36-36-36-96 at 1.35V.
The set uses Samsung ICs according to CPU-Z. But unfortunately we can't tell the exact IC model details as Thaiphoon Burner doesn't seem to like our Z690 and DDR5 test system. You also get a thermal sensor to monitor module temperatures in software.
For reference, the actual model code of this Trident Z5 RGB kit is: F5-6000J3636F16GX2-TZ5RS.
Pricing of the 6GHz G.SKILL kit is certainly hefty at a penny under £420 in the UK. This is very expensive for a 2x16GB set of DDR5 memory. As a comparison, the 5600C36 Dominator Platinum RGB competitor is around £100-120 cheaper at £300-320.
In fact, £420 for G.SKILL's 32GB set is close to 64GB alternative kit money. Though, granted a comparable 64GB kit of something like Corsair Dominator Platinum RGB is closer to £500 with a notable speed reduction too.
Other 6000MHz kits set you back at least £380 when looking at equivalently premium levels. So G.SKILL is still notably more expensive, but an extra 10% for one premium RAM kit versus another is likely tolerable for this market segment.
For a better look at the G.SKILL kit's RGB lighting, check out our video review.
LED lighting is handled by eight RGB zones on top of the Trident Z5 RGB modules. This light then disperses through a plastic diffuser bar for a smooth and graduated colour gradient.
I personally loved the Trident Z RGB and Trident Z Royal modules of the DDR4 era and I think G.SKILL does a superb job to make the DDR5 Trident Z RGB to look just as good, particularly with the smoothness of that LED light diffusion bar.
In terms of RGB management, G.SKILL offer their own lighting control software. It is actually reasonably comprehensive and allows individual control of the 8 LED zones. You can select a few different modes and then settings such as speed and brightness.
You will probably want to use motherboard vendor software for control and sync to match other components. That can be done through the individual tools which are: ASUS Aura Sync, Gigabyte RGB Fusion 2.0, MSI Mystic Light Sync, and ASRock Polychrome Sync.
Looking at CPU-Z, we see notation of the Samsung memory ICs used. But with the incompatibilities of Thaiphoon Burner, it is difficult to tell exactly which Samsung ICs are used.
Model Number: F5-6000J3636F16GX2-TZ5RS
Capacity: 32GB (2x 16GB)
Rated Frequency: DDR5-6000MHz
Rated Timings: 36-36-36-96
Voltage: 1.35V XMP 3.0
Be sure to check out our sponsors store EKWB here