The EVGA SuperNova P2 1600 is a class leading power supply created to target the wealthy power hungry audience running expensive SLi and Crossfire systems. If you are building a new Ultra HD 4k system with two AMD R9 295X2's then the P2 1600 copes admirably with the 1,200 watt power demand often required, when gaming.
Build quality is very high and Super Flower are using the highest grade Japanese 105c rated capacitors. Nippon Chemi Con are one of finest capacitor makes for this market and you can't really get much better than the flagship KMW series used in the P2 1600.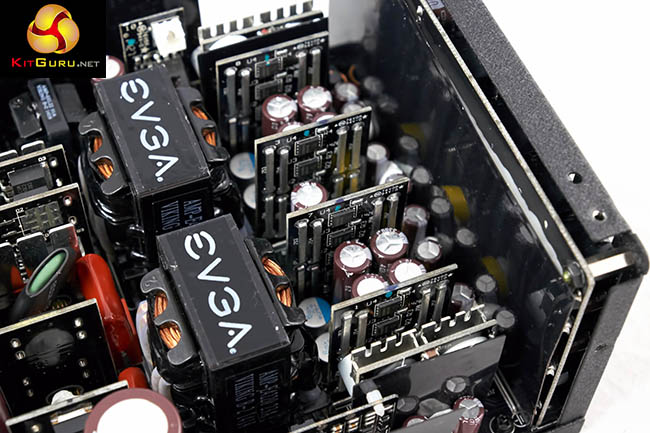 As with the P2 1200 model, load regulation is superb and ripple suppression is just as impressive. The unit passed our intensive cross loading tests without a hitch. The quality of the cabling will appeal to the most discerning of enthusiast user and system builders will appreciate the sexy black sleeving.
Internally, the unit is very hard to fault, Super Flower have not cut corners with the design and the noise levels are very low even when the unit is delivering a steady 1200 watts at the socket.


You can buy the EVGA SuperNOVA P2 1600 from Overclockers UK for £275.99 inc vat. It is one of the most expensive power supplies on the market, but if you are building a QUAD SLI or Crossfire system then it seems rather ludicrous to be skimping on the power delivery. The EVGA SuperNova P2 1600 will power anything you can throw at it.

Discuss on our Facebook page, over HERE.
Pros:
tight regulation.
quality cables.
delivered almost 1,800 watts before shutting down
ATX bridging connector is a handy gadget to include.
Nippon Chemi Con capacitors throughout.
semi passive mode.
excellent build quality.
>94% efficiency at 800 watts load.
Cons:
will cause a serious dent in the bank balance.
Kitguru says: If you are building a crazy new multi GPU rig and need nuclear reactor levels of stable power, the EVGA SuperNova P2 1600 should really be on the final shortlist.