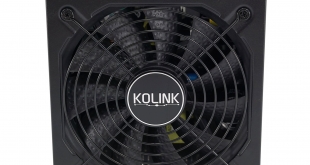 Today we take a look at a new power supply from Kolink – a fully modular Platinum rated unit. While we have reviewed several of their power supplies in recent years, it's worth recapping that Kolink products are controlled by Hungarian Kellytech, a sister company of European based Caseking – who have exclusive distribution rights. Unsurprisingly they are sold in the United Kingdom by Overclockers UK.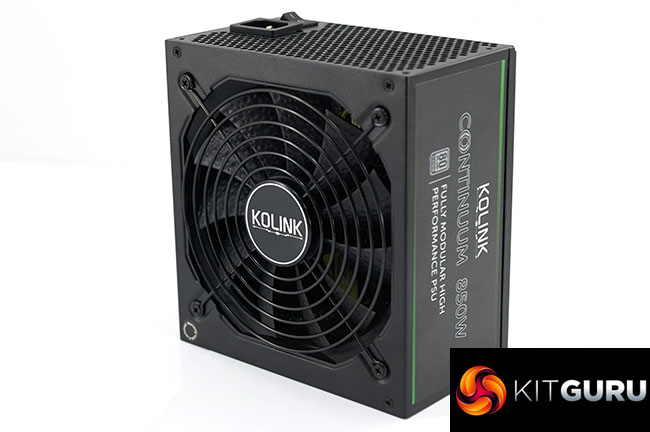 The Kolink power supplies we have tested in previous years have scored quite well in our reviews, they tend to be no frills units aimed at low price points but focused on an enthusiast user who demands high quality power delivery.

Their designs in the past have been by Enhance and Sifra/ High Power. We have been told that this particular unit we are reviewing today has been designed with HighPower, based on their HPS platform (LLC/DC-DC).
The Highlights of the Kolink Continuum 850 W Platinum

Fully-modular 850 W power supply
Platinum Plus certification
70.9 A and 850 W on the + 12 Volt rail
8x PCIe- and 6x Molex connectors
Manufacturer's Guarantee: 5 Years
Review photography handled in house at KitGuru with a Leica S series medium format camera and S series prime lens. Please do not use any of the images within this review without express permission.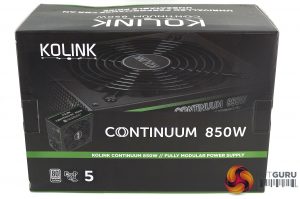 The Kolink box artwork is pretty dark and moody. I like it as you see a nice high quality image of the power supply on the front.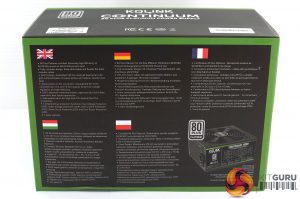 The rear of the box shows some key features in multiple languages.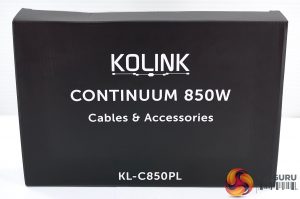 Inside the outer box alongside the power supply is a smaller box containing all the cables and accessories. It is worth pointing out that there is no power cord supplied with this power supply. We asked Kolink representatives who told us that 'all professional miners use their own powercords – custom lengths, even often custom cables similar to C13 extensions).'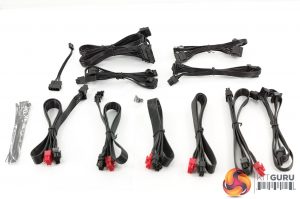 Connectors (removable):
Motherboard: 1x 20+4-Pin ATX12V/EPS12V
CPU: 1x 4+4-Pin, 1x 8-Pin ATX12V/EPS12V
6x 6+2-Pin PCIe
8x SATA
6x 4-Pin Molex
The Kolink Continuum 850W unit is completely modular, and all the cables are the thin ribbon style cables that make cable routing easy. The unit ships with 6x PCIe cables (for the miners out there) and there are 2 CPU connectors as well which is a welcome addition – especially for those people who want to build a new Threadripper system.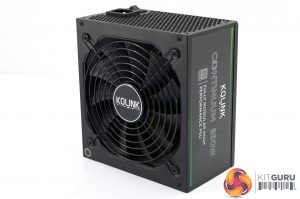 Like other Kolink power supplies we have reviewed in recent years, the finish is quite good although I still find their green accented stickers a little ugly.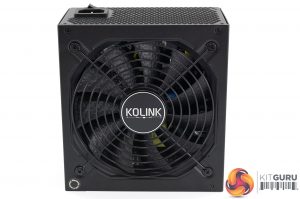 A large 140mm fan can be seen behind a black grill with the Kolink company branding seen clearly in the middle of the grill. We will take a closer look at the fan when we open the chassis later in the review.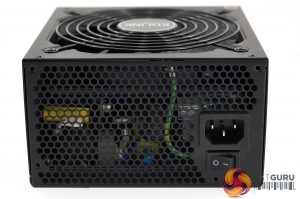 One side of the power supply is home to a power connector, switch. The rest of the area is vented to help with airflow.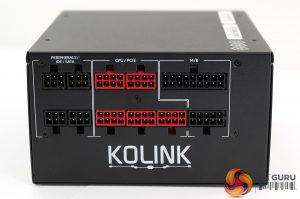 Red connectors – to match the green stickers. Might be one for Christmas. Mmm. The modular connector panel is neatly laid out with 'three' sections visible to the naked eye. The M/B connectors are along the right side. The SATA and MOLEX connectors connect along the left side with the central position supporting the PCIe and CPU cables.
Kolink Continuum 850W PSU

DC Output

+3.3V

+5V

+12V

-12V

+5Vsb

Max Output

22A

22A

70.9A

0.3A

3A

Total Power
120W
850W
3.6W
15W
850W
The single +12V rail is able to deliver 70.9 amps which is plenty for any Crossfire or SLI system build I can imagine. The larger 1050W and 1200W Continuum models are capable of delivering 87.5A and 100A respectively.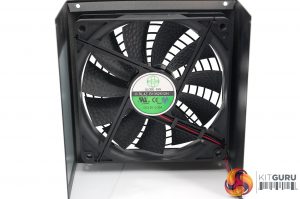 Like many of the Kolink power supplies, the company are using a GLOBE Fan – Model number RL4Z B1352512H. This fan is rated 12V, 0.33A. We noticed this is the same fan as in the 1200W unit, although the 1050W model had a RL4Z B1352512M fan which is rated 12V 0.28A.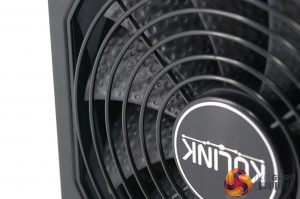 This is a ball bearing fan (2BB) with 'golf surfaced blades' which hopefully you can see clearly enough in the zoomed up image above. We have seen this on Sharkoon Silent Eagle fans in the past, and the purpose of the design is to remove surface noise as the air is pushed through.
If the image gallery below doesn't display for you it is likely a code conflict with your ad blocker. Consider supporting us as we display simple image ads to help fund our publication.
This unit is based on the brand new Highpower HPS platform (LLC/DC-DC). Kolink where involved in tuning and tweaking the unit to their specific requirements. Soldering quality is pretty good, with a few rough spots, but overall, its pretty clean. Due to the high levels of efficiency there are only a few rows of heatsinks to keep the heat under control.
It is good to see a Made In Japan 'MIJ' sticker on top of the primary capacitor. This is a Rubycon unit, rated 400v 680uF at 105C. A quality cap. The secondary capacitors are also Japanese so I have quite a lot of confidence in the design over the long term. No corners seem to have been cut.
This primary capacitor is generously specified for an 850W supply, and it compares well against the Non ULTRA Seasonic PRIME Platinum 850W which shipped with a 660uF capacitor. Seasonic upgraded their capacitor count in the new ULTRA 850W Platinum version – with a 470uF and a 330uF (total of 800uF).
The 1200W Kolink Continuum adopted Japanese Nippon Chemi Con capacitors, but I rate both Rubycon and Chemi Con at a very high level, so Kolink are clearly using whichever is available at the time. Not a TEAPO capacitor in sight, which gets a big thumbs up from me.
Correctly testing power supplies is a complex procedure and KitGuru have configured a test bench which can deliver up to a 2,000 watt DC load. We run at 35c in our environment to greater reflect warmer internal chassis conditions.
We use combinations of the following hardware:
• SunMoon SM-268
• CSI3710A Programmable DC load (+3.3V and +5V outputs)
• CSI3711A Programmable DC load (+12V1, +12V2, +12V3, and +12V4)
• Extech Power Analyzer
• Extech MultiMaster MM570 digital multimeter
• Extech digital sound level meter
• Digital oscilloscope (20M S/s with 12 Bit ADC)
• Variable Autotransformer, 1.4 KVA
We test in a single +12V configuration.
DC Output Load Regulation

+3.3V

+5V

+12V

+5VSB

-12V

A

V

A

V

A

V

A

V

A
V

85W

0.95

3.33

0.92

5.02

6.00

12.00

0.50

5.02

0.20
-12.02

170W

1.70

3.32

1.67

5.02

12.35

11.98

1.00

5.02

0.20
-12.00

425W

3.00

3.32

3.05

5.02

32.20

11.96

1.50

5.01

0.30
-12.00
640W
4.05
3.32
4.05
5.01
49.00
11.95
2.00
5.01
0.30
-12.01

850W

5.00

3.31

5.23

5.01

65.52

11.93

2.50

5.01

0.50
-12.02
Load regulation is very strong with the rails only showing minor fluctuation under load.
Kolink Continuum 850W Platinum

Maximum Load
965W
We managed to get the power supply to deliver 965W before it would shut down, delivering around 115W more than rated specifications.
Next we want to try Cross Loading. This basically means loads which are not balanced. If a PC for instance needs 500W on the +12V outputs but something like 30W via the combined 3.3V and +5V outputs then the voltage regulation can fluctuate badly.
Cross Load Testing
+3.3V
+5V
+12V
-12V
+5VSB
A
V
A
V
A
V
A
V
A
V
760W
1.0
3.33
1.0
5.02
60.0
11.95
0.2
-12.02
0.50
5.00
165W
15.0
3.30
18.0
4.98
2.0
12.00
0.2
-12.03
0.50
5.00
The power supply dealt with the demanding cross load test very well exhibiting little fluctuation. It was tasked with 60A on the +12V rail and it held at 11.95W. The other rails delivered excellent results also.
We then used an oscilloscope to measure AC ripple and noise present on the DC outputs. We set the oscilloscope time base to check for AC ripple at both high and low ends of the spectrum.
ATX12V V2.2 specification for DC output ripple and noise is defined in the ATX 12V power supply design guide.
ATX12V Ver 2.2 Noise/Ripple Tolerance

Output

Ripple (mV p-p)

+3.3V

50

+5V

50

+12V1

120

+12V2

120

-12V

120

+5VSB

50
Obviously when measuring AC noise and ripple on the DC outputs the cleaner (less recorded) means we have a better end result. We measured this AC signal amplitude to see how closely the unit complied with the ATX standard.
AC Ripple (mV p-p)
DC Load
+3.3V
+5V
+12V
5VSB
100W
5
5
5
5
225W
10
10
15
5
450W
10
10
15
10
675W
15
10
20
10
850W
15
10
25
10
Noise suppression is very good, with the +12V rail peaking at 25mV at full load. The minor rails +3.3V and +5V peak at 15mV and 10mV respectively. All rails fail well within the industry rated tolerance levels.
Efficiency (%)

100W

89.67

225W

91.68

450W

93.89

675W

92.25

850W
91.34
Efficiency is extremely impressive, peaking at around 94 percent at 50 percent load. This drops to around 91.3 percent at full load.
We take the issue of noise very seriously at KitGuru and this is why we have built a special home brew system as a reference point when we test noise levels of various components. Why do this? Well this means we can eliminate secondary noise pollution in the test room and concentrate on components we are testing. It also brings us slightly closer to industry standards, such as DIN 45635.
Today to test the power supply we have taken it into our acoustics room environment and have set our Digital Sound Level Noise Decibel Meter Style 2 one meter away from the unit. We have no other fans running so we can effectively measure just the noise from the unit itself.
As this can be a little confusing for people, here are various dBa ratings in with real world situations to help describe the various levels.
KitGuru noise guide
10dBA – Normal Breathing/Rustling Leaves
20-25dBA – Whisper
30dBA – High Quality Computer fan
40dBA – A Bubbling Brook, or a Refrigerator
50dBA – Normal Conversation
60dBA – Laughter
70dBA – Vacuum Cleaner or Hairdryer
80dBA – City Traffic or a Garbage Disposal
90dBA – Motorcycle or Lawnmower
100dBA – MP3 Player at maximum output
110dBA – Orchestra
120dBA – Front row rock concert/Jet Engine
130dBA – Threshold of Pain
140dBA – Military Jet takeoff/Gunshot (close range)
160dBA – Instant Perforation of eardrum
Noise (dBA)

100W

<28.0

225W

31.8

450W

34.7

675W

37.9

850W
39.5
At lower load the power supply is relatively quiet but as the demand rises the fan starts to spin faster. At around 750 watts the fan is clearly audible, although it is not too intrusive due to the fact the fan is pitched quite low. Kolink opt for double ball bearing fans to aid cooling performance and to offer long term reliability, at some expense to noise. This would mean this power supply would be a great option for a mining rig.
Temperature (c)

Intake

Exhaust

100W

37

40

225W

38

42

450W

39

47

675W

43

50

850W

45

52
The aggressive fan profile ensures this unit remains cool at all times. This is a clear trade off against noise emissions. Only you can decide if this is welcomed!
| | |
| --- | --- |
| Maximum load | Efficiency |
| 965 watts | 90.4 |
At 965 watts, the efficiency level measures 90.4%. Not a practical situation to be running 24/7, but worth noting.
The Kolink Continuum 850W Platinum power supply follows a similar path to the Continuum KL C1500PL which we reviewed back in January this year. It seems to be slanted towards miners who want ultimate long term reliability with multiple graphics cards.
First impressions are a let down, just like previous experiences I have had with Kolink products. The stickers on the unit are ugly, sometimes not even stuck on straight and the red and green accenting clashes. It is like Santa let the elves go a little crazy after a party. On a more positive note the paintwork is actually not bad at all, but this could not be classed as a great looking power supply by any stretch of the imagination.
Kolink are targeting their power supplies towards the mining audience. As such they use long life, 140mm ball bearing fans with a focus on cooling efficiency, rather than noise suppression. They can get fairly loud – depending on the specific load, and the only saving grace is the pitch resonates at lower frequencies, meaning they aren't quite as ear piercing as you might think. Still, if you yearn for a quiet system, you will want to be looking at other supplies.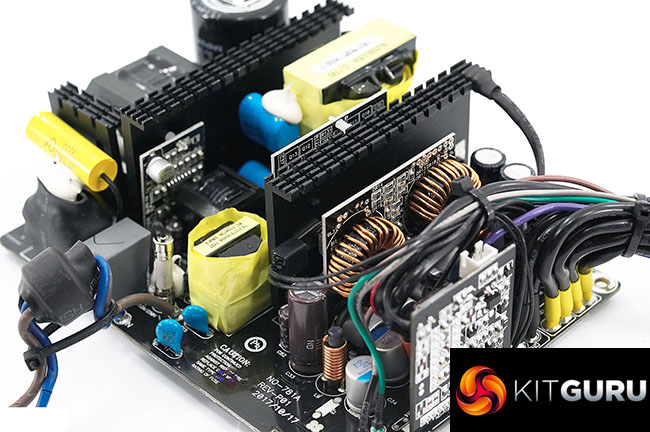 It is true that miners don't care about noise but why no power cable in the box? As mentioned earlier in the review, I have spoken to Kolink about the fact they don't bundle a power cable with these units and they said that most miners will have their own power cords anyway – either custom designs or C13 extensions). Perhaps its not that big a deal for a portion of our audience, but I would imagine it might be irritating for some customers to have their system ready to go and realise they need to go online to purchase an additional power cable, and then wait for another day or two for it to arrive. Its not the cost, its just the convenience.
When we get to the technical side of the power supply, first impressions faded quickly. The new Highpower HPS platform (LLC/DC-DC) proved rock solid during our testing and it delivered a very high standard of power to all the components. Ripple suppression is excellent and the load regulation proved stellar too. We managed to get over 950 watts from it before it shut down safely.
We tested the system in a 'real world' environment, comprising two GTX 1080's and an overclocked Threadripper processor. The inclusion of two CPU connectors will be welcomed by the AMD audience looking for a reasonably priced quality power supply for their new Threadripper build.
Thankfully the unit is fully modular, which helps to ensure a neat, clean build. Technically there is little to fault at the price – Kolink are using 100% Japanese capacitors throughout, and the primary stage cap is 105C rated, manufactured by Rubycon – a great Japanese manufacturer.
Kolink offer a 5 year warranty with this power supply, which while not ground breaking compared against the 12 year warranty offered by market leader Seasonic, still gives peace of mind for a reasonably long time.

You can buy the Kolink Continuum 850W 80 Plus Platinum power supply from Overclockers UK for £119.99 inc vat HERE.
Looking at other brands 850W Platinum power supplies on OCUK HERE we can see just how competitively priced the Kolink is at £119.99. Many of the competitor units are priced between £140 and £220!
Pros:
very competitively priced.
100% Japanese capacitors.
fully modular.
technically rock solid.
delivered 950 watts+
quality paintwork.
Cons:
Can get loud.
fugly stickers galore.
no power cable supplied.
Kitguru says: Another quality, technically solid unit from Kolink – designed with miners in mind. It can get loud, but based on our tests it will likely take heavy abuse over many years under constant heavy load. At the current price, its a bargain.