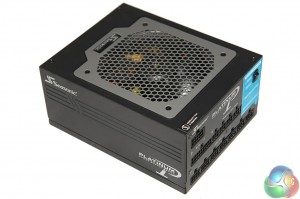 The Platinum 1200W Modular power supply is very attractively finished, in gunmetal grey/silver and black. The name of the product is on the side panels. For those interested, the appearance of the side panels have changed a little since we reviewed Seasonic's 1000W Platinum power supply back in May 2012.
As we would hope from a high end unit such as this the finish of the chassis is top quality, with thick paintwork. It passed our 'screwdriver' test with flying colours. This involves running the head of a Philips head driver down the side of the chassis with light to medium force. After all, how many times have you accidentally connected with a power supply during a system build?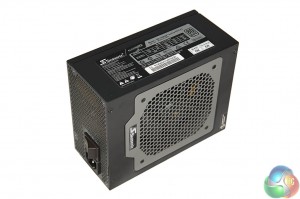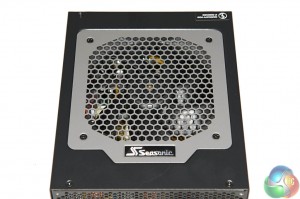 The fan is hidden behind a silver panel with Seasonic branding along the bottom of the grill.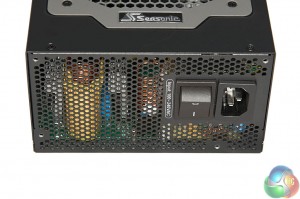 One end of the power supply is vented, to help improve air flow under load. There is a power switch and connector at the side.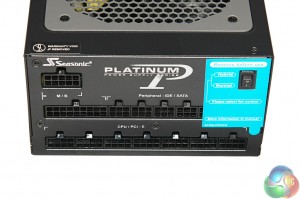 The modular panel is neatly laid out with all the connectors clearly labelled for ease of installation. There is a blue sticker top right which details the 'hybrid' and 'normal' status of the fan.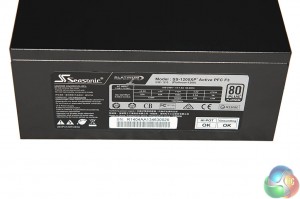 Seasonic Platinum 1200W Power Supply

DC Output

+3.3V

+5V

+12V

-12V

+5Vsb

Max Output

25A

25A

100A

0.5A

3A

Total Power
125W
1200W
6W
15W
1200W
The Seasonic Platinum 1200W power supply can deliver 100A on the +12V rail. Plenty of power for even the most demanding Crossfire and SLi configurations.