Nvidia's GTX 1060 is now available to buy and while the reference design (Founders Edition) is an interesting choice, it's the customised variants from Nvidia partners that should offer the best cooling, performance and feature set. The ASUS GTX 1060 STRIX is the first of the custom GTX 1060s to be tested by KitGuru so let's see what it has to offer.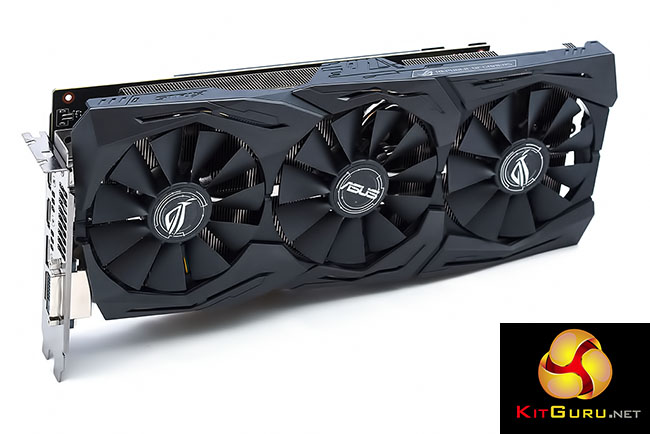 At a quick first glance the ASUS GTX 1060 STRIX is almost identical to the ASUS GTX 1070 STRIX and that's for a valid reason. ASUS has reused the same board design which means an excellent triple-fan cooler, full backplate and Aura RGB functionality. The GTX 1060 STRIX arrives in two different SKUs, an OC variant and a standard one with the only observable differences between the two being frequencies and pricing.
In for review we have the OC model which has a boost clock of 1845MHz and slight memory overclock of 8208MHz (effective). Given the non-existent differences between this and the standard variant it seems the price increase of $/£20 is a bit steep and prospective buyers comfortable with overclocking should consider the cheaper option and overclock it themselves.
Pricing will likely be a contentious issue for the GTX 1060s as it's more of a value-oriented model than the GTX 1070. Nvidia says GTX 1060 pricing starts from £239.99 which is technically true, a handful of models are available around this price point, but most prestigious manufacturers, including ASUS, seem to be using the Founders Edition (£275/$300) as the baseline and pricing suitably above that level.
While it's easy to be critical of that pricing, ASUS does a lot to justify the premium including – full RGB functionality, uprated-quality components, automated production, dual HDMI ports for VR and onboard GPU-controlled fan headers.
In light of the recent clock speed controversy that embroiled a number of graphics card vendors ASUS has been fully transparent about what the out-of-the-box frequency will be for customers. Those frequencies are the ones we've tabulated below and as such we tested the ASUS GTX 1060 STRIX in this configuration, users will be able to install ASUS GPU Tweak II  and enable the faster OC mode with one simple click.
| | | | |
| --- | --- | --- | --- |
| GPU | Nvidia GTX 1060 Founders Edition | ASUS GTX 1060 STRIX | ASUS GTX 1060 STRIX OC |
| GPU Cores | 1280 | 1280 | 1280 |
| Base Clock | 1506 MHz | 1506 MHz |  1620MHz |
| GPU Boost Clock | 1708 MHz | 1708 MHz | 1845MHz |
| Total Video memory | 6144 MB | 6144 MB |  6144 MB |
| Memory Clock | 4006 MHz |  8008 MHz | 8208 MHz |
| Memory Bandwidth | 192 GB/s |  192 GB/s |  197 GB/s |
| Bus Width | 192-bit | 192-bit |  192-bit |
| Price (£/$) |  £275/$300 | £300/$310 |  £320/$330 |