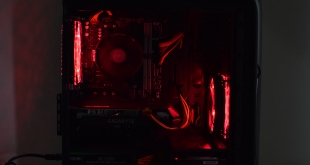 Following on from our launch day review of GTX 1660, Overclockers UK was quick to spec up a system based around this new graphics card. Despite the fact it uses the 6-core Ryzen 5 2600 CPU alongside the GTX 1660, the Overclockers UK Gaming XVI Essential costs just £699 – making it one of the most affordable pre-built systems we have reviewed. At that price there are always going to be compromises when it comes to component selection, but has OCUK done a good enough job to make this system worth buying?
Watch the video via our Vimeo channel (below) or over on YouTube at 2160p HERE
Specification

Case: Kolink Aviator M RGB Micro ATX Tower – Black
Power Supply: Kolink Core Series 500W 80 Plus Certified PSU
CPU: AMD Ryzen 5 2600 Six Core/Twelve Thread
Motherboard: Gigabyte GA-A320M-S2H Micro ATX
Cooler: AMD Wraith Stealth CPU Cooler
Memory: 8GB TeamGroup Vulcan T-Force 8GB (2 x 4GB) 2400MHz
SSD: Kingston A400 240GB SATA SSD
HDD: Seagate 1TB Barracuda 7200RPM Hard Drive
Graphics: Nvidia Gigabyte 1660 Gaming OC
Operating System: Microsoft Windows 10 Home Advanced 64 Bit
There's a few things to note about the overall build and components used within this system, so we will detail that here.
First of all, the Kolink Aviator M RGB case is not very well built. In fact, when I was first setting up the system for testing, I removed the front panel to see what was going on underneath it. While doing so, a piece of the acrylic on the front panel actually snapped off. I didn't do anything out of the ordinary to make this happen – I just tugged off the front panel, which says to me the case just isn't very well built.
I got in touch with Overclockers about this, just to let them know what happened, and to their credit, OCUK actually told me if something like that happened to a customer during the initial setup of the PC, this would be covered under the three year warranty of the system. It's also a collect-and-return deal, so you wouldn't even have to pay to get it shipped back.
Of course, this doesn't change the fact that the Kolink case is a cheap unit, and not especially well built at all. However, it does just give that extra assurance that OCUK is confident in the system to offer a three year warranty, so should any issues arise, you're not left on your own.
The Kolink Core 500W PSU also caught my eye, simply because it is only rated at 80+ White efficiency – not even 80+ Bronze which we would consider the bare minimum for a PSU in 2019. We've reviewed a couple of high-end Kolink PSUs in the past that scored well, but this unit is an entirely different kettle of fish, priced at just £34.99.
We've not reviewed this one so we really can't say just how good (or not) it is, but it still vitally important to have a dependable PSU – even in a budget system. If the PSU blows, it could take other more expensive components with it. So we again got in touch with OCUK just to raise our concerns. To their credit, OCUK were happy to disclose the RMA rates for this specific unit – they told us they had sold 'several thousand' and only 1.48% of those had been returned.
To be clear, we still can't say just what the quality of this Kolink unit will be over time as we have not reviewed it. However, the numbers do give us peace of mind as it seems you would be very unlikely to run into any issues with it. Even if you did, there is still that three year warranty which would cover a fault of the PSU within that time frame.
On the topic of the PSU, however, I do think more care could have been given to cable management. Things are always going to be tricky as the cables are not sleeved and come in the ugly ketchup and mustard colours, but I still noticed a bulge of cabling underneath the graphics card. Things are also quite messy round the back of the system, with a lot of the excess cabling stashed away behind the drive cage.
I fully appreciate at £699 that system aesthetics is the absolute lowest priority here, but even so, I don't think it would hurt if OCUK had just given the cable management a bit more care – both to improve visuals, and also make any potential hard drive swaps or upgrades easier down the line.
Despite those points about the build, the main selling point of this system is its core hardware – namely, the GTX 1660 graphics card and AMD's Ryzen 5 2600 processor.
That CPU has a base clock of 3.4GHz, and while it can be overclocked, the GA-A320M-S2H motherboard used here has the A320 chipset, which does not allow for any overclocking. That being said, OCUK did tell us they have updated the final retail specification for this particular system, and the motherboard has been tweaked to the GA-A320M-S2H V2 motherboard – and despite the name, this is actually a B350 chipset which will let users manually overclock. I've not tested that so I couldn't tell you what sort of speeds to expect – and you would have to do the overclocking yourself – but it is an additional feature otherwise lacking from the system as we reviewed it.
As for the graphics card, this is the Gigabyte GTX 1660 OC 6G model. I've not reviewed it, but it is an MSRP card with a dual-fan cooler and a rated boost clock of 1830MHz, though we can also expect it to exceed this frequency when gaming. Alongside the GPU core there is 6GB of GDDR5 memory, operating at 8Gbps.
Performance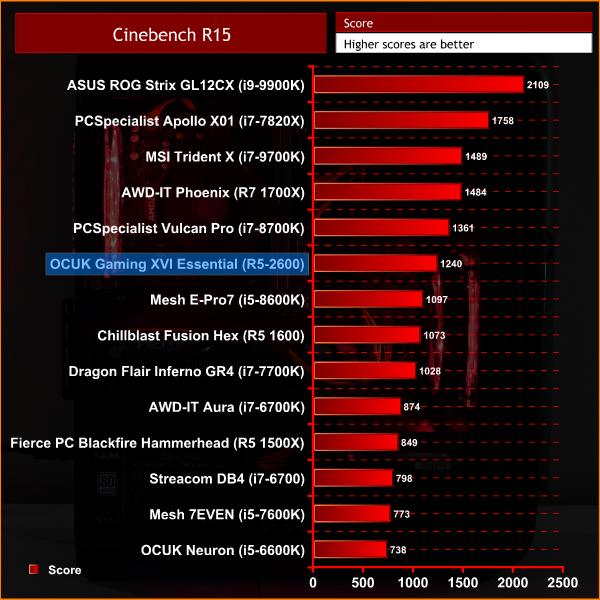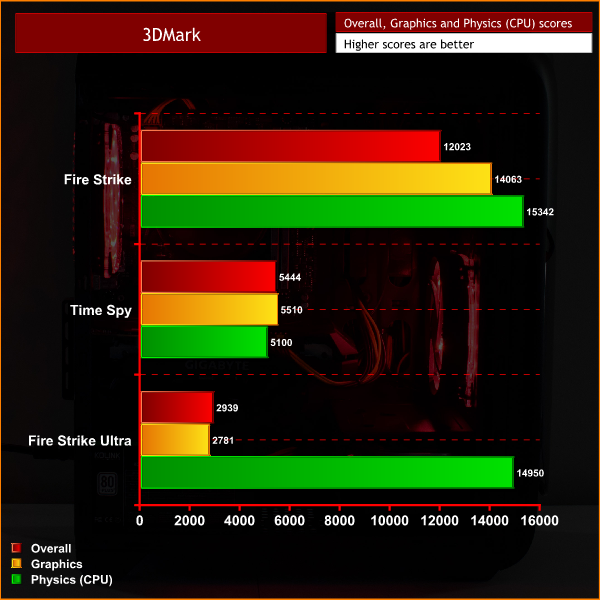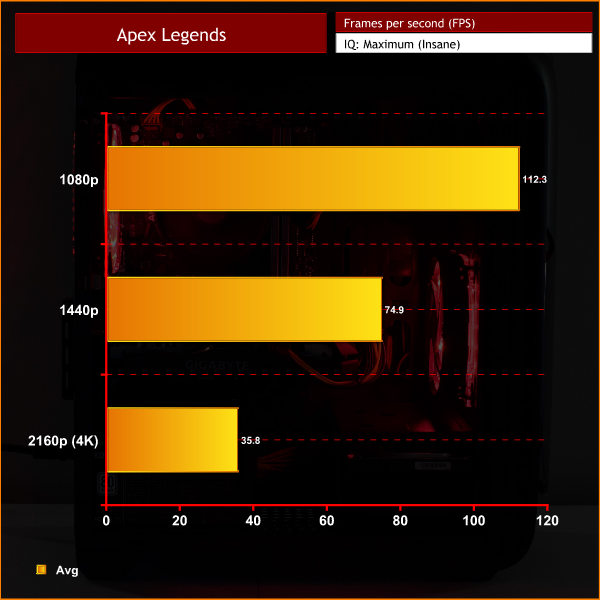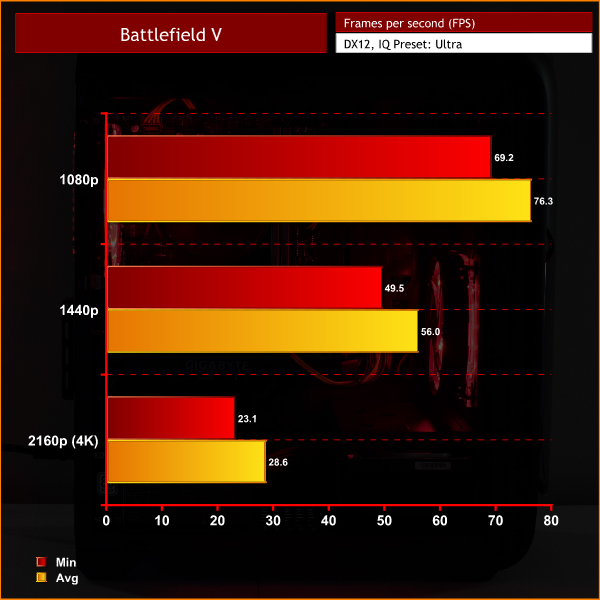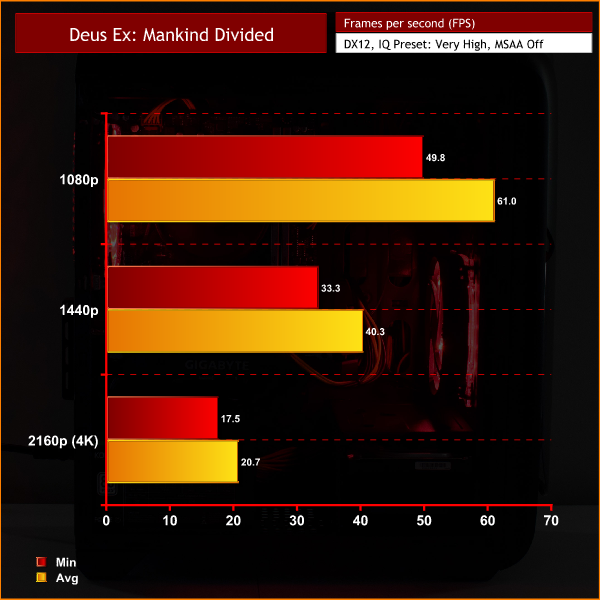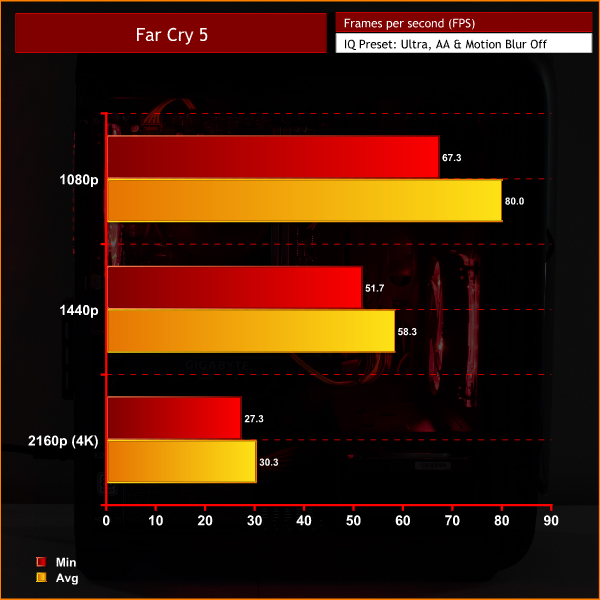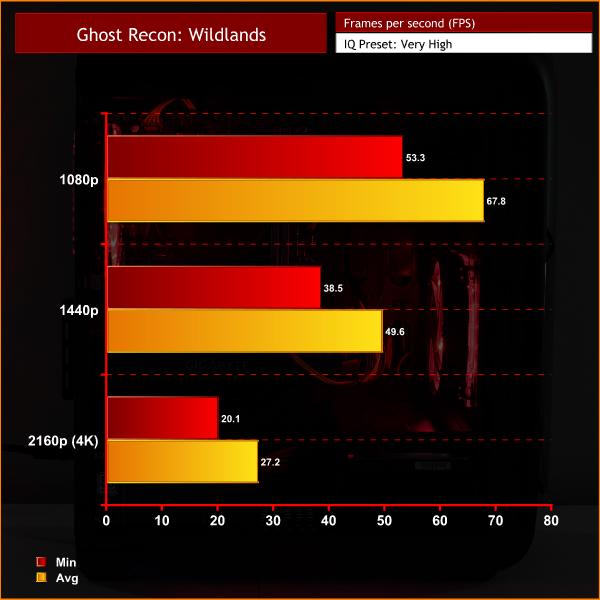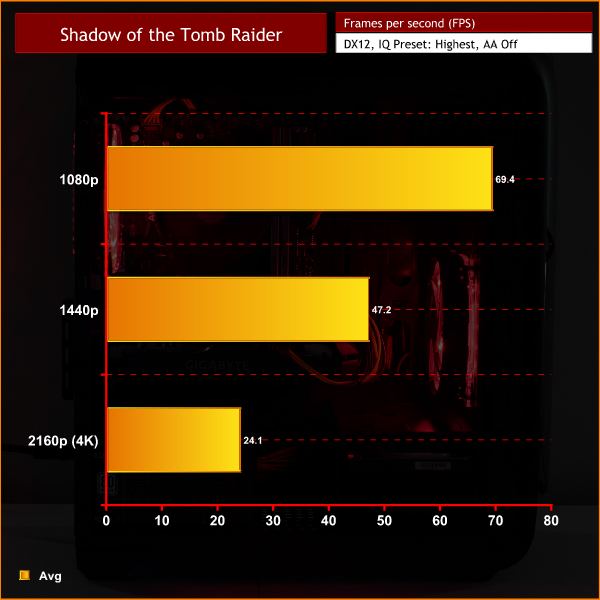 Performance Overview
The Gaming XVI Essential is a thoroughly competent 1080p gaming machine. It breezes through less demanding esports titles like Apex Legends, and even Deus Ex: Mankind Divided – known for being particularly hard to run – still averages over 60FPS at 1080p.
You could probably step up to 1440p if you had to – but for me, the experience there is not always the best. Frame rates can drop into the 30FPS region, so it is still playable but gameplay is noticeably less smooth than at 1080p. I think anyone buying a £699 PC is likely to be using a 1080p panel anyway – it doesn't make sense to me to buy a system like this but then spend more on a 1440p panel.
As for our CPU behaviour, we already mentioned the A320M means no overclocking for the Ryzen 5 2600 – but it will still boost as far as thermals/power allows. Accordingly, we saw the chip running at 3.65GHz across all cores when gaming – about 250MHz faster than stock speeds, which is not bad. The GTX 1660 ran at over 1900MHz, too, which is another good result.Cooling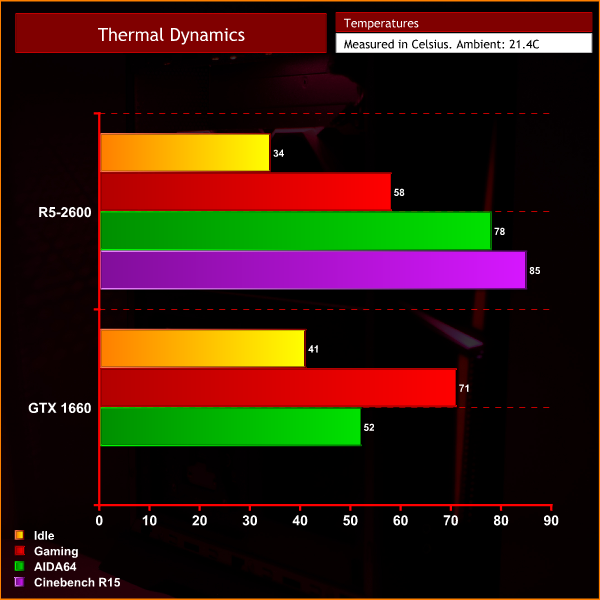 We ran a few different tests to stress the CPU and GPU in this system, and thermal performance is pretty decent considering the cooling hardware used here. The CPU ran no hotter than 85C when stressed with repeated runs of Cinebench, but it didn't top 60C when gaming – so if you have no plans to do any video editing or rendering with the PC, the CPU will stay pretty cool.
The GPU is also a good performer. Gigabyte's dual-fan card isn't the most sophisticated GTX 1660 out there, but that particular GPU doesn't run very hot anyway, so we saw a peak temperature of 71C when playing Shadow of the Tomb Raider.
For some reason, when stressed in AIDA64, the GPU stayed at its 1530MHz boost clock – instead of boosting further, as it would in a game. That explains why the AIDA64 GPU stress test resulted in a much lower temperature than we'd otherwise expect.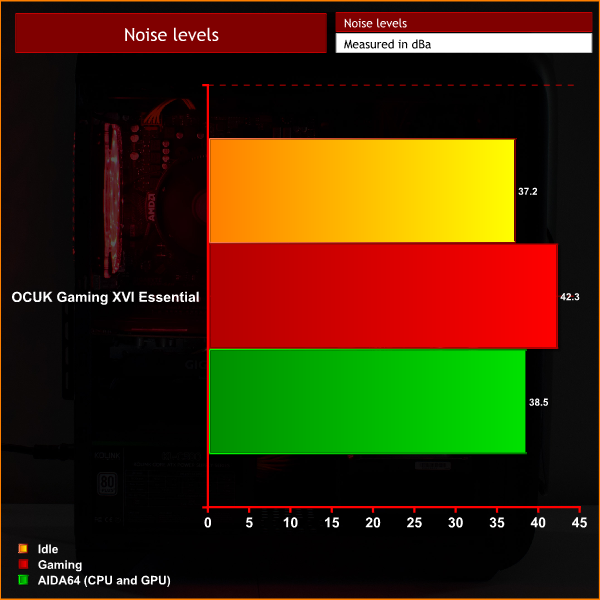 The Gaming XVI Essential stays pretty quiet during normal operation. The fact that the GPU didn't boost during AIDA64 stress testing meant noise levels were also quieter than usual when running that test, but playing Shadow of the Tomb Raider for an hour saw noise levels equalise at just over 42db – so still very respectable. It is audible, but I have heard significantly louder systems in the past, so this is another good result.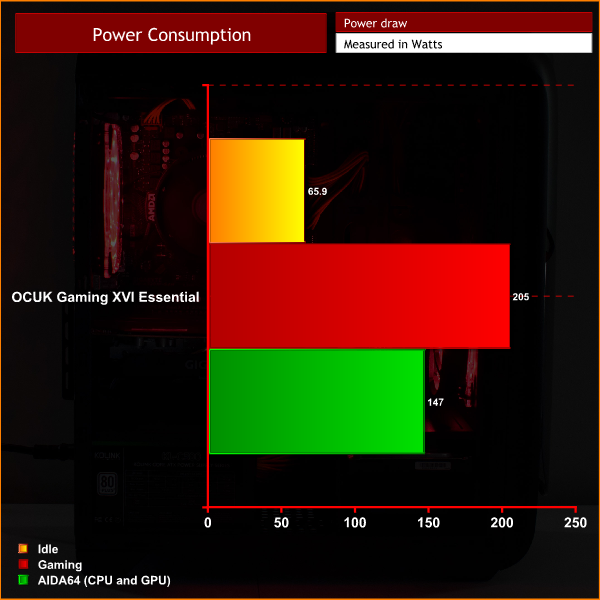 Lastly, power consumption is very low for this system. GTX 1660 is a very efficient chip, and our Ryzen 5 processor is running at stock clocks – so it is not too much of a surprise that total system power draw is barely more than 200W. This means the PSU is operating at about 40% load, which is good for both efficiency and fan noise. It also means the PSU is less likely to run into long-term issues as it is not coming close to be stressed.It is not often we review gaming systems under £1000. In fact, after reviewing plenty of high-end graphics cards – including RTX 2080 Tis that cost £1400+ – it has been somewhat refreshing to look at the £699 Overclockers UK Gaming XVI Essential pre-built system.
It is clear this PC is very much aimed at users on tight budgets – perhaps parents who want to buy their kids a first gaming PC, or for the student looking to play competitive esports titles while at university. That means the hardware is all pretty basic – there's no all-in-one liquid coolers here, or triple-slot graphics cards.
Instead, Overclockers UK employed the Ryzen 5 2600 to work alongside a GTX 1660, and that combination results in excellent 1080p gameplay. Every game we tested averaged at least 60FPS at 1080p, and in many cases we saw much higher frame rates – Apex Legends, for instance, was running at a silky-smooth 110FPS on average.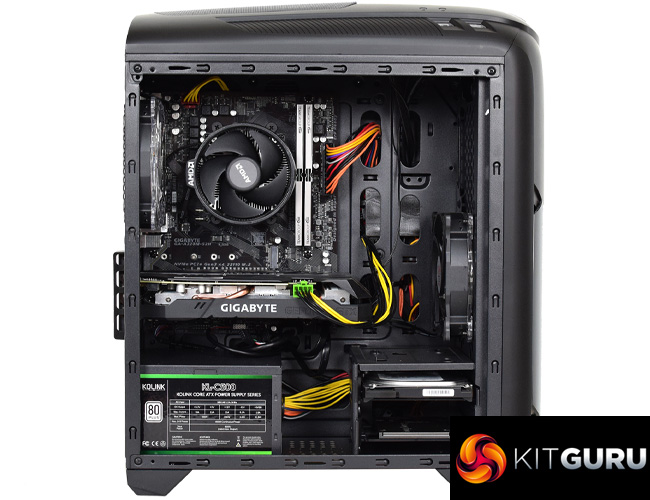 Compromises have been made to meet the price point, though. Our Kolink Aviator mATX chassis is not the most premium out there, and a little piece of acrylic on the front panel actually snapped off as I was setting up the system. That Kolink KL-C500 PSU is only rated at 80+ White – not even 80+ Bronze, which we consider the bare minimum in 2019. Lastly, I do think more care could have been given to cable management as well.
Still, to their credit, Overclockers UK is offering a three year collect-and-return warranty with this system, so should you encounter any issues they will have you covered. While we've not reviewed that PSU, OCUK even disclosed their RMA rate for that exact model – at just 1.48%. We still can't say whether it is actually a good unit or not, but chances are you won't run into any issue with it.
So, all in all, the Overclockers UK Gaming XVI Essential is a great system for users on a budget. If you're just looking for something to play games at 1080p – be it the latest AAA titles or free to play competitive shooters like Fortnite/Apex Legends – this will do the job very nicely. We could look at it and suggest a number of potential improvements to be made, but all would raise the price tag. For £699, you don't quite get perfection, but you do get a lot of PC for your money.

You can buy the Gaming XVI Essential directly from OCUK for £699.95 HERE.
Pros
Excellent 1080p gaming performance.
Low noise.
Compact system.
Power consumption is barely 200W.
Three year collect-and-return warranty.
Cons
Kolink case feels quite cheap.
PSU is only 80+ White.
Cable management could be better.
KitGuru says: Overclockers UK has done a great job of building a highly capable 1080p gaming machine for just £699.