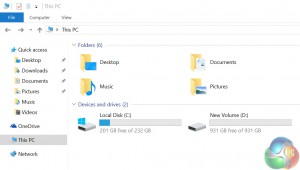 First thing first, storage. With a fresh install of Windows, there is 201GB of free space left on the SSD. The HDD has the full 931GB of space after formatting, as we would expect.
Above we get an overview of the CPU and GPU, thanks to CPU-Z and GPU-Z respectively.
The brand-new i5-7600K (you can read our review of it HERE) is a quad-core chip that does not support HyperThreading. It's base clock is 3.8GHz while it boosts to 4.2GHz.
The GTX 1060, meanwhile, should be capable at 1080p and 1440p resolutions. It has a base clock of 1569MHz and a boost clock of 1785MHz – but thanks to GPU Boost 3.0 technology, it should actually boost much higher.
Comparison systems
Today I will be comparing the SuperNova with the following systems:
Intel Core i7-6700HQ
Nvidia GTX 960M
16GB Dual-Channel 1600MHz DDR3 RAM
128GB SSD + 1TB HDD
Intel Bay Trail-M Celeron N2808 SoC
Intel HD Graphics
4GB DDR3L RAM
64GB eMMc storage
Intel Braswell N3050 SoC
Intel HD Graphics
2GB DDR3L RAM
32GB eMMC storage
Intel Core i3 i3-5010U
Intel HD Graphics 5500
8GB Kingston SODIMM DDR3 1600MHz (1 x 8GB)
240GB Kingston V300 SSD
Intel Core™ m5-6Y57
Intel HD Graphics 515
8GB LPDDR3 1866MHz Memory
256GB Solid State Drive M2 2280 PCIe
Intel Core i5-6500
Asus Turbo GTX 960
8GB Corsair Vengeance LPX 2400MHz DDR4 RAM
500GB Samsung 850 EVO SSD
Intel Core i7-6820HK
Nvidia GTX 980 (desktop)
32GB DDR4 2400MHz RAM
2x 256GB Samsung SM951 PCIe SSDs in RAID0
AMD FX-8320
AMD RX-480
16GB DDR3 2133MHz RAM
240GB Adata Premier SP550
PCSpecialist Defiance III 17.3
Intel i7-6700HQ
Nvidia GTX 1060
16GB HyperX DDR4 2133MHz RAM
512GB SanDisk X400 M.2 SATA SSD
Intel i7-6700HQ
Nvidia GTX 950
16GB Crucial DDR4 2133MHz RAM
512GB Samsung Pro M.2 SSD
Intel i7-7500U
Intel HD Graphics 620
16GB G.Skill DDR4 2133MHz RAM
256GB Toshiba OCZ RD400 M.2 SSD
Intel i7-6700K
Nvidia GTX 1070
16GB Corsair Vengeance 3000MHz DDR4 RAM
500GB Samsung 750 EVO SSD
Intel i5-6402P
Nvidia GTX 1060
16GB Corsair Vengeance LED 3000MHz DDR4 RAM
256GB Intel 600p M.2 SSD
Intel i5-6200U
Intel HD Graphics 520
16GB G.Skill Ripjaws 1600MHz DDR3 RAM
256GB Toshiba OCZ RD400 M.2 SSD
Intel i5-6600K
Nvidia GTX 1070
16GB Corsair Vengeance 3000MHz DDR4 RAM
256GB Intel 600p M.2 SSD
And lastly my personal desktop with a Core i3-4160, 8GB 1866MHz DDR3 and a GTX 960.
Test software
SiSoft Sandra
Cinebench R15
Handbrake* See below for explanation
CrystalDiskMark
ATTO Disk Benchmark
3DMark 11
3DMark
VRMark
Prime 95 (version 26.6)
CPUID HWMonitor
AIDA64 Engineer
Fraps
Test games
Grid Autosport
The Witcher 3: Wild Hunt
Grand Theft Auto V
Doom (2016)
Today we are testing the SuperNova at 1080p, 1440p and 2160p (Ultra HD 4K). All tests were conducted using the latest Nvidia GeForce 376.33 driver.
*Note: For as yet unclear reasons, we had to remove the Handbrake results from this review. Despite using the exact same software, encode file and settings, the Handbrake score for this i5-7600K was significantly faster than an overclocked i5-6600K. There is no reason why this should be the case, so we have had to remove the results so we do not give an inaccurate representation of the CPU's performance.