What kind of gaming system can you get for £1,099 inc vat? Perhaps you are contemplating a desktop replacement style laptop but are wondering how the performance will compare? With this in mind we approached UK system builder DINOPC and they built a desktop and a laptop system at the same price point – the Slayer 15.6″ GTX 870M and the Magma Wrath GTX 770.
Many times when KitGuru get a desktop system to review, the system builder won't factor in the additional cost of a monitor, keyboard or gaming mouse. When building the desktop system for this article today DINOPC had to factor in the cost of all these 'extras'. We could argue that many people will already have a monitor, keyboard and mouse from a previous build, but equally so they could be old and in need of replacement.
You always pay more for portability and we know the desktop system will likely be faster, but will it be significant?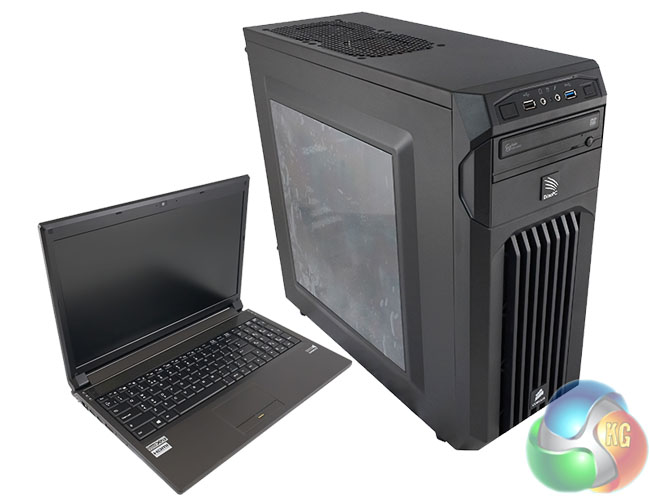 The two systems measure up as follows:
Slayer 15.6″ GTX 870M Laptop:
Based on Clevo P150SM-A chassis
15.6″ full-HD screen
Intel Core i7 4710MQ CPU
Windows 8.1 (64-bit)
Corsair 2x4GB Vengeance 1600Mhz
Crucial 256GB MX100 SSD
NVIDIA GeForce GTX 870M 6GB graphics
8x DVDRW
Wifi+Bluetooth
Price: £1,099 inc. VAT
 
Magma Wrath GTX 770 Desktop:
Intel Core i5 4690K OC
Corsair H55 watercooling
Gigabyte Z97X-SLI
Windows 8.1 (64-bit)
Corsair 2x4GB Vengeance 2133Mhz
Crucial M.2 128GB
1TB S-ATAIII HDD
NVIDIA GeForce GTX 770 4GB
Corsair CS650M PSU (Gold Rated / Modular)
Corsair Carbide Spec-01 Case
Iiyama XU2390HS 23″ Slim Bezel LED
Gigabyte Force K3 Keyboard
Gigabyte Force M7 Mouse