KitGuru reviews thousands of products every year and having high performance, up to date test systems at hand to partner with the latest components is critical. This is particularly true when we are reviewing the latest graphics cards.
In the last week several of our older 4770K and 4790K systems have been disassembled and we are proud to announce that we have been working with Overclockers UK to configure several new test rigs for key reviews on KitGuru.

We have reviewed systems from OVERCLOCKERS UK (HERE) in the past and have found their builds to be very capable, balanced and well finished. BIOS configurations are also important, and Overclockers UK have not disappointed us yet.
When we spoke with OVERCLOCKERS UK, we gave them guidelines on what we needed for these test systems.
A fast Solid State drive, high capacity power supply to handle SLi and Crossfire configurations, 6700k processor, quality motherboard, 16GB of fast memory and a mechanical storage drive for all the games and applications we use to test with the latest graphics cards. Oh yes, and it all had to be fitted in an easy to work with chassis capable of housing long graphics cards.
The good news is, that OVERCLOCKERS UK will be making this exact system available to the public shortly – so if you want to own this exact system we will be using over the coming year on KitGuru – you can. For the time being you can customise it yourself on the Titan Bayonet page, over HERE.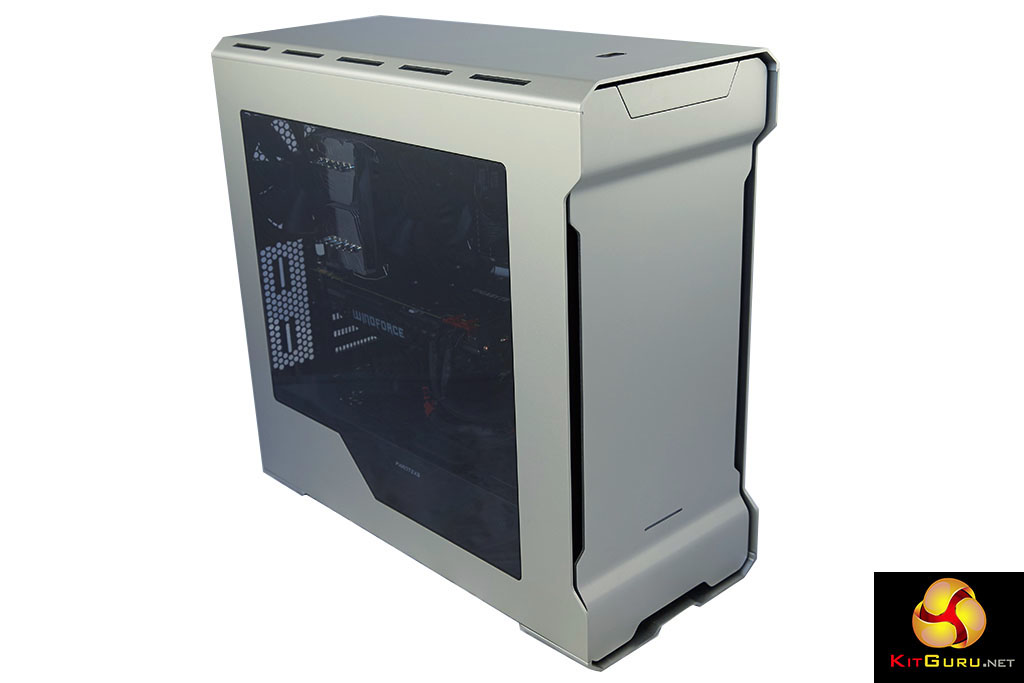 First impressions matter, and OVERCLOCKERS UK selected the Phanteks Evolv ATX Mid Tower gaming chassis as the foundation for the system build. My colleague Leo Waldock reviewed this case back in June last year, and it walked away with the coveted KitGuru WORTH BUYING award. It not only looks great, but there is plenty of space for big graphics cards and other components we need to test.
For the purposes of some of the images in this article we fitted the system with a Gigabyte GTX980 TI XTREME Gaming Windforce graphics card we had at hand – review HERE. Remember this system is specifically built to test graphics cards for reviews, so it is going to be in a constant state of flux. Don't comment on graphics card sag – it isn't even screwed into the case! When you are analysing 15 graphics cards in one sitting, quick ease of access is all important.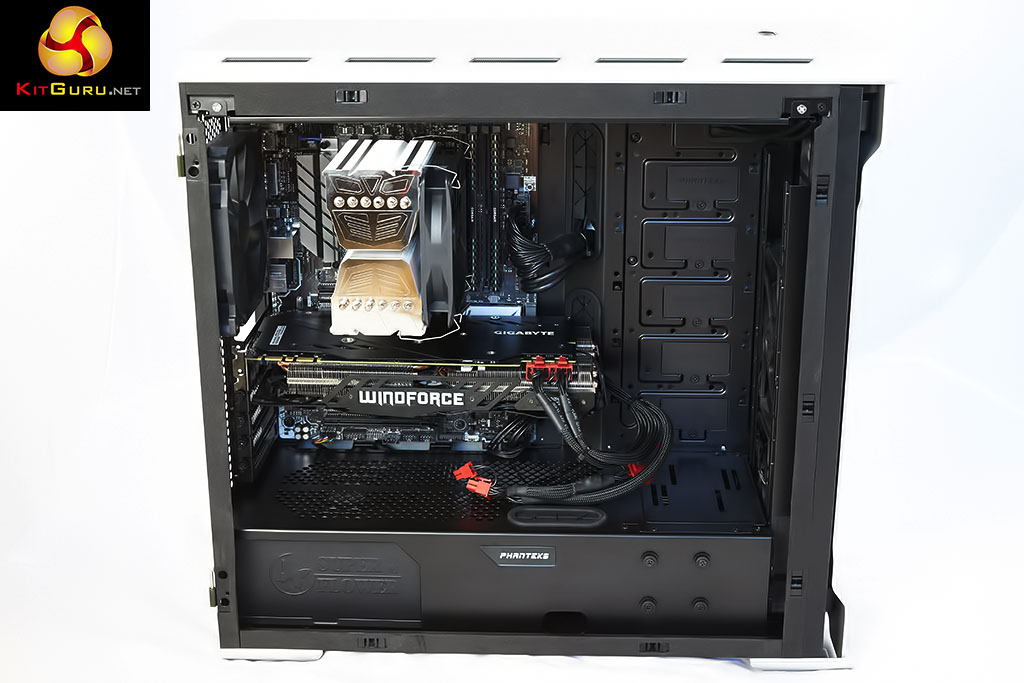 The build is very clean indeed – the spare pair of PCIe power cables you see in the picture above at the bottom of the case, are left easily at hand for our upcoming SLI and Crossfire reviews this year.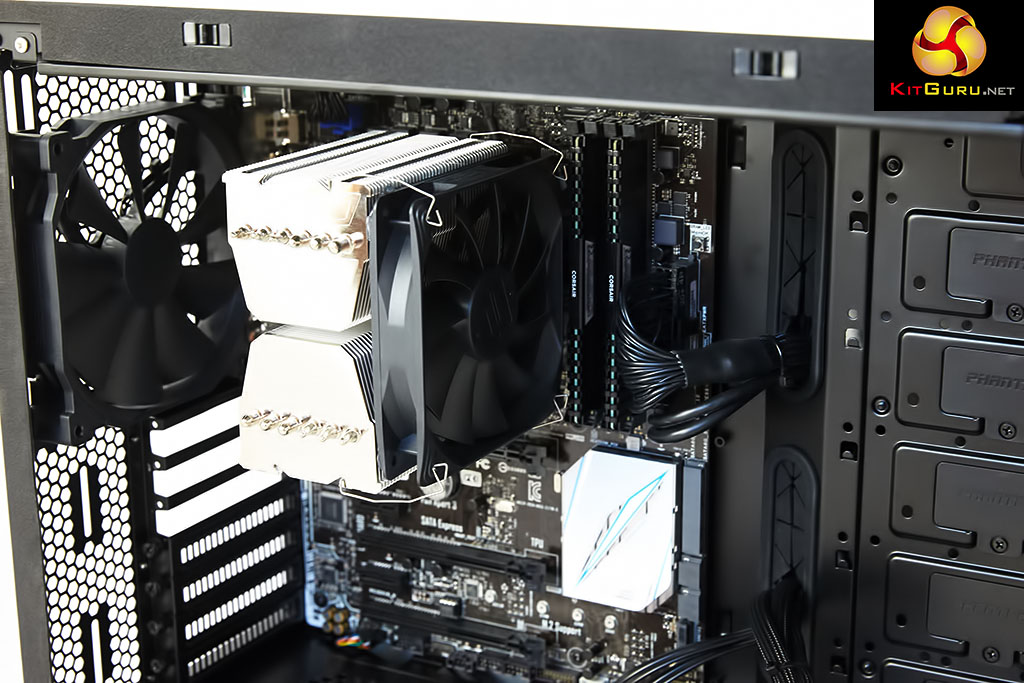 We would normally fit a system like this with an all in one liquid cooler, but Overclockers UK opted for a Prolimatech 81 CPU cooler, which is extremely quiet. 16GB (2x8GB) of Corsair Vengeance LPX DDR4 memory is installed, running at 3000mhz.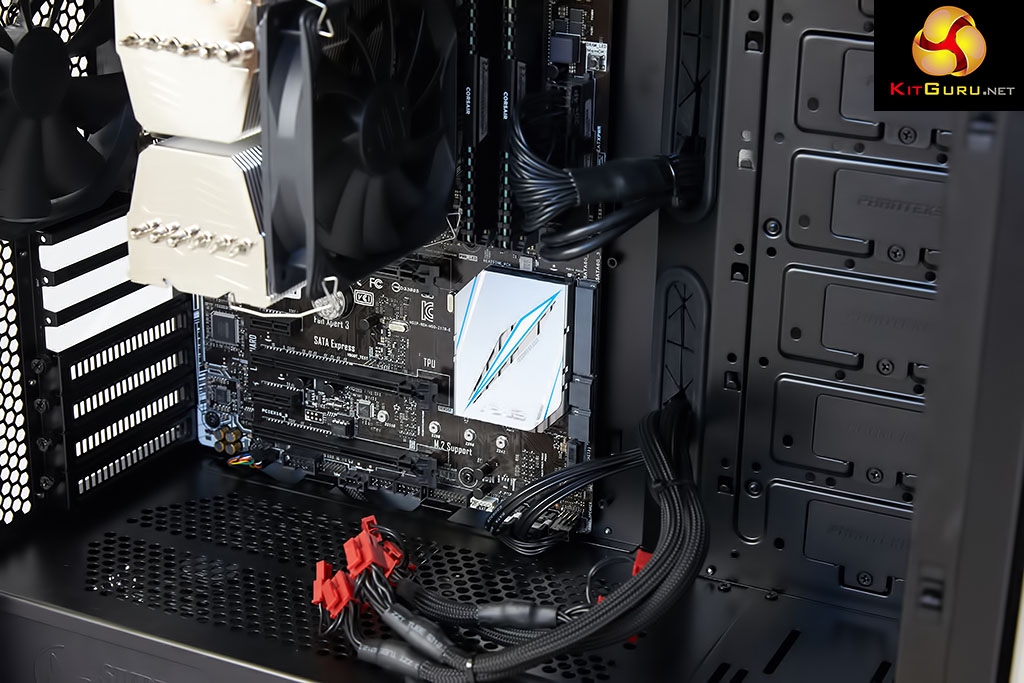 We specifically asked for a high performance Z170 board that would be stable under intensive stress test conditions, and Overclockers UK opted for the Asus Z170-E. I don't review motherboards for KitGuru – that task falls on Luke Hill and Ryan Martin, but ASUS would likely be my first choice – I use their motherboards in all my own systems at home.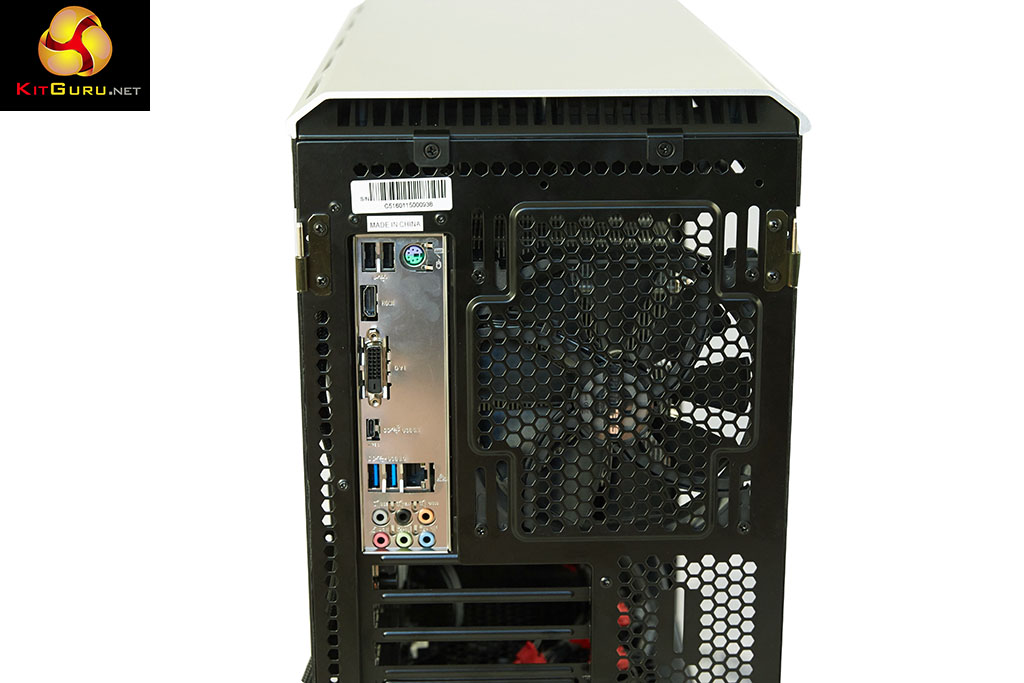 Connectivity of the Asus Z170-E isn't mindblowing, but I only have need for a NETGEAR AC1200 High Gain WiFi USB adapter, alongside a wireless keyboard and mouse, so there is plenty of support for my minimalistic needs.
Overclockers UK have fitted a Super Flower Leadex 850W gold power supply, a capable high grade unit designed with single and dual GPU systems in mind. Our reviews of Super Flower power supplies in the last year have been very positive (HERE).
Overclockers UK have installed a Samsung 250GB 850 EVO 2.5 inch SSD – which handles OS and boot duties, alongside a 1TB Seagate 7,200 RPM hard drive, for storage and our STEAM games.
It has been great working with Scott Bentley over at Overclockers UK to get these systems in place. We don't yet have a link for you to buy the exact same system on their website, but you can customise the TITAN BAYONET system to match our specifications, adding your own choice of graphics card – head to THIS page on the Overclockers UK website. Prices start at £827.99 inc vat.
KitGuru Test System Specifications (Custom Titan Bayonet build):
Case: Phanteks Enthoo Evolv ATX Mid Tower
Processor: Intel 6700K @ 4.4ghz
Memory: Corsair Vengeance LPX 16GB (2x8GB) @ 3000mhz
Motherboard: ASUS Z170-E DDR4 ATX Motherboard
Power Supply: Super Flower Leadex 850W Gold Certified
Software: Microsoft Windows 10 64 Bit
SSD: Samsung 250GB 850 EVO
HDD: Seagate 1TB 7,200 rpm 64MB Cache.
Kitguru says: You will see these systems being used throughout our reviews in 2016 and into 2017.