AMD has teased an upcoming update to its Crimson driver platform and though nothing official has been said, leaked slides and rumour suggest it could bring performance gains to all Graphics Core Next GPUs. We won't have to wait very long to find out for sure either, as the drivers are set to release tomorrow, 8th December.
The new driver will act as a collection of updates, bringing together all the improvements AMD has made to its drivers over the past few months. Those software optimisations should offer solid improvements for many GPUs in a lot of different games. The combining of Radeon and Radeon Pro drivers into one package too, should make this a nice update for developers as well.
Radeon Software Crimson ReLive Edition: Coming Dec 8 2016. https://t.co/afx2zeVTuL

— Radeon RX (@Radeon) December 7, 2016
Specific improvements will come in games like Ashes of the Singularity, Batman Arkham Knight, Deus Ex Mankind Divided, Shadow of Mordor and Overwatch. Each of those games will improve by between four and eight per cent (thanks WCCFTech).
One interesting feature that could help reduce power requirements, is Radeon Chill. This feature monitors what's happening on screen and scales frame rates accordingly, so if you aren't doing much, leave your character idle or are in a low-speed cut scene, the GPU will throttle back and save you a few pennies.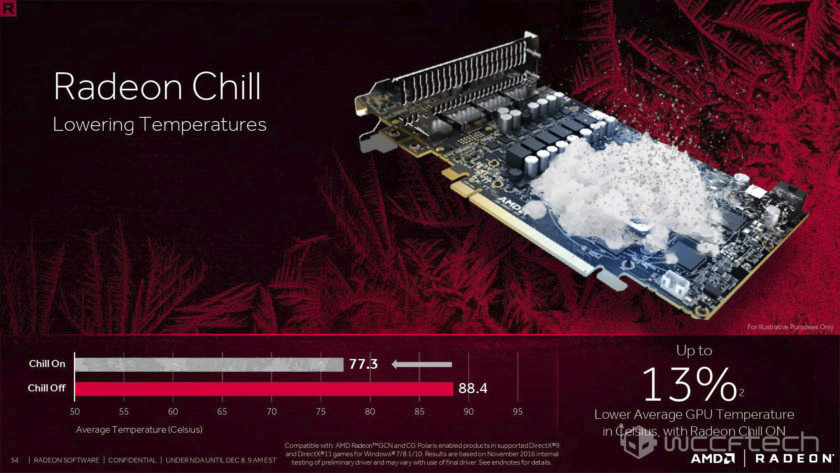 Additional features include AMD's Radeon Loom feature, which makes it possible to stitch photos into 360 degree environments, which will be handy for VR and similar scenarios. There's also new VP9 decode acceleration, which makes it easier to stream 4K, 60Hz video and when twinned with support for Dolby Vision and HDR 10, the overall picture should be better on compatible monitors too.
There's also added support for the new DisplayPort HBR3 standard, which offers support for a wide range of resolution and refresh rates.
One of the biggest additions though in the ReLive update though, is shadowplay recording. Built into the drivers is a new overlay toolbar that lets you adjust settings, instant replay for up to the last hour, or click and record functions for screenshots and video, it should offer a great counter to the Nvidia Experience.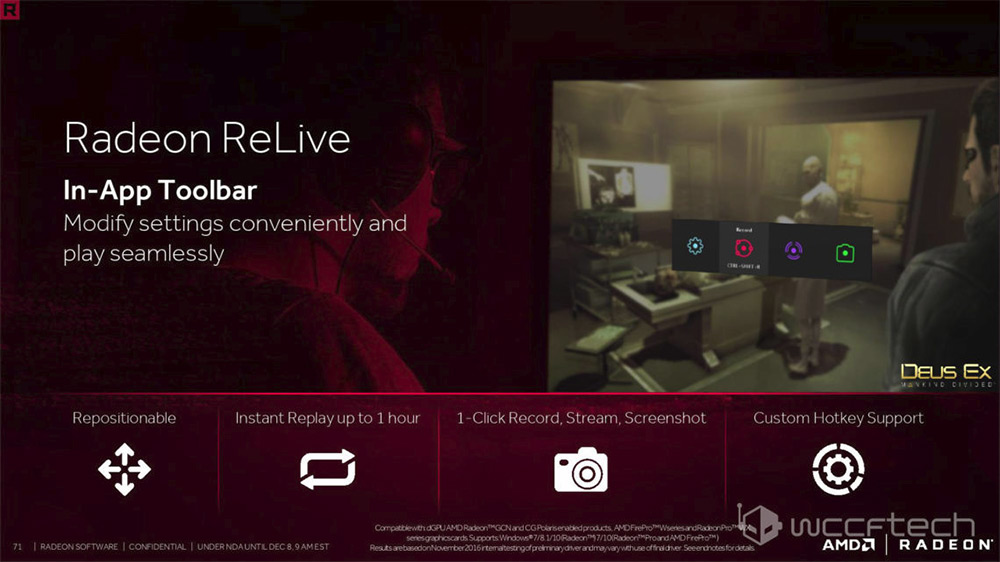 Expect the official announcement from AMD tomorrow, but when it comes, ReLive could be quite a big bomb to drop.
Discuss on our Facebook page, HERE.
KitGuru Says: This is a big step in the right direction for AMD and shows it remains committed after its initial pledges with the Crimson release. It's really taking the fight to Nvidia with this driver update.
Image sources: WCCFTech