If you thought Watchdogs' pre-release sales were ridiculous, with its countless versions and pre-order bonsues, clearly Ubisoft didn't see things the same way, as it's taken pre-release extras to a whole new level with Assassin's Creed Unity: a weekly lottery where you can win real prizes, but only if you've pre-ordered.
That's right every Friday Ubisoft will be offering up a number of prizes ranging from in-game DLC, to real world swag and full on holidays across the world to Canada and France. Everyone gets one free spin (which most of the time it seems, you win a free in-game item, prompting you to set up a Unity account to claim it) and if you've pre-ordered the game, you get five more every week.
[yframe url='http://www.youtube.com/watch?v=BATKaNOe9s0′]
This is all despite the fact that Assassin's Creed Unity isn't set to be released until 28th October this year. While I'm sure you don' t need it pointing out, that's over four months away.
Ubisoft is making a big push to get you to pre-order this game and give it your money now, which makes you wonder how confident the company could be in the game itself. Chances are this is just a massive marketing budget trying to find some other way to justify itself, but it's quite eerie. There was not a single mention of gameplay in that entire video. It was all about winning headsets, or bags or trips to France, none of which will contribute in the slightest to how good the game is.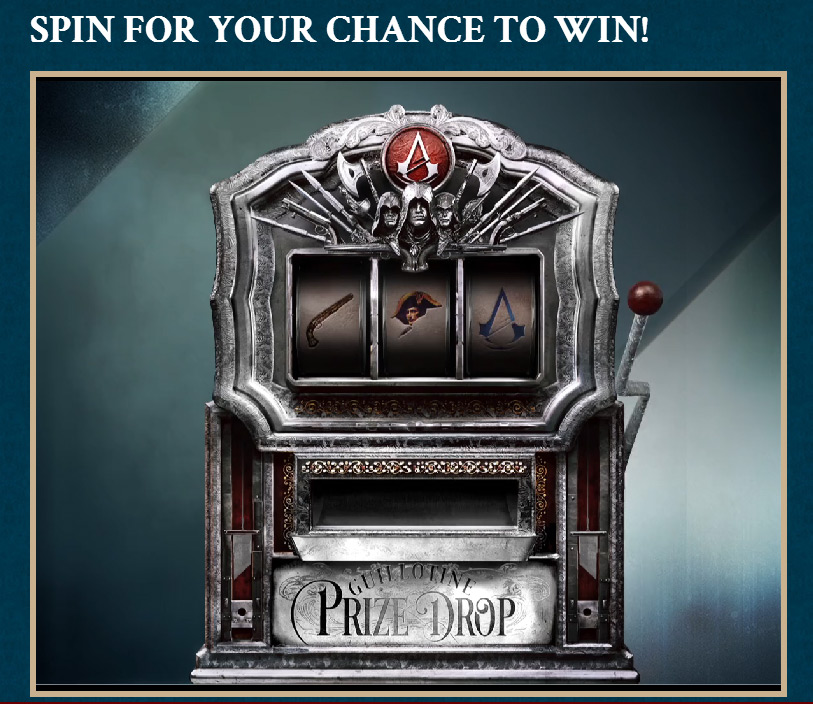 Quick caveat also, it's open to those in the US only.
However, Ubisoft hasn't removed itself from the 'traditional' pre-order system entirely. Paying for the game before release will also get you the unique mission pack, Chemical Revolutions. You're also able to get other bonuses specific to certain retailers depending on which you pre-order through.
For more information, including the extensive rules and your own free spin, head here.
Discuss on our Facebook page, HERE.
KitGuru Says: Pre-orders alone are becoming a bit of a dangerous trend, as they encourage developers to produce better trailers and pre-scripted gameplay sequences, rather than an engaging experience. It becomes more about the marketing, rather than the gameplay. But this even throws an addictive habit like gambling into the mix. Anyone for some crack with their next pre-order?