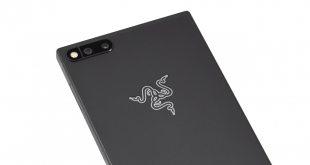 After months of rumours, leaks and teasers, the Razer Phone was officially announced on Wednesday 1st November. We've been using the phone since then and can now present our full review – including a low-down on the 120Hz adaptive refresh-rate display and the camera — as well as overall performance. Excited? You should be.
With plenty of standout features – including that 120Hz display, big front-facing stereo speakers and a 4000mAh battery – it is fair to say Razer did not play it safe with its first mobile device, the Razer Phone. Aimed squarely at gamers, and with a £699 price tag, could this be your dream phone?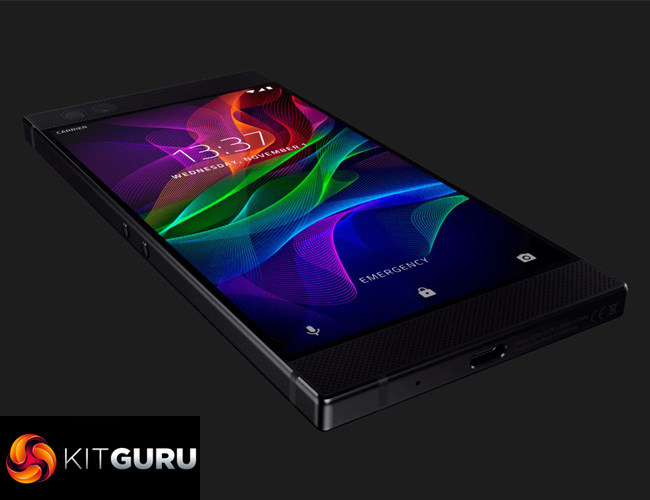 Processor
Qualcomm® Snapdragon™ 835 Mobile Platform
System Memory
8GB dual channel (LPDDR4, 1600MHz)
Storage
Internal: 64GB UFS

External: microSD (class 10, 2TB max.)

Display
5.72-inch IGZO LCD 1440 x 2560 – 120 Hz, Wide Color Gamut (WCG)

Corning Gorilla Glass 3

Rear Cameras
12MP AF f1.75 Wide12MP AF f2.6 Zoom

Dual PDAF

Dual tone, dual LED flash

Front Camera
8MP FF f2.0
Sound
Stereo Front facing speakers

Dual Amplifiers

Audio Adapter with THX certified DAC

Power
4000 mAh lithium-ion battery

Qualcomm QuickCharge 4.0+

Wireless
802.11 a/b/g/n/ac

Bluetooth 4.2

NFC

Bands
GSM: Quad-band GSM UMTS: B1/2/3/4/5/8

LTE: B1/2/3/4/5/7/8/12/17/19/20/25/26/28/29/30/66

TDD LTE: B38/39/40/41 TD-SCDMA: B34/39

Size
158.5 x 77.7 x 8 mm6.24 x 3.06 x 0.31 in

197g

Android Version
Nougat 7.1.1
Design
Getting straight into it, let's look at the design of the Razer Phone. All photography is handled in-house at KitGuru.
Note: if the above gallery is not displaying properly, please consider disabling your ad blocker as they are known to interfere with our display code.
Straight away, we can see the Razer Phone is dissimilar to many of 2017's flagship phones in that it has chunky bezels and a standard 16:9 display. The chunky 'forehead' and 'chin' are there to house the phone's front-facing stereo speakers – each of which has a dedicated amplifier. The sound is incredible for a smartphone – very loud, but clear and even slightly punchy in the low-end. I still wouldn't do any serious listening using the in-built speakers, but for your general media consumption these are by far the best I've heard.
Once we look beyond the boxy design – something which is a necessity for stereo front-facing speakers – I think it becomes clear that the Razer Phone is still a thing of beauty. The matte black, CNC-machined aluminium unibody is frankly stunning, and has even been precisely designed to share the same finish as the Razer Blade laptops. It is also rock solid, with zero flex to it, while the chrome Razer logo adds some detail and interest to the back of the phone.
On the left-hand side of the device we find two volume buttons, and on the right-hand side of the phone we find the power button, which has an integrated fingerprint scanner. These are positioned lower down on the phone's sides than is usual, and that is so when the phone is being used horizontally users don't accidentally lock their screen or adjust the volume levels – great for mobile gaming.
The USB-C connector on the bottom edge of the phone is used for both charging and for audio purposes as there is no 3.5mm headphone jack on the Razer Phone. A adapter cable, with a 24-bit DAC certified by THX, is included. Nonetheless, there is definitely room for the headphone jack on the bottom edge, and considering the Razer Phone is definitely geared towards gamers and multimedia consumers, I think this is definitely a black mark against the phone.
Lastly, on the back of the phone we find the dual cameras – both are 12MP but one is a wide-angle f/1.75 lens, while the other is a f/2.6 zoom lens. The front-facing selfie camera is 8MP.
Display
Moving onto the 5.7-inch display, the big point of interest here is the 120Hz adaptive refresh-rate feature called UltraMotion. However, before getting to that, I want to touch on the quality panel itself, high refresh-rate aside.
Made by Sharp, this is actually an IGZO IPS panel which delivers vibrant colours and excellent viewing angles. Blacks are about as inky as it gets when using an LCD panel, although it is obviously not at quite the same level as an OLED panel.
I did notice a warmish hue to the display, though, which is especially evident when looking at white backgrounds or reading text-based apps like the news. It is not unpleasant but it is noticeable.
Brightness is decent but not the best – outdoors I found myself wishing for an extra 20% brightness. I'm yet to use a phone that I am fully comfortable with when used outdoors, but even then, the Razer Phone isn't the brightest around.
Now, let's talk about that 120Hz 'UltraMotion' display. First of all, you have the option to set either a 60, 90 or 120Hz refresh-rate in the settings menu. Razer reckon 90Hz gives the best balance of fluidity and battery life, but of course I went straight in and bumped it up to the full 120Hz.
I can say for certain, that the display gives the Razer Phone an incredibly smooth Android experience – by far the snappiest and most responsive experience I've ever had. Of course, the CPU plays a part in that as well, but the display is incredibly fast and fluid. I'd go as far as to say this is a huge game changer for the phone market.
The 'UltraMotion' name refers to the adaptive refresh-rate technology Razer has pioneered. Essentially like G-sync/Freesync for phones, it synchronises the refresh-rate of the display to match the number of frames being outputted by the GPU. So if you're playing a game and the frame rate drops down, the screen will adapt with it and you won't experience tearing.
Another benefit of this is that the phone automatically adapts the refresh-rate based on what you are doing. So if you are sitting on your home screen, twiddling your thumbs, the refresh-rate automatically drops down to save battery life. Start up a game, however, and you'll be utilising that 120Hz display.

Performance
The Razer Phone comes with the latest Snapdragon 835 processor, Adreno 540 GPU, as well as 8GB RAM.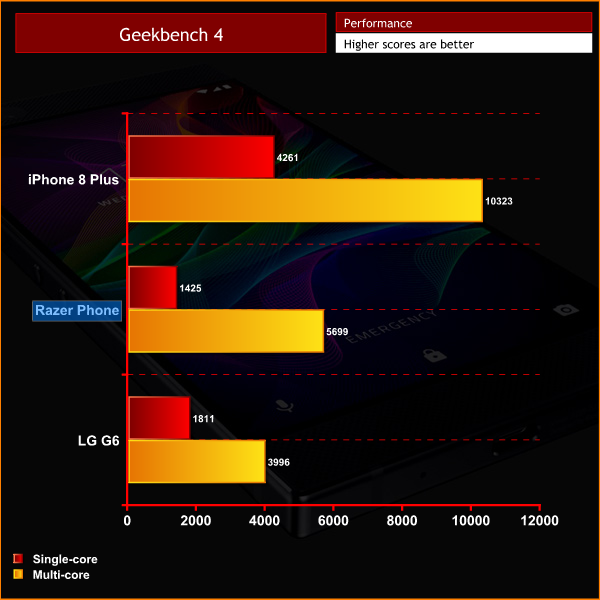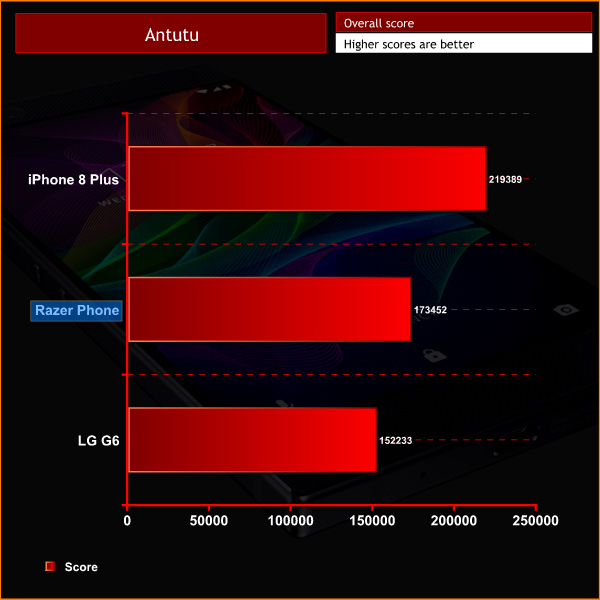 Benchmark figures tell one side of the tale – the Snapdragon 835 doesn't do as well as the iPhone 8 Plus and its Bionic A11 chip, but relatively speaking it is still a good result. After all, the Snapdragon 835 is Qualcomm's top dog at the minute.
In practice, however, I had no issues at all with the phone. Everything is lighting fast, and the high refresh-rate display helps everything feel super smooth.
Software
Moving onto software, the Razer Phone is currently shipping with Android Nougat 7.1.1. However, we have been told to expect Oreo by Q1 2018, so that is obviously on the horizon.
Android itself is very 'stock', with no 'Razer' skin or anything like that placed on-top.
In-fact, The Razer Phone actually ships with Nova Launcher Prime as the default launcher – Prime being the paid-for version, so that is certainly a nice touch and makes it easy for users to customise the experience how they like.
Other than that, I had no issues with the software – it is definitely vanilla Android, or as close to it as a third-party manufacturer can come.
There is one piece of Razer software pre-installed, though, and that is Game Booster. Essentially this lets you configure the performance settings of the phone on an app-by-app basis. So if you want to run some games in 1080p to save battery life, you can do that, or you can specify a lower refresh-rate as well. It's a simple but nifty tool which allows a more fine-tuned experience.
Camera
Here we present a gallery of some Razer Phone photos. They have not been edited either on the phone or with any post-processing software, so what you see is what you get straight from the phone without any additional processing.
Note: if the above gallery is not displaying properly, please consider disabling your ad blocker as they are known to interfere with our display code.
On the whole I actually think the camera is pretty decent. With good lighting, the images are nice and crisp and colours are also pretty accurate and appealing.
Low-light performance is not the best, though, with a noticeable loss of detail and some blurriness introduced. No phone is perfect in low-light situations, though, so overall I think the camera image quality is quite good.
However, the camera app is a great disappointment. I have several issues with it, so I will do my best to explain them here:
Everything is automated. Pretty simple, there's no manual mode at all and I find that a definite missed trick.
HDR. The HDR setting is either 'on' or 'off' – there's no auto HDR detection – but taking a picture with HDR on is painfully slow. Unacceptably slow, I'd say.
Switching camera lenses. Interestingly, Razer came up with a 'smooth zoom' feature to switch between the wide-angle and zoom lenses, so as you zoom in using the camera app, it automatically switches lenses for you. The problem with that is you don't know when digital zoom begins, something which degrades image quality. I would've much preferred a dedicated button for switching lenses just so it is clear what lens you are using when.
It's slow. Just pressing the shutter button can result in a one-or-two second delay before the image is taken, by which time your subject could've moved or gone completely. It is not that bad all the time, but it has caused me frustration on several occasions.
Lacking features. We're spoiled for camera features in 2017, but the Razer Phone lacks things like portrait mode, time lapse and slo-mo options.
Now, Razer has promised several updates to the software, but as of now, I stand by my view that the actual camera is pretty good, but it is definitely let down by the software.
Update 25/01/2018: We have now published an in-depth Razer Phone camera analysis over HERE. This follows a couple of updates to the software and covers both primary and secondary lenses, HDR, low-light shooting and more.
Battery
Given the beefy CPU and high refresh-rate 1440p display, the Razer Phone definitely has the potential to be a battery guzzler. Because of that, Razer fitted a 4000mAh battery to make sure users can get to the end of the day without needing a recharge.
I always managed to last a full day on a single charge, and occasionally I could manage two with intermittent use. That being said, I'm not the heaviest of users and I reckon power users may struggle to make it last a full day on a single charge, so some topping up may be necessary.
If you do need to top up early, though,  the Razer Phone does have the advantage of being the first phone to support Qualcomm Quick Charge 4.0+, so you can go from 0% to 85% battery in just one hour.Created as a smartphone for gamers, the Razer Phone is definitely going to appeal to that market.
Starting off with the design, the phone is definitely very well built, with a CNC-machined aluminium unibody and a lovely matte black finish. Razer has also rejected the current trend towards bezel-less phones by incorporating large front-facing stereo speakers, and they give quite a chunky 'chin' and 'forehead' to the phone.
The benefit of that, however, is the sound quality – the physical space allows each channel to be amplified separately, and the overall sound quality is just very listenable and easy on the ears. To my mind, these are undoubtedly the best smartphone speakers on the market right now.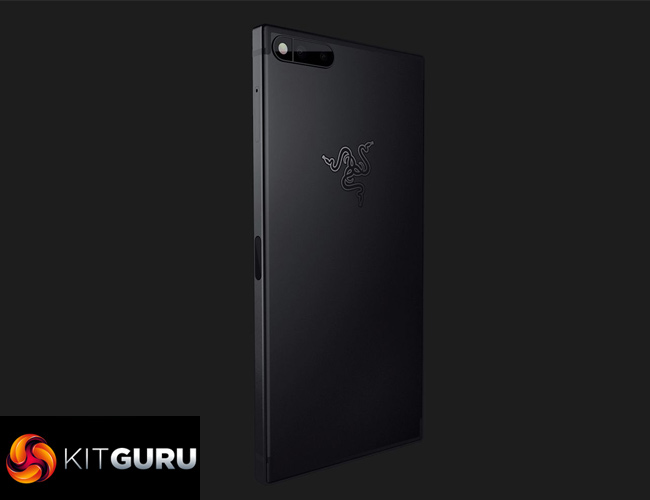 The display is also a big selling point. After all, it is a Sharp IGZO IPs panel with a 120Hz adaptive refresh-rate. I have to say, I really think the display is a game changer for the smartphone market – everything is just so smooth and fluid, it would be very hard to go back to my 60Hz LG G6 now. If you are worried about battery life, too, there is the option to set the display to either 90Hz or 60Hz, too, which would keep the battery lasting longer.
So, the excellent front-facing speakers and 120Hz display really make an excellent gaming/multi-media phone. Having a 16:9 aspect ratio is actually also highly beneficial as there are no 'black bars' when watching standard HD content – many modern phones with 18:9 (or wider) aspect ratios have to compromise with black bars when consuming 16:9 content.
Accordingly, the Razer Phone is undoubtedly a brilliant phone and one that is likely to appeal to those who want to game or consume a lot of content via their mobiles. The big downside for me is currently the camera app as it is quite slow and lacking in many features. The camera itself actually takes quite decent pictures, but it is really let down by the software. We've been promised updates but we'll have to see how that pans out.
On the whole, though, I think the Razer Phone achieves what it set out to achieve – to be an excellent phone for gamers. It won't appeal to the mass-market the same way the Galaxy S8 has, but the excellent sound, fantastic display and all-round performance make it perfect for mobile gamers or streamers.
You can pre-order one unlocked directly from Razer for £699 HERE.
Discuss on our Facebook page, over HERE.
Pros
Great stereo speakers.
120Hz display is so smooth and fluid.
Stock Android experience.
Excellent performance.
16:9 1440p display.
Camera is pretty good.
Quick Charge 4.0+ support, with included charger.
Cons
Camera software is very poor.
Battery life isn't as good as expected.
No headphone jack.
KitGuru says: While it may not be for Average Joe on the street, gamers and hardcore content consumers will find a lot to like in the Razer Phone.