The brand new Aorus X3 Plus v7-CF1 follows the usual Aorus philosophy of packing a good deal of gaming hardware in a laptop chassis that seems impossibly thin. Not, admittedly MacBook Air thin, but Aorus is playing in a different league as this gaming laptop measures only 22.9mm in thickness.
As the name suggests the Aorus X3 Plus v7 uses a seventh generation Intel Kaby Lake CPU along with a GTX 1060 GPU and 16GB of DDR4 memory to drive along gaming performance. The display uses a panel with IGZO technology that has an unusual QHD+ resolution of 3,200 x 1800. Aorus has a track record of using esoteric screen resolutions so this 3K panel has 6 Megapixels, which is rather more than the Aorus X5 v6 which had a panel that was also nominally 3K but with a resolution of 2,880 x 1,620 or 5 Megapixels.
It is clear that Aorus is stepping up every aspect of the new X3 Plus v7 with the intention of delivering a top notch gaming package in a tiny chassis.
Aorus X3 Plus v7-CF1 specifications:

Processor: Intel Core i7-7820HK
Processor Clock Speed: 2.9GHz-3.9GHz
Graphics Chipset: NVIDIA GeForce GTX 1060
Graphics Memory: 6GB
Screen Size: 13.9″
Screen Type: IGZO QHD+
Backlight: LED
Screen Resolution: 3,200×1,800 ('3K')
Memory Supplied: 2x 8GB DDR4-2,400MHz
Memory Size: 16GB (2x8GB)
Max. Memory Support: 32GB
SSD Drive: 1x 512GB M.2 PCIe
LAN: Killer LAN
Wireless LAN 802.11ac : Intel Wireless-AC 8260
Bluetooth Version: v4.2
Webcam: Yes
USB 3.1 Type-C Port: 1
USB 3.0 Type-A Ports: 3
HDMI 2.0 Port: 1
Mini Display Port: 1
Card Reader: SD/SDHC/SDXC
Microphone Jack: 1
Headphone Jack: 1
Security: Kensington Lock
Battery: 73Wh
Dimension: 330mm (W) x 264mm (D) x 22.9mm (T)
Weight: 1.8 Kgs
Operating System: Windows 10
Warranty: 2 Years
As our photos of the innards show, the compact chassis leaves very little space for the components. The battery requires about one third of the available room, the G.Skill DDR4 memory and Lite-on SSD sit in the centre and the CPU, GPU and coolers take up the remainder of the space.
It comes as no surprise the chiclet keyboard has relatively short travel keys however that is fine. Our gripe with the keyboard is that the ten keys are outboard of controls such as Backspace and Enter. We can be thankful the touchpad and mouse buttons use a conventional layout. This is a small laptop but Aorus hasn't felt the need to make any dramatic changes to cram in all the hardware.
The ports and connectors on the back and two sides are neatly arranged. On the rear we have Ethernet and the power point, on the right there are two USB 3.0 and a card reader, along with the power button. On the left you'll find the headset jacks, mini DisplayPort, HDMI, another USB 3.0 type A and a USB 3.1 type C. That's a full house of everything we want to see on a laptop.
It is also worth noting the compact 150W power brick includes a USB port so you can plug in your phone to charge while you're running the laptop off the mains.
Testing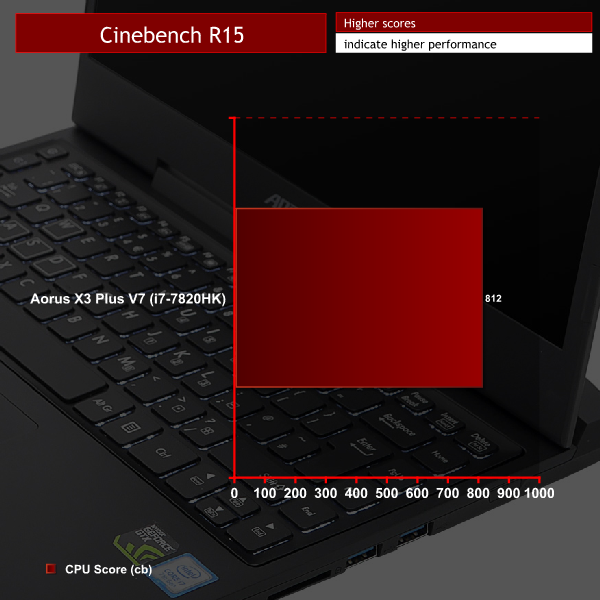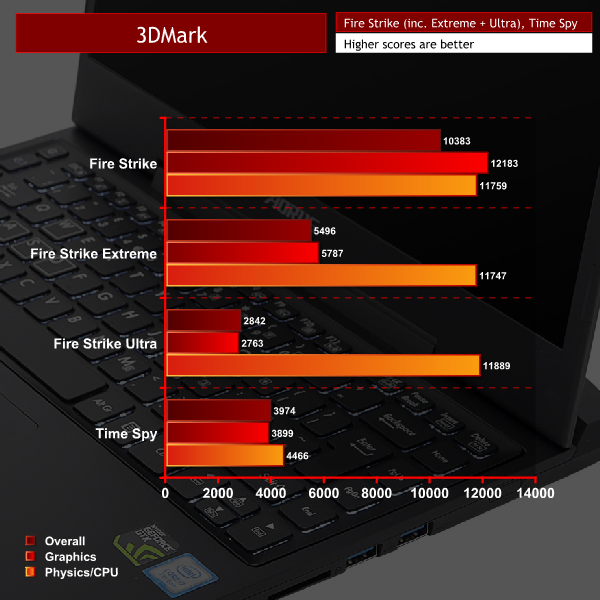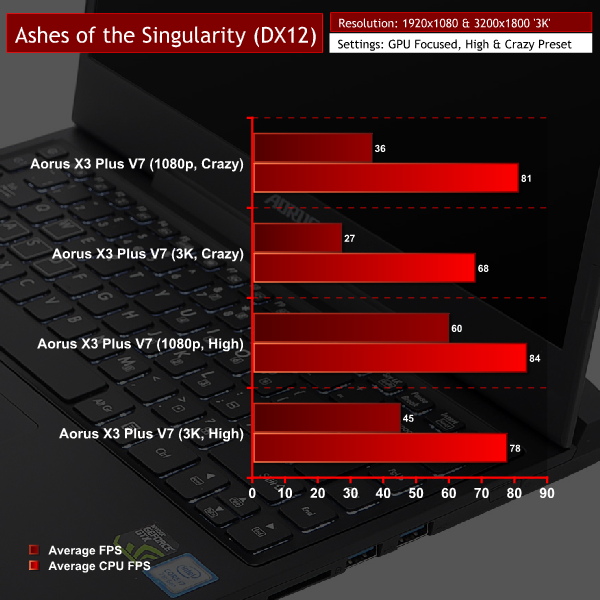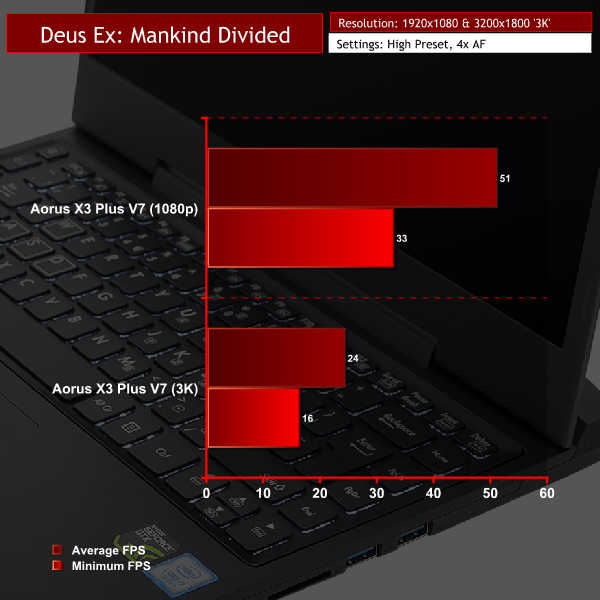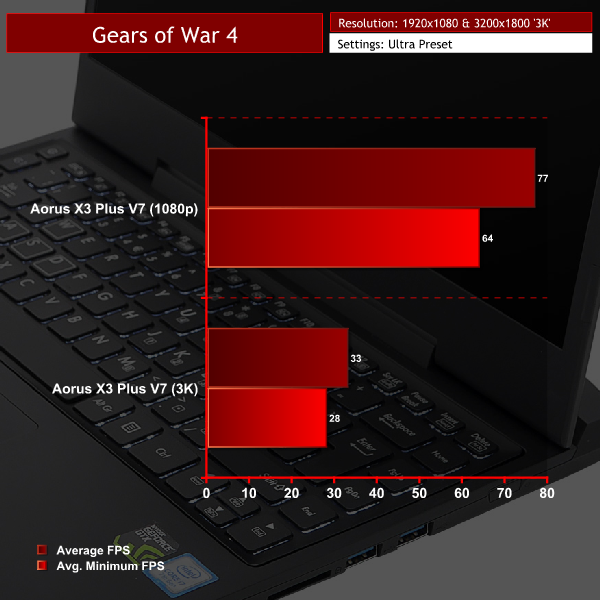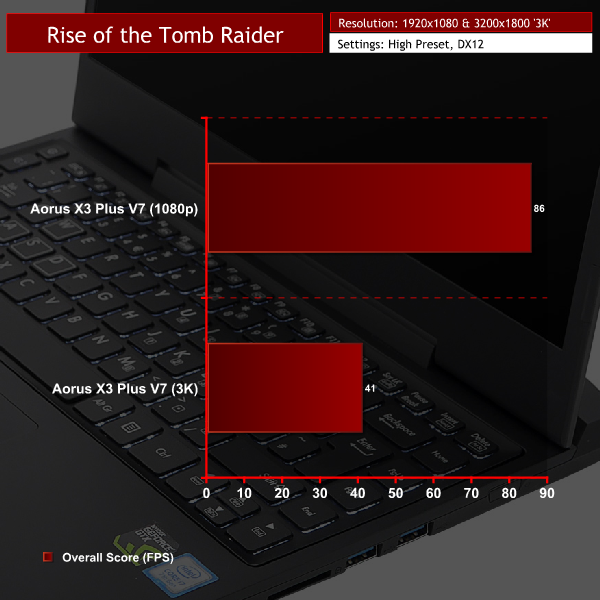 We ran through our usual suite of games and 3DMark and were impressed by the way the Aorus X3 Plus v7-CF1 handles games at 1,920×1,080 or 2K. It was a different story at the native resolution of 3,200×1,800 or 3K as the GTX 1060 GPU cannot handle the resolution without pulling back on image quality. This is no surprise but is simply a fact of life.
If you want to play games above 2K you are best advised to pack a GTX 1070 GPU, rather than GTX 1060.
Cooling Performance.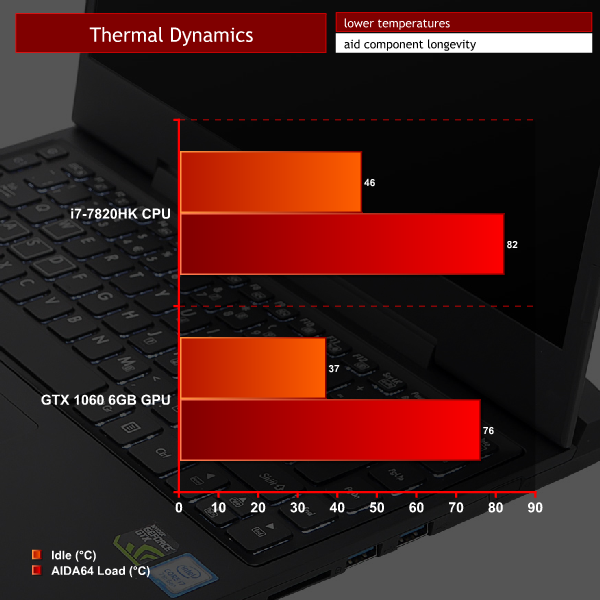 Aorus has a tough job on its hands keeping gaming hardware cool in such a tiny chassis however it manages the job very capably. No doubt it helps that the total power draw is a relatively lowly 150W (that power supply works hard) but nonetheless Aorus has to make the system work correctly. The Kaby Lake CPU tops out at 82 degrees C and the GPU hit 76 degrees, which are each four degrees cooler than the similar Razer Blade laptop.
Under extreme load when the Aorus was drawing 150W we saw the CPU temperature bouncing off 90 degrees and temporarily throttling.
During our testing the CPU ran at a high idle temperature of 46 degrees; it is our guess this is a deliberate policy to reduce cooling noise to a minimum.
Acoustics performance.
We have complained about the noise from various Aorus laptops over the past few years. Take two GPUs in SLI or a single beefy GPU and you have plenty of heat to shift. Pack the hardware in a slender chassis and the fans work overtime, hence the noise. This X3 Plus v7-CF1 is the best of the Aorus laptops we have seen. Again, no doubt the relatively modest power draw helps, but it shows that Aorus has adjusted the fan curve to suit and this is welcome. The Aorus X3 Plus v7-CF1 is not a quiet laptop and we consider the Razer Blade to be better in this respect but you get more performance with this laptop and  therefore have to make allowances.
Closing Thoughts.
We approached the Aorus X3 Plus v7-CF1 with trepidation, wondering how it would perform and whether it would be as noisy as a high speed train arriving at the platform. All the big questions were answered favourably as the new Kaby Lake processor pulls the performance along nicely.
The GTX 1060 GPU does a fine job however it has a tough task pushing the high resolution IGZO display. In fact, we don't see much point in the 3K display and while the laptop looks superb it would surely look very similar with a 2K panel and you wouldn't have to muck around adjusting the resolution or image quality when you played games.
This is a thin and light gaming laptop that does a decent job and has no obvious problems and to be frank, that is a welcome improvement from Aorus. The pricing is interesting as the 512GB SSD helps keep the price below £2,000 and while we would prefer 1TB of storage we can see why Aorus went down this path.
In many respects, Aorus X3 Plus v7-CF1 is competing directly with Razer Blade. This is an uneven battle as the Aorus loses a certain amount in terms of build quality and overall finish but wins it back with overall performance, thanks to the faster CPU.
Whether or not you buy an Aorus cap, shirt and hoody to go with your new laptop, well that's a completely different matter.

The Aorus X3 Plus v7-CF1 is available to buy at Overclockers UK for £1889.99.
Discuss on our Facebook page HERE.
Pros:
Thin and light.
Excellent IGZO technology display panel.
Decent 1080p gaming performance.
Solid battery performance.
USB port on the power brick for charging your phone.
Cons:
Cooling fans are audible, even when you unzip files or install games.
Keyboard layout is annoying.
GTX 1060 graphics struggle to power the 3K display at high image quality settings.
KtGuru says: Aorus has made welcome improvements with the X3 Plus v7-CF1.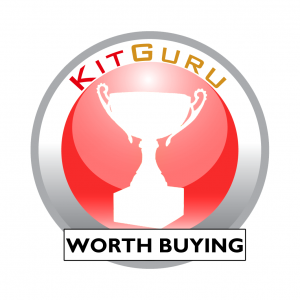 Be sure to check out our sponsors store EKWB here