If you have five grand burning a hole in your pocket and you want the fastest gaming laptop on the planet, then the MSI GT83VR 6RF 'Titan SLI' surely has to make your final shortlist. There is certainly a lot to like about the latest iteration of MSI's Titan flagship.
First impressions for me were mixed. I love the full size mechanical keyboard, and the connectivity is second to none. I was, however, a little disappointed to see that MSI have not decided to give the Titan a full 'V2' workover. The Titan still has a 1080p 60Hz panel and a plain red backlit keyboard. This issue is compounded by the fact that their less expensive 17.3 inch MSI GT73VR ships with 120Hz panel options and a full RGB backlit keyboard.
How does the hardware stack up? Well, the Intel Core i7 6820HK is a better option than the 6920HQ that MSI have installed in this machine. Sure, the 6920HQ is 200mhz faster than the 6820HK, but only 'out of the box'. The 6820HK is fully unlocked and it can be easily overclocked to 4GHz+. MSI's GT73VR even has a 'Turbo' option available in the Dragon Software to overclock the 6820HK to 4GHz without any messy BIOS intervention. The 6920HQ by comparison will operate around 3,400MHz when all cores are fully loaded.
While this might sound like I am picking holes, I have a rather serious point to raise. We noticed when running at the native resolution of the 1080p panel in games such as Grand Theft Auto 5, that the twin GTX 1080s looked to be held back by the CPU's performance. This means that the CPU can't keep up with the SLI configuration and frame rates were being limited. At 1080p the MSI GT83VR was averaging 79 frames per second in GTA V, but when we attached an external monitor and switched to an Ultra HD resolution, the same system was able to drive a very commendable 75 frames per second.
Clearly something was holding back 1080P performance, and the relatively slow (by modern CPU standards) Core i7-6920HQ looked to be the most likely candidate. This CPU-limited performance is particularly noticeable at 1080P because there is an excess of GPU horsepower, whereas the CPU is working hard to manage its simulation and data-feeding workloads.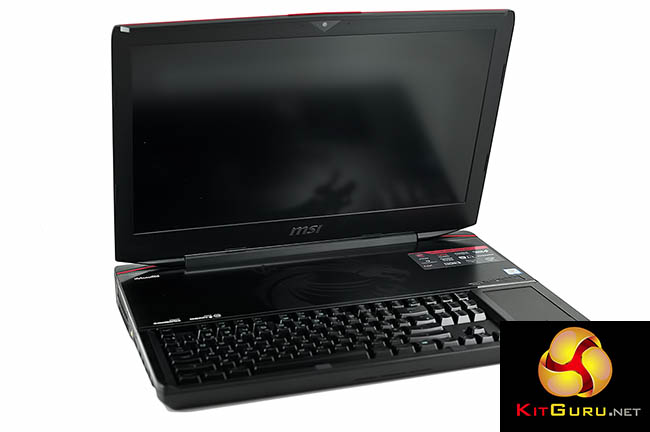 Two years ago, I gave the MSI GT80 Titan our highest award. It broke new ground, shattered mobile benchmarks and delivered class-leading performance with the latest game engines. The mechanical Steelseries gaming keyboard was a pleasure to use, and the switchable LED lit numpad/trackpad hybrid was inspired. I was even willing to overlook the 1080p limitations, as some investigation at the time highlighted a production shortage of 18.4 inch 4K panels.
Fast forward 2 years to today, and we are in a different environment. Asus have just released their Republic Of Gamers GX800VH watercooled laptop (review HERE) which features very similar hardware to the MSI Titan. I say similar, because Asus share my views – they prefer the unlocked Core i7 6820HK and have overclocked it to 4.4GHz. They have managed to source 4K G-Sync 18.4 inch panels and they have reduced noise by watercooling the components.
Now you may argue that the Asus ROG GX800VH is one of the ugliest, heaviest laptops ever manufactured and we wouldn't disagree with you. It does, however, feature watercooling and ships with an unlocked, overclocked 6820HK (4.4GHz) with a 4k G-Sync panel displaying the games. In reality, it bears serious consideration as a fully fledged 'next generation' (semi) mobile gaming platform.
Can either option be considered as good value for money?
We checked prices for the Asus GX800VH, and while it is not yet available, it is listed for pre-order at £5,599.99 inc vat HERE. That is around £1,100 more expensive than the MSI GT83VR 6RF 028UK reviewed today. But what about 4K support? If you have just spent £4.5k on the MSI Titan, you surely want the best high-resolution gaming monitor possible, right? Maybe you're a fan of high refresh rate Ultrawides, in which case you should be prepared to pay £1000 for an Acer X34A Predator (HERE) or Asus PG348Q (HERE). This now brings the MSI GT83VR 6RF to the same price point as the Asus GX800VH but we still have the locked 6920HQ processor and no RGB backlighting or watercooling support. Of course, you also get a significantly better monitor for that money, but the Asus competitor already offers a 4K G-Sync screen.
Overall, it is difficult not to be impressed with the MSI GT83VR 6RF 'Titan SLI'. It delivers flagship desktop gaming performance, and you have the luxury of a full mechanical keyboard, wicked SSD Raid 0 performance and more than enough connectivity for all your devices. Sadly MSI seem to have cut a few corners with the latest Titan SLI, while their lower end models have the latest goodies, such as 120Hz panels, 4K screens, RGB keyboards and even unlocked processors.
I do hope MSI address these concerns in the next revision of the Titan. It needs a 120Hz or 4K screen, an RGB backlit keyboard, and an unlocked processor to get the most from the incredible GPU performance.
Discuss on our Facebook page HERE.
Pros:
Class-leading gaming performance.
Excellent CPU performance out of the box.
Lighting quick RAID 0 SSD performance.
Decent onboard audio capabilities.
Full mechanical keyboard.
Immense cooling performance.
Dedicated grade audio connector fantastic for high end headphones.
Overclocking headroom on the GTX 1080 cards.
Cons:
No 4K or 120Hz panel.
CPU limiting can be a problem at 1080p.
Very noisy under load.
Locked 6920HQ processor.
No RGB keyboard.
Power cable falls out at the slightest movement.
MSI should include a soft wrist support for extended typing periods.
KitGuru says: The MSI GT83VR 6RF 'Titan SLI' produces killer frame rates and the GPUs have additional throttle-free overclocking headroom thanks to the incredible cooling system. Unfortunately the panel is limited to 1080p @ 60Hz and to get the most from the hardware you really will want a 4K monitor. It is very loud under load too.