The super-wide 21:9 aspect isn't that common in PC monitors, and even less so for gaming. But it's potentially a very immersive form factor. The Acer Predator Z1 Z301CT presents this aspect with a 30in diagonal, a curved surface, and good helping of features for the serious gamer.
The maximum resolution is 2,560 x 1,080, so this is essentially like a Full HD screen with some extra pixels on either end. The 21:9 aspect ratio goes particularly well with the curved format, with the extra edges on the periphery of vision.
This is a VA panel, which has some good and bad implications for gamers. On the plus side, VA has great viewing angles, better colour than TN, and deeper blacks for a higher contrast. On the downside, VA has similar response time issues to IPS. The Z301CT only boasts a 4ms response. Brightness is a fairly normal 300 Nits (cd/m2), and Acer doesn't make any claims about contrast ratio, although generally this will be in excess of 1,000:1 with a VA panel, or even more when dynamic systems are enabled.


There are plenty of extras for the ardent gamer, though, other than just the fact that the black and metallic red finish suits the Predator name well. The standard maximum refresh rate is an already commendable 144Hz, but there's also a very impressive 200Hz overclock available. This goes hand-in-hand with the G-Sync support, so you can really enjoy dynamic high-framerate gaming. Since this screen is not 4K, there's a good chance that your graphics card can deliver these kinds of frame rates without the need for SLI (or CrossFire, although obviously this wouldn't work with G-Sync).
There are some more mainstream goodies on board as well. A USB 3.0 hub is always handy on a monitor, so you don't have to scrabble round the back of your PC to connect peripherals, and this one has the full four ports too. There are some mediocre speakers built in (you will probably be gaming with a headset anyway), and tilt, raise and swivel adjustments are on hand, but not rotation into portrait mode.
There are gaming presets and further menu adjustments for this kind of usage, including crosshairs. However, all this comes at a relatively princely sum just shy of £800. So the price is as wide as the view. Let's find out if the quality is equally expansive.
Specification:
Screen size: 30-inch, 21:9 aspect
Native resolution: 2,560 x 1,080
Refresh rate: 144Hz (200Hz overclocked)
Panel type: VA
Contrast ratio: Not stated.
Brightness: 300cd/m2
Response time: 4ms grey-to-grey
Display inputs: HDMI, DisplayPort
USB hub: Yes,
Tilt: Yes
Raise: Yes
Swivel: Yes
Other: Headphone jack, G-sync, built-in speakers.
Retail Price: £799.99 (inc. VAT)

Since the Z301CT has a 30in diagonal, it comes in quite a hefty box, and the curvature means it's deeper than a flat TFT.
Our bundle included only a DisplayPort cable and USB upstream for connecting the hub, although the online specifications say HDMI should be in the box too. There's also a VESA mounting bracket bundled.
The Z301CT's curve is quite subtle. Acer doesn't state the angle, but we suspect it's 3000R or even 4000R.
The screen's height can be adjusted by 120mm. Not surprisingly, as this is a curved screen, there's no option to rotate into portrait mode, because that would be silly.
The solid rear arm allows 5 degrees forwards and 25 degrees backwards tilt, and the screen can be swivelled on its stand by 25 degrees in either direction.
The main ports sit behind a plastic panel which recesses them quite a bit, so if you're regularly unplugging and re-plugging your monitor cables, you might just leave this panel off entirely. Inputs only include DisplayPort and HDMI, with an analogue audio input next door. There's no handy headphone jack anywhere to be seen.
The USB upstream and four-port hub sits behind what is the left-hand side when the screen is facing towards you. It's handy to have a USB 3.0 hub built in, but even handier when these ports are made readily accessible on the side of the screen. The screen can be set so these provide charge even when it's off, too.
The on-screen display (OSD) menu is accessed via a joystick on the back of the screen, with four buttons above. These are quite easy to feel when you reach around with your hand, but the system is a little unintuitive as you need to count up and down the buttons to make sure you have the right one for the option you want.
Fortunately, once you enter the full menu only the joystick is used, which makes operation much more seamless and rapid.



Press any of the buttons on the rear, other than the power button, or push the joystick, and this quick menu appears. By default, it provides access to adjustment of brightness, the volume of the built-in speakers, and toggling between the inputs. These are then adjusted with the joystick. However, press the joystick again and the main menu appears instead.
The default view of the full OSD menu is the Picture section. Here Contrast is available as well as Brightness, plus the ability to turn on a selection of enhancement features.
Blue Light helps reduce eye strain. Dark Boost and Adaptive Contrast both help increase perceived contrast, which you may not feel the need for in a VA panel that already has an advantage in this area.

The Color menu offers a wide variety of controls over how the monitor presents its chromatics. The Gamma setting, curiously, offers options of 1.9, 2.2, 2.5 and a mysterious Gaming mode. Alternatively, Warm, Cool or Normal Colour Temperature options are available, as well as individual adjustment of red, green and blue, and there's Saturation control on hand as well.
The sRGB mode presets all of these. The 6-axis color sub-option allows adjustment of yellow, cyan and magenta as well as red, green and blue. You would really need to be very particular about your screen colour to use this. But there's no control over colour temperature by K value.


There's not much to play with in the Audio menu, just volume (again) and whether DTS is turned on or not (it's on by default).

The most significant thing to be found in the Gaming menu is the ability to overclock the screen refresh all the way to 200Hz.
But you can also overdrive pixel response to make up a little for the relative tardiness of the 4ms rating, and enable Ultra-Low Motion Blur, which works in tandem with G-Sync to minimise ghosting.
A nice additional touch is the ability to select one of three built-in crosshairs, to aid aiming with First Person Shooters.
The OSD menu merely contains a few controls over how the OSD itself is displayed.
In a similar fashion, sundry settings can be found in the System menu, such as which functions are assigned to the three keys on the rear, the aspect mode, and whether USB devices still charge when the screen is off.
Custom configurations can be saved to one of three preset slots, but the question is, where do you find these presets to enable them?
The answer is that, when the full OSD is visible, the middle of the three buttons on the back will call up the Modes. This option is represented by a windows-like array of four squares, which took us a while to spot. We don't think this is brilliant user interface design, since these presets should be a single button press away, as they are on most monitors.
But once you've found the Modes, they do at least present a decent array of options. The three gaming presets are available here, plus the User option will recall the last custom settings you used. There are Standard, ECO, Graphics and Movie modes, which cover most of the everyday types of use.
Overall, the OSD provides plenty of adjustment, with some nice extras for gamers. The organisation and control of these menus isn't perfect, but once you get into the main sections, the joystick is relatively ergonomic for navigating the many settings.
Our main test involves using a DataColor Spyder Elite 5 Colorimeter to assess a display's image quality. The device sits on top of the screen while the software generates colour tones and patterns, which it compares against predetermined values to work out how accurate the screen is.
The results show –
A monitor's maximum brightness in candelas or cd/m2 at various levels set in the OSD.
A monitor's contrast ratio at various brightness levels in the OSD.
The brightness deviation across the panel.
The black and white points
The colour accuracy, expressed as a Delta E ratio, with a result under 3 being fine for normal use, and under 2 being great for colour-accurate design work.
The exact gamma levels, with a comparison against preset settings in the OSD.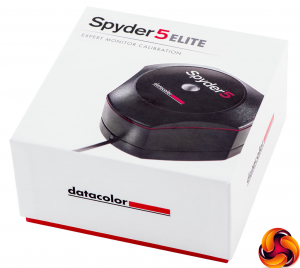 We first run this test with the display in its default, out-of-the-box state, with all settings on default. We then calibrate the screen using the Spyder software and run the test again.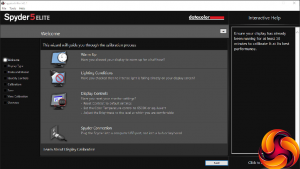 We always test the display subjectively on the Windows desktop, using it for general tasks such as browsing and word processing, and with games as well, even if the display is not intended solely for that purpose. We pay careful attention to any artefacts, ghosting or motion blur, and enable any gaming specific features, such as adaptive-sync settings like G-Sync, using a compatible graphics card in our test PC.
In the case of the Samsung, we performed the primary testing at the native 1,920 x 1,080 resolution in the default Standard preset mode. We also set the monitor at 60Hz (which is not the default – this is 144Hz) because higher refresh rates can affect colour performance. Our test system was equipped with an NVIDIA Quadro K2200.
The gamut is a reasonable, but not exceptional 100 per cent of sRGB and 80 per cent of AdobeRGB.
Brightness uniformity is not great. The sides are very variable, although the centre is much more uniform.
Colour uniformity is much better, although still with some curious aberrations at certain brightness levels.
Brightness goes up uniformly as the setting increases, and actually exceeds the 300Nit specification at 100 per cent. From 25 per cent brightness onwards, contrast is also commendably above the 1300:1 mark, as well as being quite uniform at all brightness levels. The white point is also very stable across the range of brightness. These are areas where the VA panel technology usually excels.
Acer has provided quite a few presets with the Z301CT, although they're not as variable as you might expect. All but Sports have a reasonably cool 6500K white point, but Sports mode is very cool at 10400K. It also produced a bizarre 50:1 contrast, whilst other presets were 1300:1 or above.
We would also have expected more variance in colour temperature, although other areas are much more nuanced. Action and Sports use lower brightness, with Racing and Eco a bit brighter. Standard mode, which uses 80 per cent brightness, is about the same as Movie, with graphics the highest, equivalent to 100 per cent brightness.
The presets are frankly a bit strange, although there is more to these presets than is shown here, with Gamer modes including things like an on-screen FPS counter. Considering that G-Sync and overdriven refresh are available, this could be quite useful.
At the gamma setting of 1.9, the actual reading is more like 1.6, and at 2.2 more like 1.9. The 2.5 setting equates to 2.2. So the true gamma is about 0.3 what the setting is supposed to be, which is at least consistent, albeit rather inaccurate. The curious Gaming gamma mode us actually the highest gamma setting, registering as 2.3.
At its default settings, the Z301CT's colour accuracy is a fairly pedestrian 3.08 on average. This isn't that bad, but we have also seen a lot better.
To see if we could improve on this value, we calibrated the screen using the Spyder to find if this could improve matters.
We didn't have to change the RGB sliders at all to calibrate the Z301CT, just the brightness. After adjustment, the gamut was exactly the same.
The gamma was supposed to be 2.2, but came out as a near-perfect 1.9, as before. So no change here either.
Colour accuracy, on the other hand, improved dramatically to an excellent 0.85. We expect this kind of quality from a VA panel, but it is strange that merely dropping the brightness down to 46 per cent, equating to a reduction from around 300 to 200 cd/m2, was enough to make such an improvement. The message is clearly that this screen is at its best when at about half brightness.
Overall, this is a mixed bag of results, with brightness uniformity the clearest weakness, but good colour accuracy possible, and the gamma settings way off what they are listed as being. We also tried some games for a subjective experience, including with G-Sync enabled, with commendable results. The wide aspect works really well with getting you really involved in a First Person Shooter.
The Acer Predator Z1 Z301CT has plenty to commend it, particularly for the target market. It looks predatory, and good colour accuracy is possible with very little adjustment – just a reduction in brightness essentially. There's a heady 200Hz overclocked refresh available and G-Sync is on hand to take full advantage of this, with compatible NVIDIA GeForce cards.
The 4ns response might be a slight concern, but this is a common issue for VA panels that only Samsung has managed to overcome, for example with the C24FG70. The brightness uniformity issues are the other significant quality issue. But the curved surface and 21:9 go together well for immersive gaming, and there are a number of other extra features to aid this kind of use.
Costing just shy of £800, this isn't a cheap monitor, and if you're willing to forego the super-wide aspect and drop down by an inch or two, it's possible to get a higher resolution for quite a bit less. But this is a decent gaming screen for someone with deep pockets and a desire for deeper immersion.

The Acer Predator Z1 Z301CT is available on Overclockers.
Discuss on our Facebook page, over HERE.
Pros:
Great colour accuracy possible, if you lower the brightness.
200Hz overclocked refresh.
21:9 aspect works well with the curvature.
Plenty of adjustments in OSD.
Cons:
Relatively expensive.
Brightness not very uniform.
Inaccurate gamma settings.
Kitguru Says: The Acer Predator Z1 Z301CT provides curvy wide-angle gaming and 200Hz refresh, but for a price.