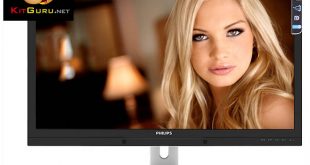 If you haven't made the upgrade to 4K yet, we've got news for you. You're too late. The cutting edge has moved on already. The Philips Brilliance 275P4VYKEB is one of the newest 5K screens to hit the market. Although Apple's iMac had a 5K version a while back, and Dell got there some time ago too (see the KitGuru review HERE), this is my first look at a 5K screen, and it's not as expensive as you might think.
Like Dell's original offering, the 275P4VYKEB is a 27in TFT with 5,120 x 2,800 pixels. Putting that in perspective, it has exactly four times as many pixels as AOC's AGON AG271QX, with the same screen diagonal. That's a pretty hefty number of pixels, and actually beyond what many graphics cards can drive. In fact, to use the full 5K this screen needs two DisplayPort connections to the same graphics card, and only a handful of cards are currently supported officially, although we suspect many more will work.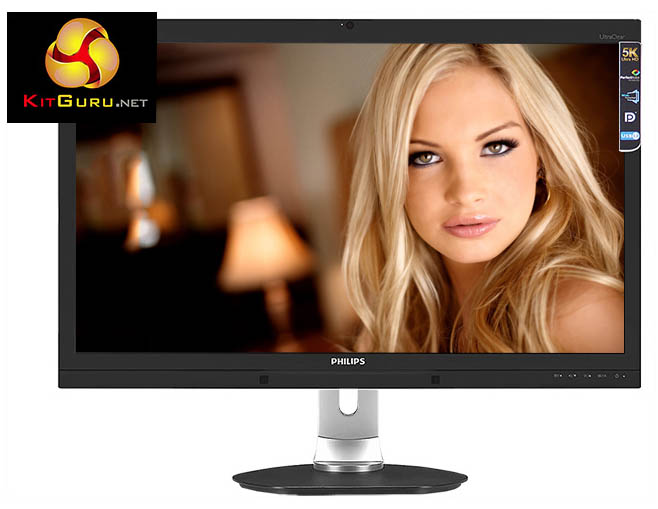 Other than the headline 5K resolution, this is a fairly standard screen in terms of its other specifications. It uses PLS technology, which is Samsung's propriety spin on IPS, and has broadly similar features to IPS, including a wide viewing angle, but also a relatively slow pixel response compared to TN. The 275P4VYKEB has a 8ms response time, which is pretty slow compared to the 1ms TN panels that are readily available.
There is also no high-frequency refresh to boast about, with the panel maxing out at 60Hz whether in 5K or 4K modes. The 1000:1 contrast and 300cd/m2 brightness rating are bog standard too. You do get a three-port USB 3.0 hub built in, headphone jack, stereo 2W speakers and even a 2Mpixel webcam with microphone (presumably taking the fourth USB port).
So this is possibly more of a business and content creation screen than one for ardent gamers. It's clearly all about that mega pixel count, which is pretty darned amazing. So let's find out if this 5K monster is special K or just OK.
Specification:
Screen size: 27-inch, 16:9 aspect
Native resolution: 5,120 x 2,880
Refresh rate: 60Hz
Panel type: PLS
Contrast ratio: 1000:1 (typical)
Brightness: 300cd/m2
Response time: 8ms
Display inputs: 2 x DisplayPort 1.2
USB hub: Yes (3 x USB 3.0)
Tilt: Yes
Raise: Yes
Swivel: Yes
Other: Headphone jack, 2 x 2W speakers, 2Mpixel webcam with microphone.
Retail Price: £737.88 (inc. VAT)
Be sure to check out our sponsors store EKWB here