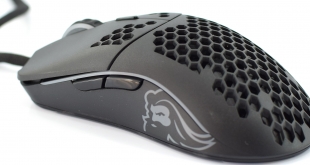 There's no denying that ultra-lightweight mice are becoming more and more popular, and this trend has led to a variety of manufacturers trying to cut as much weight as possible from their peripherals. Glorious PC Gaming Race, known as just 'Glorious', was one of the first to get on board with this trend, following in the footsteps of Finalmouse and the original Ultralight. Today, we review the Model O-, weighing in at just 58 grams.
As the smaller brother to the Model O, the Glorious Model O- is immediately recognisable as an ultra-lightweight mouse thanks to the copious amount of hexagonal holes cut into the top and underside of the shell. Available in two colours – black or white – as well as two different finishes – matte or glossy – the Model O- also sports RGB lighting, an 'ultra-flexible Ascended Cord' and the PixArt PMW 3360 sensor. Just how good is this mouse?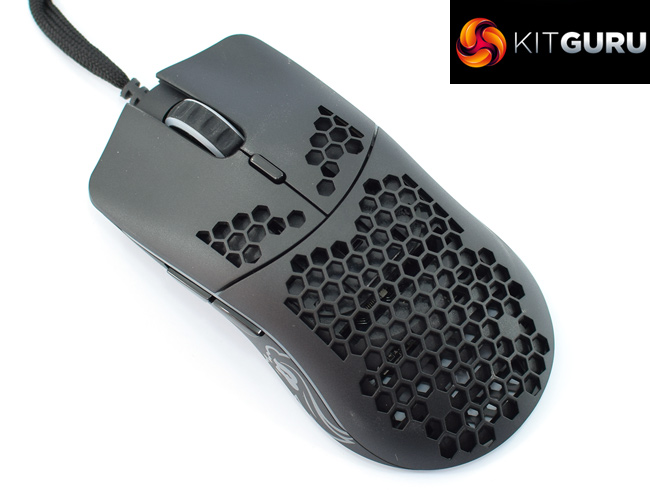 Sensor: Pixart® PMW-3360 Sensor
Switch Type: (Main) Omron® Mechanical Rated For 20 Million Clicks
Number of Buttons: 6
Max Tracking Speed 250+ IPS
Weight: Model O-: 58grams (Matte) and 59grams (Glossy)*
Acceleration: 50G
Max DPI: 12,000
Polling Rate: 1000hz (1ms)
Lift off Distance: ~0.7mm
Cable Type: Ascended Cord (ultra-flexible)
Connector: USB 2.0
Cable Length: 2 m / 6.5 ft
Mouse Feet: Type G-Skates Premium Mouse Feet
Mouse Feet: Thickness 0.81mm
Dedicated DPI indicator: Yes, on bottom of mouse
Default DPI Settings: 400 (yellow), 800 (blue), 1600 (red), 3200 (green)
Remappable DPI: Yes (requires software)
LED Color: 16.8 million color RGB (8 effects)
LED adjustable without software: Yes
LED can be disabled: Yes
Warranty: 2 years
The Glorious Model O- ships in a clean-looking two-tone box, with product branding and the 58g weight advertised on the front.
On the back, various specs and key features of the mouse – including dimensions, premium mouse feet and Ascended Cord – are highlighted.
Inside, there are lots of accessories – including two stickers, a quick start guide, a welcome card, a second welcome note from Glorious CEO Shazim Mohammad, and finally a small leaflet detailing other Glorious products.
Now, as for the mouse itself, it is clearly an eye-catching design with plenty hexagonal holes cut into the mouse's shell. Compared to the Model O, the Model O- is essentially the same exact shape, but just scaled down, meaning it has a very similar shape to the Zowie FK2, but the Model O- is even smaller.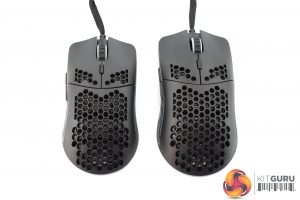 Specifically, the dimensions of the Model O- are 120 x 63 x 36mm. The Model O comes in at 128 x 66 x 37.5mm, and above I have put the two side by side so you can get an idea of just how that looks. Suffice to say, the Model O- is a very small mouse, easily the smallest I've ever used, so that will be a major factor as to whether or not this mouse will suit you.
On the left and right side of the mice, we find two RGB LED diffusers – we will look at the lighting itself on the next page. The right-hand side is otherwise bare, but there are two side buttons on the left side of the mouse, as well as the Glorious Odin logo printed towards the back. There are no holes on the sides either, with the holes just on the top and underside of the shell.
At the front of the mouse, we can see the single DPI button just behind the textured scroll wheel. The primary buttons have comfort grooves built into them.
Flipping the mouse over, we can see even more holes surrounding the PMW 3360 sensor in the middle. There are four 100% PTFE mouse feet in each corner of the Model O-, and while no spares are included in the box, these are available to purchase separately if you want spares and they fit both the Model O and Model O-.
Lastly, just to the left of the sensor lens is a small DPI LED indicator, which changes colour based on what DPI stage is currently in use.
Taking the mouse apart, we can see just how little there is to the shell itself – even the PCB is only as big as it absolutely has to be to keep the weight to a minimum.
At the top of the mouse, the primary buttons used are Omron D2FC-F-7N(20M) switches, rated at 20m clicks.
We can also get a look at the brown F-Switch scroll wheel encoder, while the side buttons (plus scroll wheel click and DPI button) use Huano green switches.
We can also get a look at the PixArt PMW 3360 sensor placed in the middle of the PCB.
Finally, the Model O- uses Glorious' self-proclaimed 'Ascended Cord' which is a shoelace cable designed to be ultra-flexible. It measures 2m long and terminates with a standard USB 2.0 connector.To test the Model O-, I used it as my daily driver for almost two weeks. We break down testing into four main sections: software, lighting, build quality and comfort, and performance.
Software
The Model O- uses exactly the same software suite as the bigger Model O, and you can download it directly from Glorious here. It's a pretty basic software suite, with all the options presented on a single page, but there are a number of drop-down menus on the right hand side which offer various customisation options.
Firstly, you can configure up to six different DPI stages in steps of 100, and assign each stage a different indicator colour. After that, there is control over the RGB lighting with a number of different presets to choose from, while LOD can also be adjusted from 2mm to 3mm depending on your preference.
Additionally, there are options for polling rate – 125Hz up to 1000Hz – as well as a debounce delay option for the primary buttons. On the left hand side of the page there are options to remap the mouse's buttons, and you can also record macros from within the software.
Overall, this isn't as polished an experience as you'd get from Razer Synapse or Corsair iCUE, but the fundamentals are there with DPI and LOD options. On top of that, the Model O does have on-board memory so the software can be used once and then uninstalled if you'd rather not have it on your PC.
Lighting
Lighting for the Model O comes from three zones – one LED strip on either side of the mouse, and then the scroll wheel. I do think it looks good, particularly when the lighting bleeds through the honeycomb holes on the top of the shell – it's an appealing aesthetic. On top of that, the LEDs are fairly bright and the colours look good, so I can't really complain here. You can of course turn the RGB off if you want to – some might even go as far as removing the LED diffusers to reduce the weight by a couple of grams – but for most people the RGB lighting will be plenty sufficient.
Build quality and comfort
In terms of build quality, there are always going to be question marks around a mouse which weighs just 58g, not to mention the fact that almost the entirety of its top shell is filled with holes. Based on my testing with my sample, build quality is surprisingly good, but there are a couple of points to mention.
Firstly, I can notice the top of the shell bending slightly when I push down with some force just below the the DPI button. Structurally, the Model O- is just never going to be as solid as a mouse weighing 90 or 100 grams. That said, during normal game play I didn't notice this at all, it's only when I deliberately apply pressure to that area, so this not a big concern for me.
Another similar point to mention is actuating the side buttons by squeezing in the side of the shell. This is something I can do on the regular Model O and the same goes for the O-. I don't see it as a big issue though, as you have to apply significant pressure to the sides of the mouse, which is simply not realistic for normal use, but it is something worth noting.
Other than that, there's no noticeable scroll wheel rattle with my sample and nothing else stands out as a negative for the mouse. Again, it's not going to be as sturdy as something like the G502 but it's not a weak mouse either.
As for comfort, this is really the area which will determine whether you should buy this mouse or not. It may sound obvious, but this is a very small mouse so it's really only suitable for specific grip types – primarily, this is an ideal fingertip mouse as it's just so small and only weighs 58g. Then again, I find claw grip (my go-to grip) uncomfortable as the base of palm can't really rest on the bottom of the mouse as it's both too short and too flat. Similarly, unless you're a young child, palm grip is just going to be impossible here.
That isn't to say the shape or design of the mouse is bad – it's just only going to suit a certain number of people. Personally, it's not the ideal shape or size for my use – I'm still using the Endgame Gear XM1 – but if you know you'd get on with a mouse this small, then it could well be just what you've been looking for.
Performance
Moving onto performance, we'll start with the primary buttons. These use Omron switches rated for 20m clicks, and they are definitely good buttons but they're not class-leading. The switch actuation is quite tight and crisp but there is just a hint of button post-travel which adds a little mushiness to the overall feeling. It's still very easily to do some rapid-fire clicks, but I found the overall tactility to be just lacking slightly due to that shell post-travel.
As for the side buttons, these are very good with minimal pre- or post-travel and a light actuation. The side buttons are using Huano green switches and I don't tend to use them too much in-game, but with the Model O- they are easy to press and feel great, so no complaints there.
Much the same can be said for the scroll wheel. This has well-defined steps but it's easy to flick it up or down, and clicking the wheel down is also slightly easier than with other mice like the XM1 or Logitech G305. The ribbed rubber wheel is also very easy to keep a hold of, so this is a definite strong point for the Model O-.
The Model O- uses the PMW 3360 sensor, and as expected it was flawless during my testing. There's no noticeable acceleration or jitter from the sensor and it tracked perfectly when doing some fine editing in Photoshop at 400 DPI. I couldn't get the sensor to spin out, either, so while this isn't anything we've not seen before with a 3360-based mouse, it's always good to know you're getting the best experience.
Following on from that, LOD is set to 2mm by default and at that setting the mouse wouldn't track when sat on top of 1 DVD. Raising LOD to 3mm meant the mouse would track on top of 1 DVD, but stopped tracking on top of 2 DVDs. That's good behaviour from the sensor and it's good to see Glorious has included the option to adjust LOD depending on your preference.
Finally, we'll touch on the 'Ascended Cable'. This is a shoe-lace style cable similar to the DM1 FPS and it is generally very good. It's flexible, easy to whip around and it doesn't drag on my Corsair MM350 mousepad, so it's very easy to get on with and is a definite upgrade over a standard rubber cable. The only thing I would say is that the cable's weave is relatively loose, so the cable is on the thicker side. That said, Glorious has actually updated the cable to give it a tighter weave for future batches, starting from the November/December batches. I can't comment on how this would improve things as my sample is an older batch, but even with my sample this is still a very good cable.There's a lot to like about the Glorious Model O-, particularly if you are a big fan of this new 'ultra-lightweight' mouse trend.
The size and weight of the mouse really do define the Model O-, as it weighs just 58g and it is very small, measuring 120 x 63 x 36mm. This really does mean the mouse is only going to suit certain people – if you like to palm grip this won't be for you, I even found claw grip quite uncomfortable. It's primarily a mouse for those with small to medium hands who like to fingertip grip. That's not a negative point, as it will likely be perfect for some people, but just be aware this mouse is particularly small.
That said, if that does sound perfect for your needs, the Model O- is a very capable gaming rodent. Its PWM 3360 sensor is as good as ever, the Ascended Cable feels great to use and the scroll wheel is up there with the best I've tried.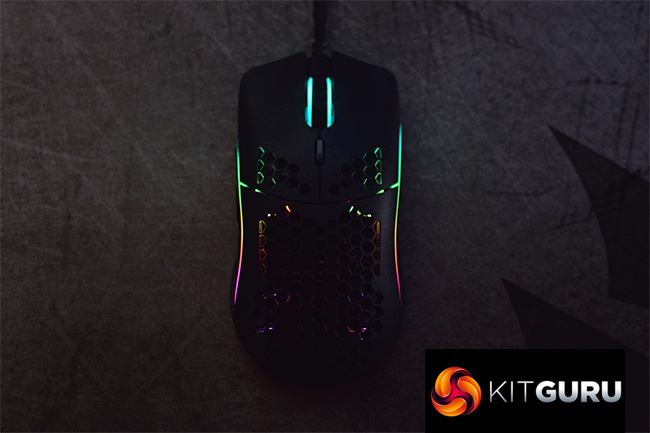 Elsewhere, it is good to see software included with the Model O-, even if it is not the most comprehensive out there, while the RGB lighting is likely to satisfy nearly everyone.
As for what could be improved, while the primary buttons are decent, there is just a hint of post-travel which does take away from the overall tactility of the clicks. On top of that, its no surprise that a mouse this light and hole-ridden exhibits a bit of creaking here and there, while the side buttons can be actuated by squeezing in the sides of the mouse.
Those are relatively minor criticisms, however, and they look even less significant when we consider the Model O- costs just £44.99, though the glossy versions are an extra £5 and you do have to factor in another £7.49 if you want a replacement set of mouse feet as spares are not included.
Still, at that price the Glorious Model O- is an excellent little gaming mouse which is well worth buying. Like I said, it's shape and weight mean it won't be for everyone, but if you have smaller hands and like to fingertip grip, this will be right up your street.

You can buy the Model O- from Overclockers UK for £44.99 HERE.
Pros
Very light.
Less than £50.
Top quality sensor.
Excellent side buttons and scroll wheel.
Flexible cable.
Cons
Some minor build quality issues.
Primary buttons suffer from slight post-travel.
KitGuru says: If you're looking for a very small and very light gaming mouse, the Model O- is a great choice at a very competitive price.