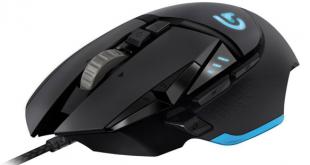 The modern gaming mouse market is a diverse one, from ambidextrous, cut back and clean looking mice, to those festooned with buttons, bells whistles to look like something created in a future space race. Today we review one that looks like it was lifted straight from the latest Tron movie. The Logitech G502 Proteus Core ships with a high rated sensor (12,000 dpi) and a ton of buttons and a scroll wheel that seems to never stop spinning once you get it going.
Is this conducive to gaming? Probably, but we wouldn't be much of a review site if we took the marketing at face value now would we?
Tracking

Resolution: 200 – 12,000 dpi
Max. acceleration: >40G*
Max. speed: >300 ips*
* Tested on Logitech G240 Gaming Mouse Pad
Responsiveness
USB data format: 16 bits/axis
USB report rate: 1000 Hz (1ms)
Microprocessor: 32-bit
Glide
Dynamic coefficient of friction – Mu (k): .10*
Static coefficient of friction – Mu (s): .15*
*Tested on wood-veneer desktop.
Durability
Buttons (Left / Right): 20 million clicks
Feet: 250 kilometers
Physical specifications
Weight: 168 grams (mouse plus cable)
Weight: 121 grams (mouse only)
Length: 132mm
Width: 75mm
Height: 40mm
Additional Features
Surface analyser for sensor fine tuning
Customisable weight and balance
11 programmable buttons, with custom macro options
On the fly DPI switch
Hyper fast scroll wheel
Mechanical switches for main buttons