Last updated on November 19th, 2019 at 10:46 am
Today is part two of our four-part series of deals that will culminate with a couple of videos on the 29th November and 2nd December as we hit Black Friday. We will be regularly updating this post on a weekly basis as Black Friday is no longer a single day, and there are quite a few offers floating around already on the run up to Christmas. If you're feeling the itch to upgrade get your wallets and purses at the ready as we dive headfirst into some deals!
Graphics Card deals:
MSI are running an offer that includes free food which to me is just irresistible. Game on You, Food on us is running from the 12th of November and you can get up to a £40 Deliveroo voucher on selected graphics cards. It's a little different to the free games you typically see but festive season is also eating season so it makes sense to me. You can find more info on the MSI website HERE.
If you want to hit the sweet spot when it comes to bang for buck graphics power, the AMD RX 5700 XT is a great choice. Overclockers UK have an amazing deal on the Red Devil from PowerColor for £399. If you want to know more about this card make sure to check out KitGuru's review of the Powercolor Red Devil HERE. This offer is running throughout November and Overclockers UK have promised to refund the difference if the price drops further before Black Friday.
The RADEON RX 5700 XT RED DEVIL was £439, now £399.95.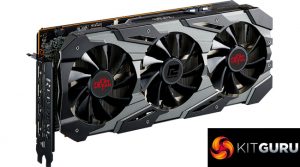 If you're building a budget system then you can now get a RADEON RX 590 Red dragon with 20% off from Overclockers UK. This brings it down to the bargain price of £149.99. This offer is running throughout November and Overclockers UK have promised to refund the difference if the price drops further before Black Friday. You can get this deal HERE.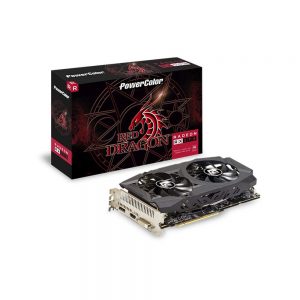 Both the AMD GPU's on offer are also part of a deal where you can get your choice of Borderlands 3 or Tom Clancy's Ghost Recon® Breakpoint, plus get 3 months of Xbox Game Pass for PC, for free.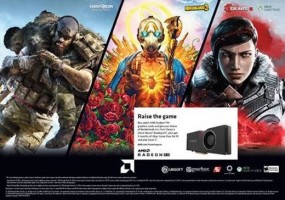 With Nvidia's new RTX Super line up released, some of the original RTX 2070 cards have dropped in price. Overclockers UK's most budget friendly option is the Palit Dual which has a 20% saving bringing it down to tempting £374.99. You can find that deal HERE. With the RTX 2070 being end of line this deal is while stocks last!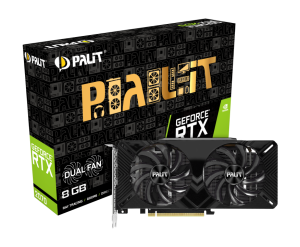 Display deals:
Upgrading your PC is all well and good but don't let your monitor ruin your gaming experience as it is the arguably most important component when it comes to immersion.
For a monitor that ticks plenty of Boxes it might be worth checking out the PG279Q ROG SWIFT. With a 27″ display, 1440p resolution, IPS panel, G Sync compatibility and 165Hz refresh rate there's not much more any gamer could need. Overclockers UK are currently running an offer for £598.99 a saving of just over £100 off the original asking price. You can find that offer amongst other displays on various deals HERE.
For a monitor at the more budget end of the spectrum but also one that isn't lacking in features, Ebuyer has a pretty good early bird Black Friday deal on the BenQ EL2870UE 28″ 4K monitor. With a saving of £40 you can pick this monitor up for under £200 HERE. The fast 1ms response time and 4K resolution make it a great companion to a PS4 or XBOX One.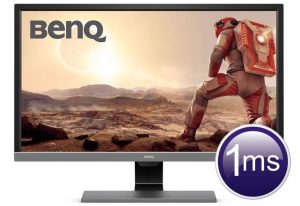 CPU deals:
A new motherboard is no use without a CPU to go in it, and Overclockers UK have managed to bring the Ryzen 7 3700X to under £300 HERE. At £299.99 there is a saving of £20 off the RRP. This CPU is great bang for buck and won our KitGuru 'Must Have' award when we reviewed it HERE back in July. If you're an enthusiast who does more with your system than just game, Ryzen proves itself to be the go-to all-round option. We don't have an end date for this offer but I can't imagine it will be around for long!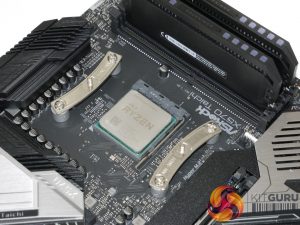 If you need a whole load of cores but don't want a hefty price tag then this Threadripper CPU might be a surprisingly good option. With the new Threadripper CPUs announced, the 12-core 2920X has dropped significantly in price. With a hefty £220 saving you can now pick one up for £349.99. It also brings the benefit of supporting quad channel memory, which is perfect for RAM hungry applications. You can find this deal on Overclockers UK HERE and it will be while stocks last!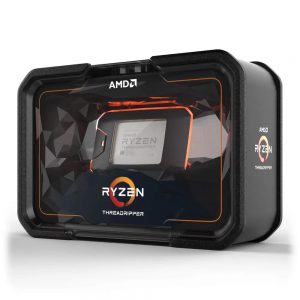 CPU Cooler deals:
All in one coolers are a great solution that can be more effective than air cooling without the hassle or maintenance of a custom loop. If you're a fan of white PC components then you might like this deal on the Deepcool Captain 360X in White with a little bit of RGB. You can find it over HERE on Amazon with the option to add a £15 voucher and save on the £139.99 MSRP.
If you are after something more suitable for a smaller case, Deepcool also has a £10 voucher for the Castle 240EX cooler. It normally retails for £119.99. If you want to learn more about this cooler make sure to check out the full review HERE.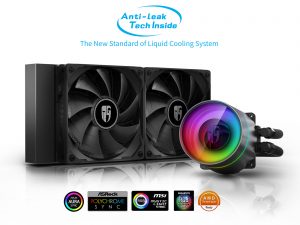 Storage Deals:
If you've decided to invest in X570 then make sure to get the most out of the faster Gen 4 PCIe interface. NVMe drives with 5000MB/s capability are surprisingly affordable and this attractive 1TB option from Gigabyte can be had for just under £200, a saving of nearly £50. This offer will only be around on Overclockers UK HERE until Wednesday the 20th.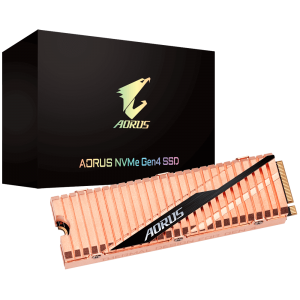 Laptop deals:
ASUS have started some of their ROG Black Friday offers early. At the more budget end of the spectrum check out the ASUS TUF FX505DV which has a saving of £250 making this laptop £999.99. The also have the ROG Zephyrus S at £2499 a saving of £500 off the original price! You can check out these deals over HERE.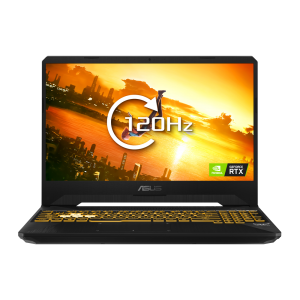 If you're looking to game on the go but don't want to break the bank you'll be surprised what you can pick up for under £1000. MSI are knocking their GF63 Thin 9SC-419 laptop down to £799. With a RRP of £1049 that's quite the saving, and you do get decent hardware with a i5 9300H and GTX 1650. It's available from Amazon, AO, Very from the 8th of November and Argos on the 22nd Nov – 3rd Dec. 
We are seeing price drops on quite a few laptops that feature 1660 Tis which is a pretty good GPU to find in a laptop and is suitable for more budget conscious buyers. The ASUS ROG Zephyrus G features a Ryzen processor and has dropped from £1199 to £949 a saving of £250! With a 120Hz thin bezel display it seems like a fair deal and you can find it HERE.
If you prefer Intel processors check out the Acer Nitro 5 AN515-54. It comes with an  i5-9300H, 8GB of RAM and 128GB for £929 a saving of £70 over the RRP.
Overclockers UK also have a deal on the 1660 Ti equipped GF65 Thin which comes with a i5-9300H AND 120Hz display. It has dropped by nearly £100 to £999.95. You can find it on their website HERE.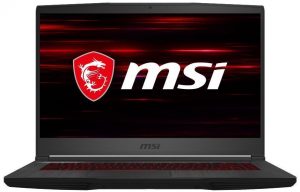 If you're after a laptop for work rather than play Mesh has £100 off the MSRP for this i7-8565U equipped laptop. The HP 250 G7 also comes with 32GB of RAM and a 1TB SSD for £779. If you're interested make sure to check it out HERE.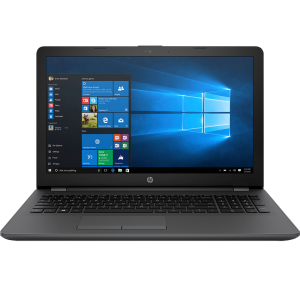 For something very high end take a look at this deal on the GIGABYTE AERO 15 OLED XA. With a i7-9750H & RTX 2070 it packs plenty of power in a tiny chassis complete with 4K OLED display. You can currently save £300 at PC World on the MSRP HERE, bringing it down to £2,199.00.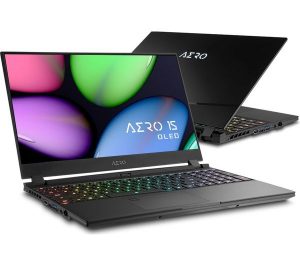 PC Case Deals:
All those components are going to need a home and the type of PC case you choose can really make or break a build. If you're after something at the extreme end of the spectrum and want to build a true monster than you can't go wrong with the Deepcool Quadstellar. This unique looking case normally retails for £350 but if you get it HERE on Amazon there is the option to save £30 with a voucher. Meaning more money for extra RGB lighting! Also make sure to check out Leo's review HERE to see what he did with this case.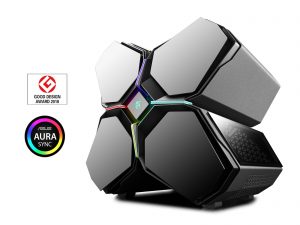 On the more budget end of the spectrum we have the Deepcool Mattrex 70. Despite the more modest asking price it does have a pretty unique glass PSU shroud. You can check out my full review of this case HERE. If you like the look of it then you can save £10 with a voucher off the £79.99 MSRP on Amazon HERE.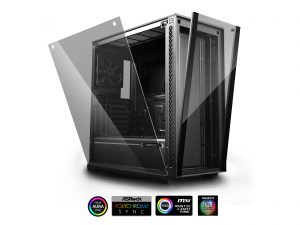 Pre-built System deals:
If you're not interested in building your own PC then a pre built might be a good option and can save a lot of hassle. A star buy I've spotted this week when it comes to raw performance is this Cyberpower Gamer Xtreme C790T PC on Newegg. It's not much of a looker but with an i7 9700K, RTX 2070 and 22% Off you get a lot of PC for the £1,283.99 asking price. You can find this deal HERE.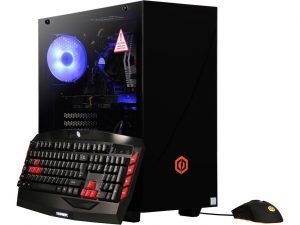 At the more budget end of the spectrum Stormforce has the Onyx with a i3 processor and GTX 1650 for £699.97, meaning you save £50 off the original price. If you want to know more about this system make sure to check out my review HERE, or head to the Stormforce website HERE.
Those of you looking for some more gaming performance power can save £150 off the Stormforce Crystal which comes with with a Ryzen 7 3700X and RTX 2070 Super. The system can be found on the Stormforce website HERE for £1,699.99.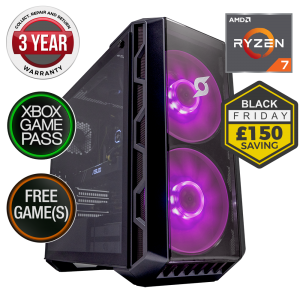 Mesh PC seems to be running loads of offers for Black Friday on various systems and it would be impossible to include them all so I just picked a couple of my favourites. The VE 2070 Super PC doesn't have most exciting name but with an i5 9600k, RTX 2070 Super, 32GB RAM and 1TB M.2 SSD it has some pretty great specs. It's on offer for £1399 at the moment, a £200 saving off the regular price.
I'm including the GBPC – Elite because it looks insane. With a full custom loop cooling the I7 9700K and large gull wing case showing off the vertically mounted RTX 2080 Super, it's certainly a crowd pleaser. With an asking price of £2299 it doesn't come cheap but you do save £100 off the normal asking price.
To see more of Mesh PC's deals head over HERE for all the Black Friday offers.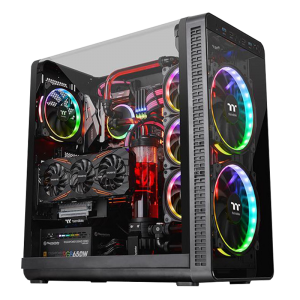 KitGuru says: Let us know what you think of these deals! I'm sure there's more out there so let us know what you've spotted and what you're going to be upgrading this year. There's bound to be plenty more deals over the coming weeks so If you haven't seen what you want yet- check back on Friday 22nd for more offers as we will keep updating you weekly!