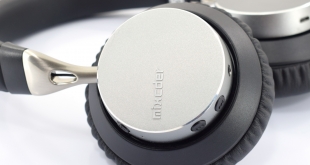 One of the biggest trends in the mobile sector over the last couple of years has been the move from wired to wireless headphones. Mixcder is hoping to capitalise on this with its new headphone, the MS301. Priced at £69.99, and promising excellent audio quality on the go as well as the ability to make phone calls thanks to an integrated mic, can the MS301 stand out in a crowded market?
If you've not heard of Mixcder, the American company makes on headphones, speakers and audio accessories aimed at 'hip and trendy' young folk. The MS301 definitely fits that brief thanks to its stylish appearance, wireless nature and affordable price. Boasting support for aptX Low Latency as well, could the MS301 be the real deal? Let's find out.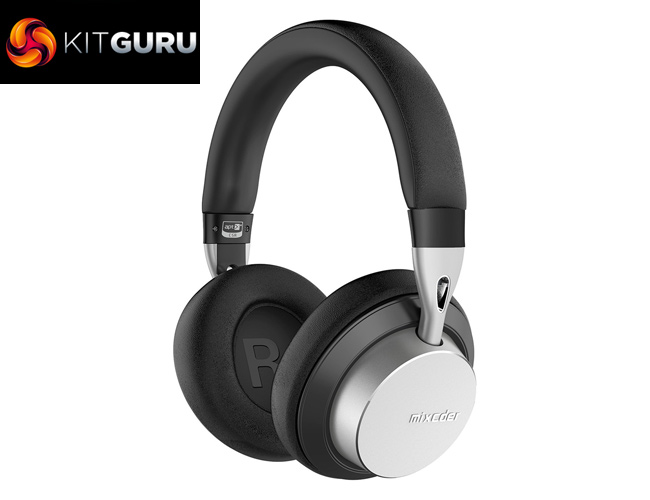 Specification
Mic. Spec
Microphone Unit: Φ4*1.5mm
S.P.L: -42±3dB S.P.L at 1KHz
Impedance:L ≤2.2kΩ
Frequency Response: 100Hz-10,000Hz
Directivity: Omni-directional
Operating Voltage: 1-10V
Speaker Spec
Speaker Diameter: Φ40mm
Frequency Response: 20Hz-20,000Hz
Impedance: 32Ω
S.P.L: 90±3dB S.P.L at 1KHz
THD: <3%
Bluetooth Spec
Bluetooth Version: BT 4.2
Support Profile: HSP,HFP,A2DP,AVRCP
Support Format: apt-X/apt-X Low Latency
Transmission Frequency: 2.402GHz-2.48GHz
Transmission Distance: 33 feet (about 10 meters)
Pairing Name: Mixcder MS301
Battery Spec
Charging Port: Micro USB 5V/1A
Standby Time: More than 2200 hours
Talking Time: About 20 hours
Playing Time: About 20 hours
Charging Time: About 2 hours
Battery Type: Built-in 500mAh rechargeable lithium battery
For the full product page, see this link.
The Mixcder MS301 ships in a black box with gold accenting on the front. Instead of an actual product photo, the outline of the headphone is also printed in gold.
Inside, two small booklets are included: one quick-start guide and one customer feedback pamphlet. Two cables are also included: one micro-USB charging cable and one 3.5mm-to-3.5mm headphone cable.
Moving onto the headphone itself, the MS301 is a closed-back wireless device which sits over your ear, instead of on the ear.
It is also immediately obvious the ear cups are rotatable, so they can be laid flat, which is handy if you will be putting the headphones in a bag.
The MS301 is also made from quite robust materials – the back of the ear cups are made from metal, while the ear cup hinge and headband slider are also metal.
Aside from obvious build quality benefits, this also gives quite a sleek and modern look to the headphone.
Elsewhere, there are a few on-ear controls worth touching on. Starting with the right ear cup, here we find 'forward' and 'back' buttons, as well as the 3.5mm jack input for using the MS301 as a wired headphone.
Towards the top of the right ear cup is the power button itself, as well as the power LED notification light.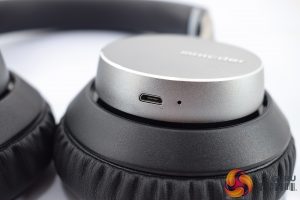 The left ear cup is less busy, with just the micro-USB input for charging. I do wish the charging port was USB Type-C, though, as essentially all modern smartphones now use this connector as the older micro-USB connector is being phased out.
Turning to the inside of the ear cups, we get a look at the ear cushions. These are covered with faux-leather and are not removable. A big 'R' or 'L' is printed on the inside of the cup to let you know which way round to wear the headphone.
Lastly, the padded headband is also covered with faux-leather. The padding itself measures approximately half an inch thick.To test the Mixcder MS301 I used it over a two-week period, listening to a wide range of music, as well as watching videos. The bulk of my listening was done with the MS301 connected to an ASUS ZenFone 4 vis BlueTooth. I did also use the headphone connected via a 3.5mm jack, though that was more to verify that the feature works as the MS301 is very much intended to be a wireless device.
Comfort and build quality
Right off the bat, I must say the MS301 is impressively comfortable. The ear cushions are simply lovely, with very soft padding that is still thick enough to prevent any contact between my ears and the driver itself. The MS301 is circumaural in design, or over-ear, so that may not be for everyone but it is definitely my preference.
The headband also does a good job. I did notice a slight pressure-point right in the middle of my skull, where the middle of the headband sits, but that only occurred after listening for a couple of hours straight. Even then, the issue was far from major and I could still carry on wearing the MS301 – the headphone just became more noticeable after a couple hours of use.
Build quality is also excellent, particularly for a wireless device at this price. The metal ear cups, as well as headband slider and ear cup hinge, are very robust despite being rotatable and fold-able. Being metal, you also have some peace of mind that the hinge and cups aren't going to break easily, as has happened to me personally with a cheaper, plastic headset.
Sound quality
Sound is obviously very important for a wireless headphone, and overall the MS301 proves itself to be competent if not mind-blowing at this price.
Starting off with the bass, this is definitely the most noticeable thing about the MS301 – put the headphone on and you will immediately notice there is quite a strong presence in the low-end. This will instinctively appeal to those who like a lot of bass, particularly those who are not too fussy when it comes to audio. For me, however, I do think the bass is quite loose and bleeds over into the mid-range, giving speech and vocals a slightly muddy texture.
Now, the bass doesn't completely obscure the mid-range, but mids do sound a touch veiled and distant. It's not awful, and certainly for the money I've heard much worse from other headsets, so I can't complain too much.
Moving on, the MS301 does display a fair amount of detail in the treble which gives it a slightly v-shaped sound. It isn't sibilant or fatiguing at all, but high notes sound reasonably clear and accurate which gives a good lift to the overall sound, something which definitely helps given the mids are just slightly lacking.
On the whole, the sound is certainly decent. I'm obviously being relatively critical as I like to consider myself an audio buff – my current headphone is the £430 Sennheiser HD 660 S, so comparing the two is a bit of a no-contest.
However, we have to remember the Mixcder MS301 is not meant to be an audiophile-grade headphone – not even close. It is meant to appeal to the mass-market who want a fun, listenable sound on the way to work or college without the faff of any wires. For that market, I think the MS301 will do the job perfectly.
Mic and battery life
Given Mixcder integrated a mic to allow users to take and make calls using the MS301, it is only fair we touch on this as well. Overall, the mic quality is actually pretty similar to a decent phone – it is not anything spectacular, but there is easily enough clarity to conduct phone calls without a problem, so I can't complain really. It is just a simple feature designed to make your life a bit easier by not having to take the headphone off every time you get a call.
Lastly, battery life. Mixcder advertise a 20-hour playback time when using the MS301, and overall I'd say this probably is about right. Over my two-week period, I used the MS301 varying amounts each day, but I estimate I listened for an average of 1.5 hours per day. With that in mind, I ended up having to recharge the device just before the end of my two-week testing period, so roughly after 18-19 hours of use. I'd say that's a very good result for a headphone of this price – a casual user (listening for about two hours a day) will easily get over a week of battery life which is not to be sniffed at.All in all, the Mixcder MS301 is a solid wireless headphone at an affordable price.
Things start off very well as the MS301 is built with quite a lot of metal, despite the £69.99 asking price. This means it is very sturdy and should last very well, even with its rotatable ear cups and fold-able hinges.
Comfort is also a strong point for the MS301. The ear cushions are very soft and provide great support for the headphone. I did notice one pressure point in the middle of my skull, caused by the headband, but this was only prominent after a couple of hours of continuous use. Other than that, I cannot fault the comfort of the device.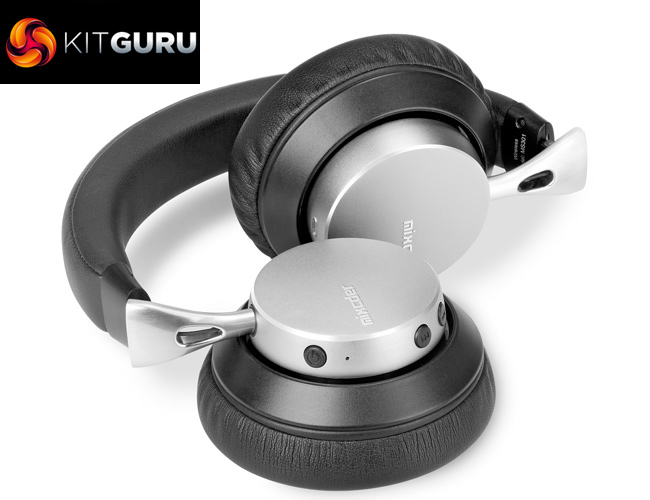 As for sound quality, I think Mixcder delivers exactly what one might expect from a £70 wireless headphone. The bass is very strong and can overpower the mid-range, though there is some good clarity in the high-end.
I think the sound would appeal strongly to fans of Dr. Dre Beats – strong and bass heavy, with an overall v-shaped sound. It won't be for everyone, but the MS301 is far from an audiophile product – in the nicest possible way, it is a product for those who are less discerning when it comes to headphones. If you are in that camp, it will do the job very well.
Alongside that, we have very solid battery life as well as an integrated mic to make life easy – you don't need to take off the MS301 to make or receive phone calls which is very convenient.
Therefore, I am happy to award the Mixcder MS301 our 'worth buying' award. For the average consumer who just wants a solid wireless headphone at a decent price, this will do the job nicely.
You can buy the MS301 for £69.99 from Amazon HERE.
Pros
Very good build quality.
Affordable.
Overall good quality sound.
Strong battery life.
Integrated mic.
Cons
Sound signature won't be to everyone's tastes.
Caused slight discomfort to my skull after two hours continuous use.
Power input should be USB Type-C.
KitGuru says: For £70, the Mixcder MS301 is a stylish, well-built and good quality wireless headphone. It's obviously not for the discerning audiophile, but would be a great headphone to take on your daily commute.