Originally established in 1990 with a focus on commercial solutions, the business arm was spun-off in 2008 and AVerMedia's focus moved to the gaming market – with the launch of its first capture card for gamers in 2011. Portable products followed in 2013, with microphones in 2017 and streamer cams in 2019. AVerMedia took a leadership position in 2018 with the world's first 4K HDR capture card and many more innovations followed – including products like the GC570D that can capture up to 240fps with dual inputs plus 4K HDR support and the PW315 HD web cam with 360 degree pivot capability.
AVerMedia's history and experience means that they are a top pick if you want to impress your audience. If you're planning on streaming at much higher quality, then this is the competition for you, as you now have a chance to win a cool streaming kit worth almost £330!
AVerMedia GC570D
The GC570D (DUO) offers zero lag pass-through creators can still enjoy their gameplay – either life-like (4K HDR) or ultra-responsive (Full HD 240 FPS). All while capturing 1080p60 for any streaming platform. AVerMedia is hoping to offer the perfect balance between pleasure and performance. Given that the DUO is compatible with most professional streaming software. No matter which streaming software you are using, you can stay with it, no problem.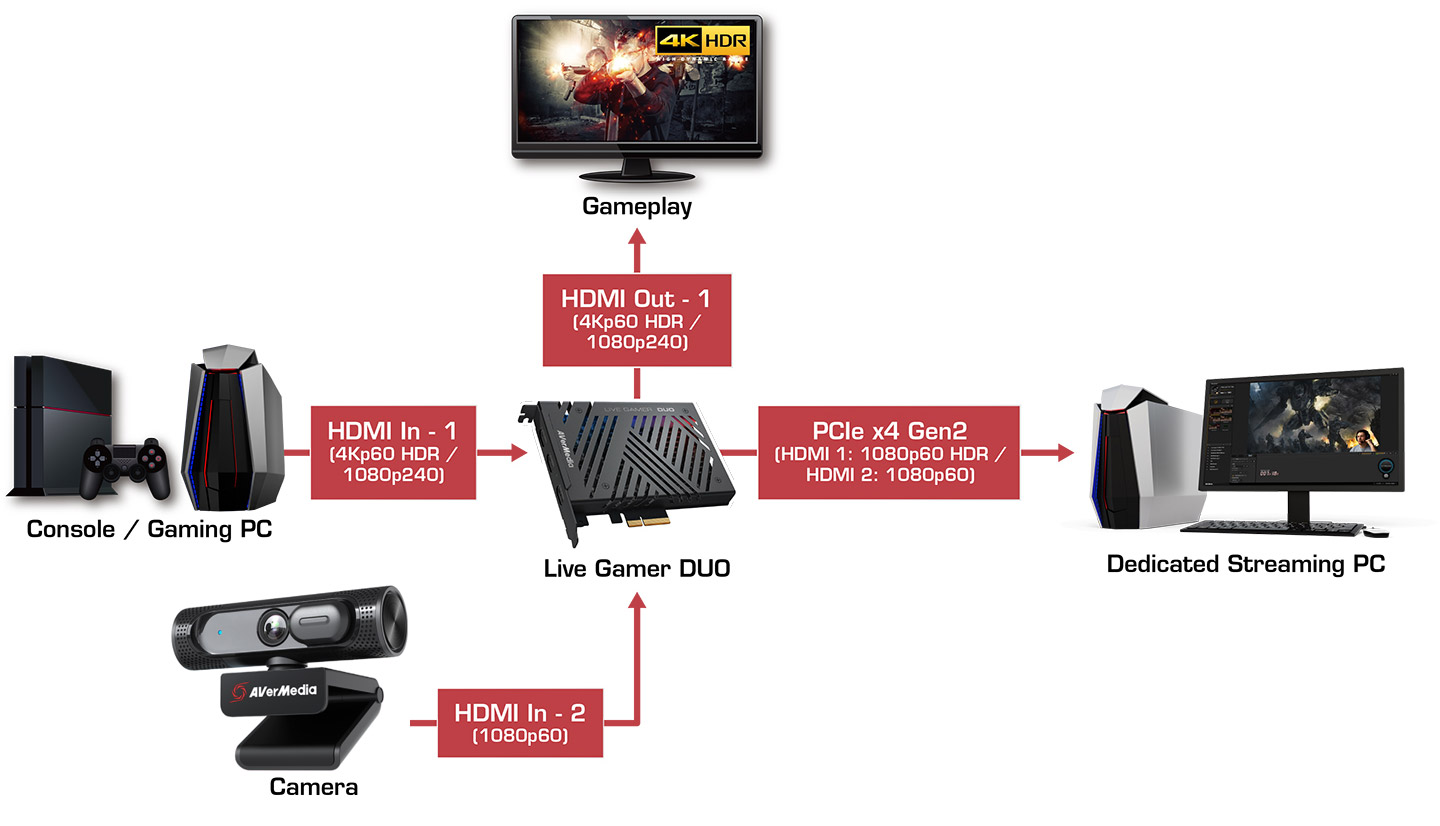 AVerMedia PW315
The PW315 is a full HD webcam, capable of capturing 60 frames per second with a 95% field of view, so you'll find it really easy to move around and engage with your audience. It also comes with our AI-tech CamEngine software, with key features like AI Framing and speaker tracking. So You can always maintain the eye contact and engage with your audience, even when you move around. It also cancels the background noise – no more neighbour's dog barking sound in your call. Plus, just in case, it has a built in physical privacy shutter.
TO WIN
Together, the PW315 and the GC570D cost almost £330, but you have a chance to win them today. Simply email [email protected] using the subject line "I really want a pro-class streaming solution from AVerMedia" and including the answer to this question:–
What is the fastest rate at which the AVerMedia GC570D can capture your full HD game stream?
60 frames per second
120 frames per second
240 frames per second
There you have it. Easy to enter and you might just win a streaming kit worth £330!
Terms: This competition is open to residents of the UK and EU. We are running it from the 11th of June until the 24th June 2021. A winner will be picked and announced shortly after that date. Due to the current COVID-19 situation, shipping is reliant on the courier operating as normal which we cannot guarantee, but we will keep the winner updated following the closing of the competition. In compliance with GDPR, your emails will be deleted from the inbox after the competition is closed and your details will not be shared, we respect your privacy.