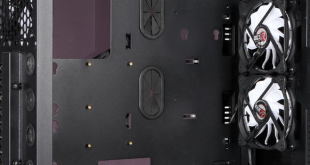 The Raijintek Asterion is a lovely looking chassis, it is crafted from aluminum and inside there is enough physical depth to install a CPU cooler up to 180mm high. There is also the option for either a closed liquid cooling loop or even custom loop with space at both the top and front with room for a 360mm Radiator. The Asterion Plus features a hinged door system for ease of access on both sides of the case, something we delve into later in the review.
SPECIFICATION:
Colour (and Internal Colour): Matte Black
Body Dimension (D/W/H): 470*230*525mm
Body Weight (N.W.): 8.5 KG
Body Weight (G.W.): 10.3 KG
Material: Aluminum
M/B Type: E-ATX/ATX/MICRO-ATX/Mini-ITX
Graphic Card Support: 340mm
Power Supply: ATX PS/2
Power Supply Integration: Internal Bottom PSU
Slim DVD: 1
3.5″ Hidden (removable): 3 (or 2.5"*3)
2.5″ Device: 6 (max.)
I/O Panel: USB3.0*4 + HD Audio*1
PCI Slot: 8
PCI Slot Tool-free: YES
HDD Tool-free: YES
CPU Cooler Height: 180mm max.
Side Panel Style: Flat / Vent
Cable Management: Regular
Front Radiator Support: 240/280/360 mm radiator (120mm *3)
Rear Radiator Support: 120/140 mm*1
Front Cooling Fan pre-installed: 12025 White LED fan *2pcs
Rear Cooling Fan pre-installed: 12025 White LED fan *1pcs
Top Cooling Fan: 240/280/360mm fan & radiator options (120mm *3)
To put this case through its cooling paces we will be using a test system incorporating a 990FX Extreme 9, AMD FX 8370, GTX 970 and an SSD. This system allows us to produce a good amount of heat to effectively test the Asterion's cooling capabilities.
Test System:
Processor: AMD 8370
Motherboard: Asrock 990FX Extreme 9
CPU cooler: Thermaltake Riing Silent Pro
Memory: G Skill Trident 2x 4GB DDR3-2400MHz RAM
Graphics card: Zotac GTX 970
Power supply: EVGA 650 P2
Storage drives: OCZ Vector
OS: Windows 10 Home.
The Asterion comes equipped with 3 x 120mm fans – all with white LED's.
There is one in the rear of the PC and two in the front, both working together to pull air through. There is also the option to add several more fans if need be or even 2 x 360mm Radiators for the extreme enthusiasts out there.
Cooling Performance.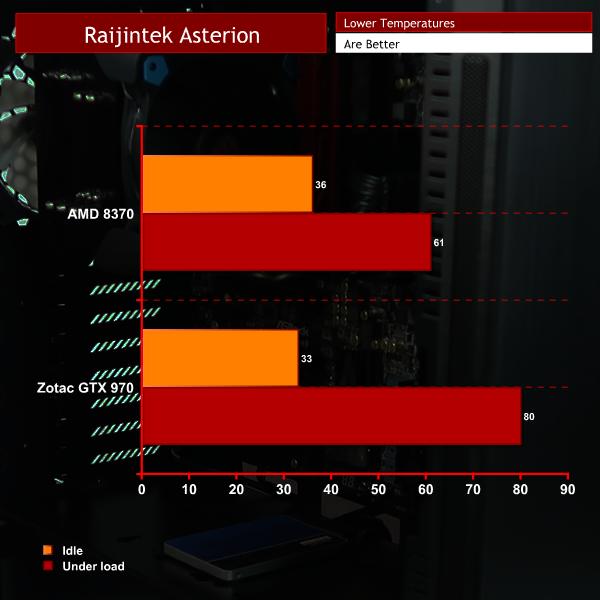 With the three Case fans and the single Fan on the Thermaltake Riing 12 it made for a quite effective method of removing the hot air from inside the case. The CPU did not pass 61 as a maximum temperature and this was under PRIME95 load. Furmark was also running as a background task to stress the GPU at the same time.
Acoustics performance.
If you tend to have your PC 'on desk' then I can confirm it wasn't too loud when under load. The case fans themselves did not really disturb anything I would be doing at the same time. They were also connected direct to the power supply using the Molex connectors, so they were running at 100% the whole time.
Closing Thoughts.
We expected good things from this case and in many ways it delivered, other than the minor issues with the hinged side panel not being able to close fully due to the beefy size of the 24-pin cable I was using.
Raijintek must have been aware of this potential issue as they incorporated 2x Magnets at both the top and bottom of the panel to try and pull it in tightly. This did not work for me as shown in the video. I even tried to use cable ties provided in the case to pull the cables in closer.
On a more positive note, the Raijintek has plenty of space inside and can take anything in motherboard sizes from an E-ATX down to a mini-ITX.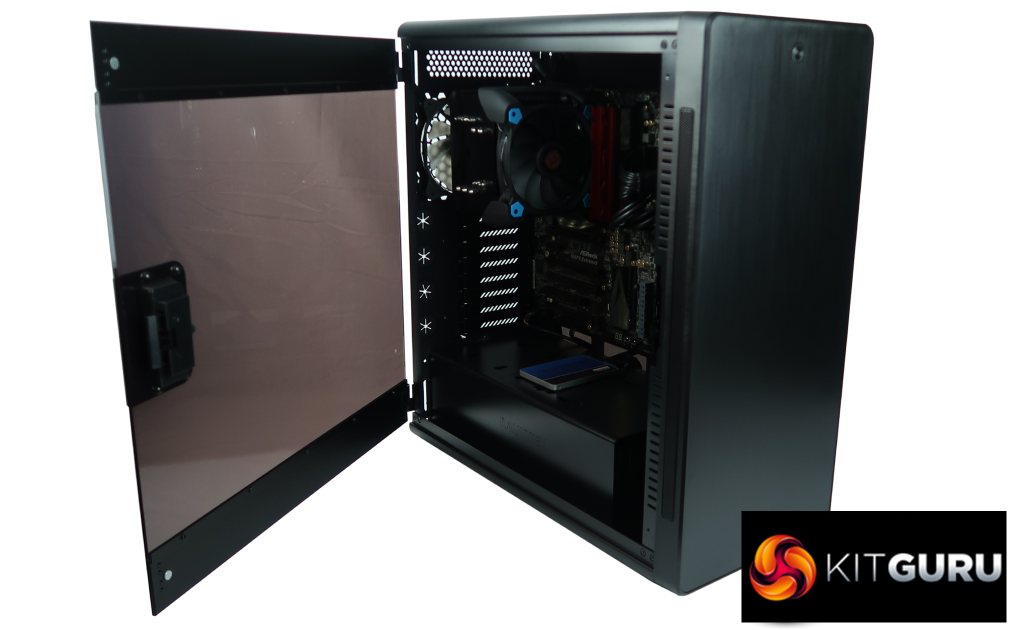 Included are features such as the White LED 120mm Fans, aluminium chassis and the hinged side panels, meaning it stands out a little from other cases at a similar price range.
I would like to see a glass side panel instead of acrylic as the extra weight might help the doors to close better. The case is extremely spacious and can easily accommodate enhanced liquid cooling configurations.
A feature that really stood out was the decision to add a slot for a slim optical drive – often manufacturers stray away from this and neglect to offer this feature in their cases. We know people don't often use optical media any more, but the Asterion Plus case houses a vertically mounted drive in such a way you don't even notice it is there.

You can buy the Raijintek Asterion Plus Aluminum case from Overclockers UK for £139.99 inc vat. NOTE: The Black Window version we reviewed today is currently on sale for £119.99 HERE.
Discuss on our Facebook page, over HERE.
Pros:
Large interior.
Easily able to liquid cool.
Host 2 x 360 Radiator.
Hinged side panels.
Acrylic window.
PSU shroud.
Aluminium Chassis.
Cons:
Cable management option restricted.
Side panel struggles to shut fully with beefy cables.
Finger print magnet.
KitGuru says: The Raijintek Asterion Plus is a good case but it faces a lot of competition in this price sector.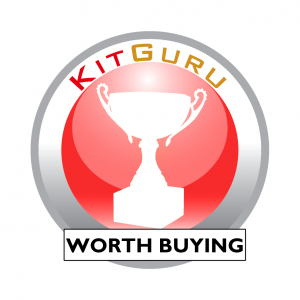 Be sure to check out our sponsors store EKWB here