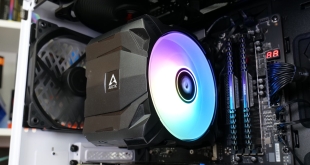 Arctic's Freezer series of CPU coolers have been synonymous with budget cooling aficionados for a long time. In this review, we are examining the Arctic Freezer A35 series of CPU coolers to see if these well-priced, 120mm-class options can prove their worth. The specs are promising, the warranties are outstanding, and Arctic even deploys an aesthetically-pleasing blacked-out and A-RGB version.
Watch via our Vimeo channel (below) or over on YouTube at 2160p HERE
Video Timestamps
00:00 Start
00:47 Introduction
02:12 Some details
04:12 Warranty
04:28 AM4 Installation
04:59 Test system and procedures
06:14 Noise and thermal test results
08:54 Closing Thoughts
We have three Arctic Freezer A35 versions on display here; these use the same core heatsink but differ by their fan designs. The individual versions are the baseline A35 which is a 37 Euro offering with a Fluid Dynamic Bearing 1800 RPM fan.
There is the A35 CO – Continuous Operation – which has an 1800 RPM double ball bearing fan designed for more reliable 24/7 operation and is 35 Euros MSRP or £31 at Overclockers UK. And the Freezer A35 A-RGB version which adds aesthetic flair via a blacked-out design and a 1700 RPM Fluid Dynamic Bearing ARGB fan, which is 43 Euros nominally or £35-37 online in the UK
We will focus on the A-RGB version as it seems like the most interesting option, especially at only a £4-6 premium for the more appealing design. Plus, the performance difference between the different fan options proved negligible in our quick testing.
Arctic opts for a reasonably sized 120mm-class heatsink for the Freezer A35. The black-coated fin array utilises 54 0.4mm-thick aluminium fins and four 6mm copper heatpipes in a U-shaped orientation. The standard and CO versions stick with bare aluminium-coloured fins and copper-coloured heatpipes.
The 734g heatsink is asymmetric in design, with the front side being a flat shape for the 120mm fan to force air through. A large cut-out on the rear side looks primarily designed for screwdriver access to the mounting screw.
Despite the A35 being the AMD-specific version of Arctic's coolers, the heatpipe direct touch base is very modestly sized. In fact, the overall coverage area is smaller than a Ryzen CPU heatspreader. So, we will have to see if that design point works for Arctic.
Arctic uses shrouded fans for all the Freezer A35 models. This aids the visual appearance and tightness of fitting – which can be beneficial for air pressure. But it also reduces the requirement for sometimes ugly or awkward metal fan clips. Plus, the general slenderness of the overall cooler should present RAM interference as a non-issue.
The 120mm fan is pressure optimised and shares advantages of the P-series fans, according to Arctic. The A-RGB version features 12 LEDs that are controlled via motherboard vendor software and its fan operates at 200-1700 RPM via a 4-pin PWM connector.
One difference with the standard A35 and the A35 CO is that they ditch the LEDs and opt for slightly higher speed – 1800 RPM – PWM fans, as previously mentioned. But their fans operate in a semi-passive mode, so they are actually 0-1800 RPM speed ranges.
Warranty for the Freezer A35 A-RGB is a strong six years. The non-RGB versions increase this coverage to an outstanding 10 years. Those timeframes are awesome for sub-£40 CPU coolers, so credit to Arctic there!
AM4 installation uses the default AMD backplate once the standard AM4 plastic fittings are removed. Arctic's two metal retention brackets then screw into the backplate at 4 points.
After applying the bundled Arctic MX-5 thermal paste, the CPU cooler heatsink can be screwed down using the two positions on its crossbar. Finally, there is the straightforward process of re-attaching the shrouded fan and then connecting cables.
The overall process is very straightforward, it is quick, and it results in a solid mount.
Be sure to check out our sponsors store EKWB here