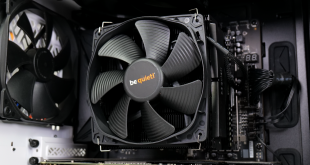 Small Form Factor (SFF) systems are just as popular as ever, yet the CPU cooling challenges remain. In a market where small AIO coolers tends to dominate, be quiet! is aiming to mix things up with the newly released Dark Rock TF 2 down-draft style air cooler. Can this £79.99 unit bear the challenge of an overclocked Ryzen CPU?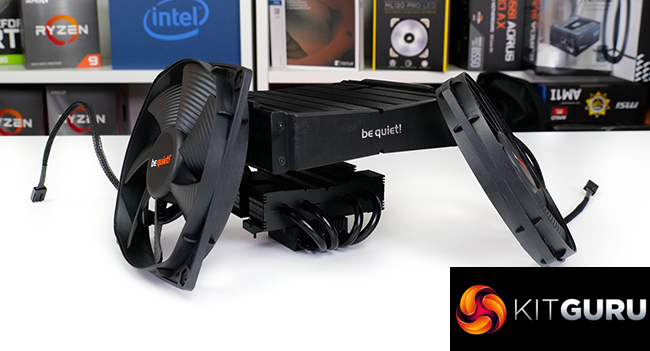 Starting out with a look at the Dark Rock TF 2 heatsink itself, be quiet! has gone for an attractive all black design that is typical of the Dark Rock series of CPU coolers. Every surface is covered in a high-quality matte black coating that be quiet! advertises as containing ceramic particles for enhanced heat transfer. The silver 'be quiet!' logo acts as one of the few contrasts from complete darkness.
Needless to say, the metal body looks absolutely superb if you like the dark black style of colour. And there is no RGB in sight on this one.
Two individual aluminium fin arrays form the Dark Rock TF 2 heatsink. The larger of these two heatsinks sits above the smaller section that is positioned just above the cooler's base structure. Effectively, this means that hot coolant air exiting the top heatsink will also be forced through the smaller, lower heatsink thus limiting its cooling abilities.
The top array is comprised of 62 aluminium fins while the bottom uses 64 fins. Without fans attached, the heatsink dimensions are 163mm length by 140mm width with a height of 109mm.
Running through the dual aluminium fin arrays are six 6mm copper heatpipes. These heatpipes emanate from the CNC machined, nickel-plated copper base.
Four of the black coated heatpipes exit the base structure to the smaller, lower fin array in one direction and the larger fin array in another. With two additional heatpipes on the outer edges running through to the larger, top-side fin array only.
In essence, there is capacity to transfer greater amounts of heat energy to the larger, uppermost fin array, as we would expect.
be quiet! gives the cooler a TDP rating of 230W. Whilst that may make sense with six 6mm heatpipes and a CNC machine base, the likelihood of the fin arrays supporting such a heat load in a down-draft configuration is highly unlikely. Not that manufacturer TDP cooling numbers mean all that much, anyway.
One thing to watch out for with the cooler's design is the angle of the heatpipes. Particularly with the curvature of the six copper pieces entering the top fin array, interference with nearby components is a possibility. Though this is only likely an issue in really confined cases or with ludicrously sized VRM heatsinks (which some mITX motherboards do sport).
Both fans supplied with the Dark Rock TF 2 are premium models. You get one 135mm Silent Wings PWM fan rated at up to 1400 RPM and one 135mm Silent Wings 3 fan rated at up to 1300 RPM.
These are particularly high-quality fans, but that is to be expected for a CPU cooler with this sort of price tag. Silent Wings 3 PWM are one of my personal favourites sets of fans thanks to their superb balance of performance when tied with low noise output.
With 1300 RPM and 1400 RPM blowers, be quiet! is clearly gunning for low noise operation. With that said, we have previously tested competent 135mm fans in this speed range and found them to offer a very good balance between noise and sufficient cooling performance.
Bearing wise, be quiet! opts for the fluid dynamic variant alongside a 6-pole motor. These combine to give a rated lifespan of 300,000 hours, which is impressive. The 4-pin PWM connection sits at the end of a 220mm-long black, braided cable.
In theory, there is nothing preventing you from not installing the lower fan thereby extending RAM height clearance from 49mm to 73mm. Though we would assume that compatibility with 49mm tall modules makes sense for most users with constricted installation space. Corsair Dominator is unlikely to fit, but more sensibly sized modules likely will.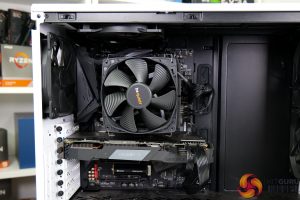 Total weight of the CPU cooler is 945g, which is not particularly heavy for a high-end, dual-fan unit.
be quiet! attaches a 3-year warranty to the Dark Rock TF 2 which ships at £79.99 or 85,90 Euros.
Specifications and Features (taken from manufacturer webpage):
Extremely high cooling performance with 230W TDP
Two heat sinks with anti-vibration rubber inserts
Six high-performance 6mm heat pipes
Silent Wings 3 135mm with funnel shaped air-inlet and a Silent Wings 135mm for virtually inaudible operation of max. 27.1dB(A)
Optimized mounting system makes for an easy installation
Special black coating with ceramic particles enables perfect heat transfer
Brushed aluminum top cover for elegant look
Three-year manufacturer's warranty
Product conception, design and quality control in Germany
Be sure to check out our sponsors store EKWB here