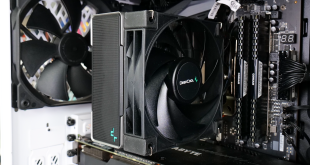 DeepCool has proven its ability in designing and manufacturing a range of competitive coolers. We have examined the vendor's premium single-tower units, high-end dual-tower air coolers, and eye-catching AIO liquid coolers. This time, we are looking at the wallet-friendly AK400, a 120mm-class air cooler that costs less than 35 Euros.
In terms of accessories, DeepCool includes mounting hardware for modern Intel and AMD mainstream platforms. There is also a spare set of metal fan retention clips if you feel the need to upgrade to a dual-fan setup in the future. No tube of thermal paste is supplied as this is pre-applied to the cooler's base.
DeepCool uses a 120mm-class heatsink as the foundation for the AK400. The raw aluminium fin array is sensibly sized at 120x45x152 mm. Four 6mm copper heatpipes shift energy away from the CPU heatspreader.
These heatpipes are deployed in the Heatpipe Direct Touch (HDT) approach, as we often see from lower-cost coolers. This is a sensible move by DeepCool. DeepCool does, however, squeeze the central two heatpipes closer together than the outer two. This is designed to bias heat extraction potential towards the centre of a CPU's heatspreader, which can possibly make a difference depending on your specific Intel or AMD chip.
The fin array itself is manufactured using a 'matrix array design' according to DeepCool. There are areas where some fins jut out further than others. This will control the pressure profiles throughout the fin array, to some extent.
DeepCool deploys its 120mm Fluid Dynamic Bearing fan for use on the AK400. The speed range on the 4-pin PWM control curve is 500-1850 RPM, which is pretty good for a budget cooler. Though it is – unsurprisingly – outdone by Arctic's competing A35 series coolers.
Gunning for a no-nonsense design that focuses primarily on performance and cost, DeepCool uses a reasonably good-looking all-black fan but opts not to run any form of RGB lighting. There is, however, provision for noise reduction, as the fan is mounted to the heatsink with rubber contact dampers.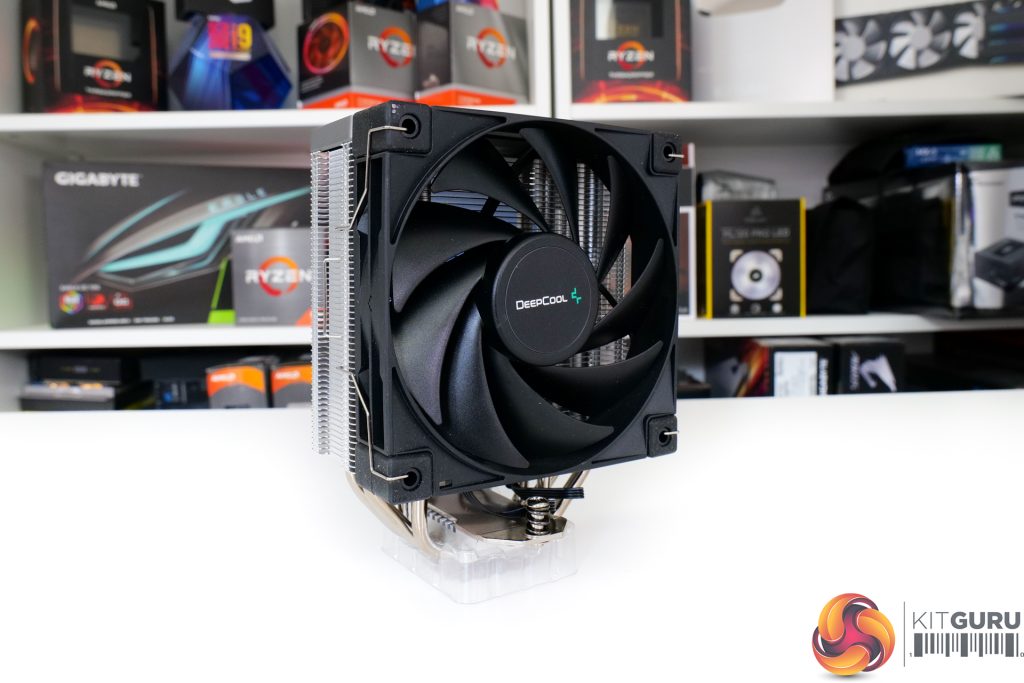 With a 50,000-hour rated operational lifespan for the FDB fan, DeepCool looks to be middling for a budget cooler in that number.
Warranty is three years, which is OK for a simple air cooler. But as a comparison, the likes of Arctic and SilentiumPC are offering up 6-year and above warranties on their competing, budget products. So DeepCool does look to be lacking in this department.
Pricing for the DeepCool AK400 is 34.90 Euros which should translate into around £30-33 in the UK. According to DeepCool, there is also set to be a white version of the cooler available in June 2022.
AM4 installation for the AK400 is straightforward and was simple enough with a pair of hands.
Four orange retention plastic pieces hold the default AM4 backplate in position. The metal bracket is then screwed into position using the specific AM4 mounting holes. With the fan removed, the AK400 heatsink can be screwed onto the retention bracket. No thermal paste handling is required as it is pre-applied to the cooler's base. The 120mm fan is then clipped into position and connected via its 4-pin PWM cable.
The overall mount is solid and the small stature of the cooler means that RAM and VRM interference looks to be a non-issue for most sensibly laid out motherboards.
Be sure to check out our sponsors store EKWB here