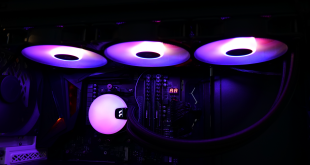 Fractal's new Lumen All-In-One (AIO) liquid coolers are aiming to offer high-end cooling performance and premium ARGB lighting at an attractive price point. Available in 240, 280, and 360mm versions, we are focusing specifically on the flagship 360mm Lumen S36 RGB priced at £112.99 in the UK.
The key feature of Fractal's new Lumen RGB series of coolers is clearly the lighting design. Brand new Aspect fans emit an RGB colour spectrum glow, while the water block cover plate is in essence a full-sized lighting board; LEDs located beneath the plastic cover provide significant levels of RGB light.
One interesting aesthetic feature is the ability for the water block cover plate to be repositioned at 90-degree intervals. This ensures that the Fractal logo is displayed upright, no matter your AIO cooler block mounting orientation. While a good idea in practise, the ARGB lighting cable can only be installed on one side, so the benefits of rotating the RGB cover are somewhat offset by limited cable management abilities.
Looking at the radiator, it is a conventional 27mm thick aluminium design. This comes as little surprise as it is basically the go-to option for off-the-shelf AIO liquid coolers from the major OEMs. Fin density is what I would describe as standard and the colour is obviously a deep, consistent black.
Emerging from the radiator are the cooler's pair of 400mm-long liquid tubes. Low-permeability rubber with a braided nylon sleeve are used to provide function and form.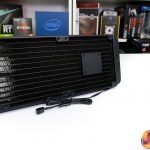 One interesting design feature is the positioning of the powered pump within the radiator fin array. This is likely a design decision intended as to not infringe upon the Asetek patents. Fractal makes reasonable effort to allow a user to hide the 4-pin power cable with routing slots on both radiator side walls.
The pump is rated at 4000 RPM and uses a ceramic bearing type, but it lacks PWM speed control which is a major downside versus (more expensive) Asetek competitors. MTTF is rated at 50,000 hours, which is decent enough when coupled with the reasonable 5-year warranty.
At 43mm block height and 67mm diameter, the compact unit should fit well inside confined motherboard areas. A copper coldplate is used for CPU contact and this comes with pre-applied thermal paste. Intel and AMD mainstream platforms are supported, but there is nothing for Threadripper.
The tubes that enter the compact block unit are able to rotate by 90 degrees, thus allowing more flexibility with the install.
Fractal equips the Lumen S36 RGB with three of the company's new Aspect 12 RGB PWM fans in 120mm form.
These seven-blade, rifle bearing blowers utilise a semi-opaque white colouring alongside six hub-mounted RGB LEDs to create their ARGB lighting appearance. Their rated MTTF is 90,000 hours.
The 4-pin PWM cable allows for a speed control range of 500-2000 RPM, which is strong on the low-speed side of things. And Fractal smartly includes a daisy-chain approach for connecting the 3-pin ARGB and 4-pin PWM cable of each fan. While smart in practise, the cable lengths are needlessly long given that each fan will be sat directly next to another, and this adds some cable management burden.
Fractal's OEM for the liquid cooling hardware is Apaltek, and we got it confirmed that this is their 3rd generation design.
Installation is as straightforward as we would expect for a quality AIO cooler, especially as the default AMD backplate and retention brackets are used.
Once you switch out the default Intel block bracket to the included AM4 option, it is simply a case of tightening the block in place and then fitting the radiator and fans to the chassis.
Once the cooler is installed, the visual appearance is very good. That is the case thanks to minimal cabling being required from the motherboard, thanks to the daisy-chain design.
RGB lighting control is handled by all of the main motherboard vendors' go-to programs, in addition to Razer's RGB solution. I personally prefer this approach – as opposed to using a cooling vendor's dedicated software. It's more seamless and enables better sync. However, some users with poorer motherboard control abilities may miss a dedicated RGB tool from Fractal.
Be sure to check out our sponsors store EKWB here