We are taking a look at a new 120mm-class CPU cooler that is very much intending to disrupt the budget end of the market – the SilentiumPC Fera 5 and the dual-fan version. Priced at a very competitive £24.99 for the single-fan version and just £5 more for the two-fan model, can these single-tower air coolers and their impressive 6-year warranty prove to be solid go-to options for budget buyers?
Watch via our Vimeo Channel (Below) or over on YouTube at 2160p HERE
Video Timestamps:
00:00 Start
00:15 Introduction
01:09 Unboxing and first impressions
02:52 Heatsink layout and TDP
03:52 A closer look at the fans
06:23 Installation procedure
08:08 Test setup
09:41 Noise and 40dBa thermals
10:37 PBO and 4.1GHz fixed results
13:42 Luke's final thoughts
Starting out with a look at the heatsink itself, SilentiumPC opts for a standard silver fin array that is representative of the aluminium material used.
The heatsink is asymmetrical by design and looks like it can be installed either way. However, SilentiumPC does mark 2 small arrows on the underside to indicate the intended airflow direction, as well as writing on the plastic top cover.
The fin array itself is 127mm wide, 110mm tall, and 52mm depth.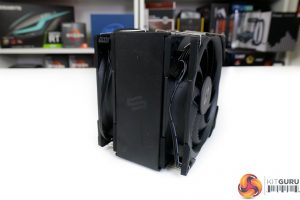 Adding in the plastic top cover increases the CPU cooler height notably. Installed on a processor, the Fera 5's net height is around 155mm, so there should be no major chassis interference headaches
I personally like the top cover. It is perhaps unnecessary from an actual cooling perspective, but the dark black finish and SilentiumPC logo do look good. This is a far better appearance than the tops of the bare copper heatpipes underneath, in my opinion.
Running through the aluminium fin array are four 6mm diameter copper heatpipes. These emanate from the Heatpipe Direct Touch (HDT) base in a U-shaped orientation. SilentiumPC positions the coolers at different intervals throughout the fin array to aim to distribute the heat energy more evenly.
According to the manufacturer website, the quoted TDP of the cooler is 220W – whatever that means. Realistically, however, I would guesstimate that the very small base dimensions will be a tough challenge to overcome at higher heat loads.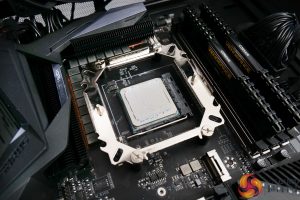 There are no gaps between the flattened copper heatpipes, like we see on other HDT coolers. So, the base sizing doesn't really cover an AM4 CPU heatspreader fully. But testing will show how much of an issue or non-issue this is.
SilentiumPC opts for 120mm fan units on the Fera 5, which is roughly what we would expect from a price point dominated by 120mm and 92mm coolers.
The Fluctus 120 PWM fan operates at a 300-1800 RPM speed range and is 4-pin PWM powered. Importantly, SilentiumPC highlights how the fan works in a semi-passive mode whereby the unit can actually stop spinning… motherboard fan function dependent of course.
Fan auto-stop is highlighted as below 5% PWM speed mode and start-up is at above 10% PWM point. Once again, this will heavily depend on your motherboard's fan control implementation. Check out some of Leo's recent videos for more on that topic.
The fans mount on rubber dampers to minimise noisy vibrations.
Utilising a fluid dynamic bearing design, the Fluctus 120 PWM fan has a rated MTBF of a highly impressive 100,000 hours. That's particularly impressive and corresponds to an absolutely superb 6-year warranty.
72 months of warranty coverage from a sub-£30 CPU cooler is outstanding! Kudos to SilentiumPC there!
Specifications and Features (taken from manufacturer webpage):
Developed with synergy cooling
High performance, long life Fluctus 120 PWM fan
Excellent acoustics
Fan stop – optional semi-passive mode
Asymmetrical heatsink
Direct touch heatpipes
Easy mounting system
6-year warranty
Pactum PT-3 thermal compound
Be sure to check out our sponsors store EKWB here