We all know that technology drives an endless progression of shrinks and optimisations. Normally, the effects are felt gradually over time. But every now and there's a mini-seismic shift in terms of what's possible at a specific prince point. KitGuru checks the Richter Scale for evidence of just such a shift.
When we caught up with Ann Keefe, Sales Director for Kingston, at the Digital Seasons event in London, she was happy to pose alongside a mini-treasure chest of products together with PR Guru Giulia Borracci.
However, there was a range of products missing from that chest, as we have just discovered.
Kingston has just announced a 128GB  Class 10 microSD card – which would be a significant addition to any smartphone – and a 256GB UHS-I SDHC card which has a claimed read speed of around 90MB/sec and a wrote speed of 45MB/sec.
"Kingston Technology is proud to launch these new high-capacity and high-speed memory cards," said Valentina Vitolo, Flash memory business manager, Kingston. "In a world where most users carry around more data than ever before on mobile devices, the larger capacities and faster speeds help ensure that customers have the best possible solutions available to them to streamline their mobile lives".
So, basically, instead of these products being available in the 8GB to 64GB or 8GB to 128GB ranges, you are now looking at a capacity of 100% more, across the board – with a lifetime warranty and the ability to operate at temperatures of up to 85 degrees C.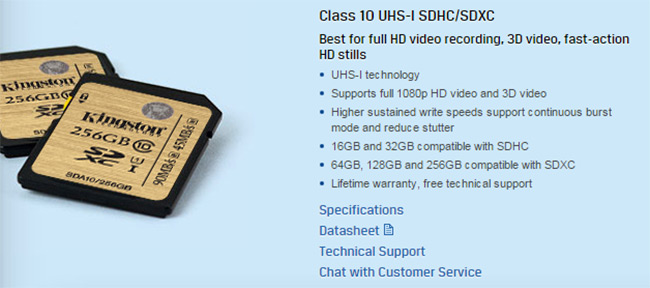 KitGuru says: At KitGuru HQ, we can all remember walking around with 512MB pen drives, thinking "This is all the memory in the world". But the juggernaut of miniaturisation never seems to stop. With the 65GB microSD cards weighing in around the £30 mark, they aren't bad value either.
Let us know what you think over on Facebook.