Case and power supply maker, Cougar, has launched a new line up of PSUs, known as thee GX V3 series, featuring high efficiency, a small form factor and modular cabling, so along with not ramping up your electric bill, it won't take up too much space in your chassis either.
Efficiency and environmental considerations are the name of the game with the new V3s, since not only are they rated 80 Plus Gold for efficiency, with a peak efficiency of 93 per cent, but they comply with new Eco-Friendly EuP regulation and support the Energy Star 5.0 rating. This means that when in standby, its energy usage is as low as 0.3 watts.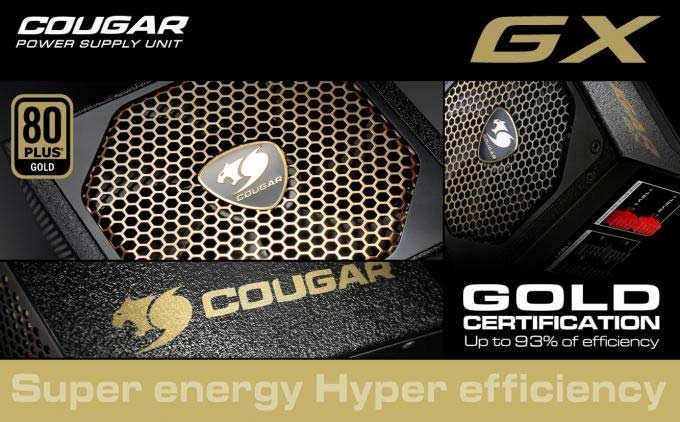 There's also a lot of gold styling, and you know what that means: they used gold paint on it. 
Available in 600, 800 and 1050 watt variants, the V3s also pack modular cabling, a large 140mm fan for cooling and 105 degrees Celsius rated Japanese capacitors, to ensure a long life of the unit. However, a cool unit and efficient unit is also a stable one, and the V3s are designed with that in mind too. While we'll still hold out to give the final verdict with our own testing, the Cougar PR rates its ripple/noise at less than one per cent.
US pricing is confirmed at $189 for the 1050w variant, $149 for the 800 watter and $109 for the smaller 600w unit. No UK pricing has been confirmed as of yet, but you can learn more on the main Cougar product page.
KitGuru Says: Anyone in the market for a new PSU?