Call of Duty games have a tendency to remake popular maps for its subsequent games, here's looking at you, Nuketown. This time, Sledgehammer Games is looking back to the very first Call of Duty, remaking the French map Carentan for modern audiences.
Carentan first appeared in 2003's Call of Duty (CoD), developed by Infinity Ward, the same developer that went on to also create the phenomenal success of CoD 4: Modern Warfare. While Carentan did make an appearance in 2005's Call of Duty 2, but this marks the first time that the map has received a significant remake.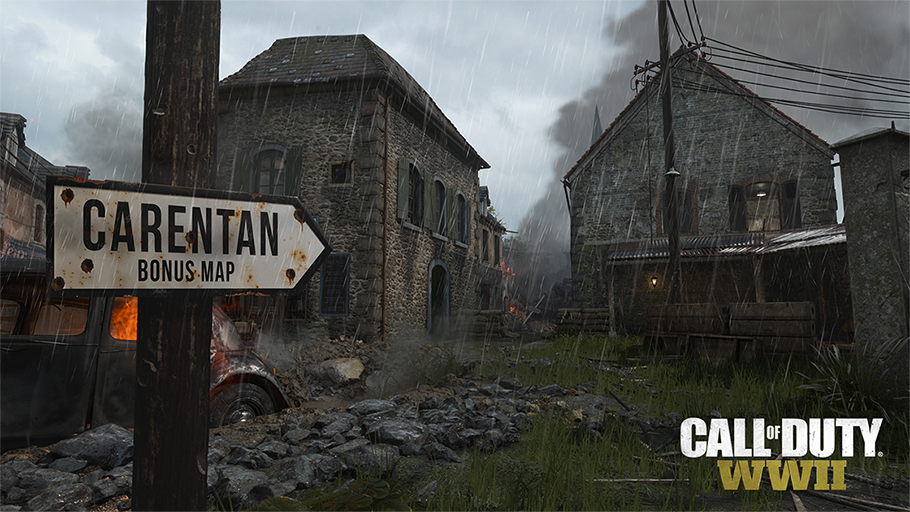 "Fight through the destroyed buildings and fortified streets of this war-torn French town in an all-out battle for a strategic German stronghold," describes Activision, alongside its brand new teaser image.
The new version of the map will be available when Call of Duty: WWII launches on November 3rd to Season Pass holders. Similarly inbound of Season Pass holders is 4 DLC packs throughout 2018, including multiplayer maps, Nazi Zombies maps with possible story additions as well as "all-new War Missions."
It is currently uncertain as to whether any of this DLC, including the Carentan map will become available for those without the Season Pass but Activision's press release does state that "Season Pass content may be sold separately."
Remaking maps has been successful in the past, and while many are tired of how often Nukedown rears its head, fans of the series enjoyed many Zombies map remakes throughout Call of Duty Black Ops 3, with its final map pack the 'Zombies Chronicles" including 8 maps from previous games.
KitGuru Says: I hope that CoD: WWII doesn't focus too heavily on remakes, but it's nice to see a map that hasn't been touched in years get a revival. Are you looking forward to playing Carentan? How many of you will be experiencing it for the first time?