AREA 35's Tiny Metal released last week, bringing the much-missed turn-based shenanigans of Nintendo's Advance Wars to multiple platforms including the Switch, PS4 and PC. Unfortunately, the title has been tied to lead director Hiroaki Yura's other venture, Project Phoenix, which has been delayed since its 2013 conception and houses allegations of embezzlement.
Before Tiny Metal, Yura took to Kickstarter to successfully fund Project Phoenix, a squad-based JRPG with real-time strategy elements involving incredible talent, such as former Final Fantasy series composer Nobuo Uematsu. The game broke its $100,000 goal by ten times, resulting in a budget of over $1,000,000.
That's why it was so surprising to its 15.8K backers that Project Phoenix was ridden with funding problems. Developer updates became stagnant, increasingly ambiguous and eventually shifted its release window by a hefty three years back in 2015, to a supposed 2018 launch.
While it is concerning how a JRPG with such a low budget, one which was broken ten times over, could possibly go through such development hell, Yura and the Creative Intelligence Agency (CIA) team were clear about their troubles, as well as the proposed method of funding the title via producing another game with third-party involvement.
This led to the creation of development team AREA 35 and the Advance Wars-inspired indie title Tiny Metal. Tiny Metal itself failed to meet its Kickstarter goal back in September 2016, which I had personally backed myself. To my luck, the game continued its development anyway, stating that its crowdfunding attempt was merely for extra trimmings on the title, such as game modes, units, multiplayer (which is still intended for Tiny Metal eventually), however, where did this money come from?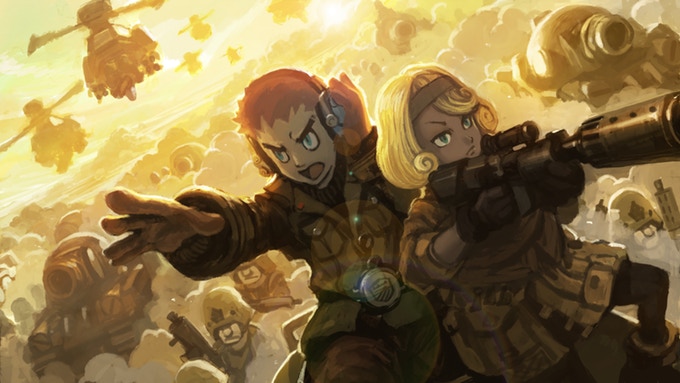 Tiny Metal concept art
Given its heavy connection to Project Phoenix, with most subsequent updates for the in-limbo title pertaining to Tiny Metal instead of the JRPG itself, backers of the former began to speculate that it was money from Project Phoenix that was funding Tiny Metal.
Former AREA 35 employee, Tariq Lacy released a statement last month publicly on Facebook, seemingly confirming the notion that money was embezzled to fund the second title at the expense of the first, that was apparently never intended for release:
Here's how it happened: after they received the Kickstarter money for Project Phoenix, they subsequently shut down their original company (Creative Intelligence Arts, or "CIA"), then used that same money to establish AREA 35 and pay for staff, equipment, and an office to make TINY METAL.
The company's CEO, Hiroaki Yura, asked me to deflect any accusations that this money was from anyone other than private investors; in actuality, Hiroaki only dipped into his own funds and asked for money from private investors after the funding that he had secured for TINY METAL was running low. I refused this request to fabricate and minimize the truth for the purpose of misleading others, then told Hiroaki to remove me from all matters regarding Project Phoenix so that I would not be implicated in this affair.
You will notice progress reports on the Project Phoenix Kickstarter blog, as well as their official Project Phoenix blog. These were written periodically by Hiroaki Yura himself in order to squander doubts that the project was dead. The nature of these blog entries, through their infrequency and intentional ambiguity, reveals to us that the project never was meant to be released. To Hiroaki, this ruse under the guise of a campaign and blog was merely an effective means to receive funding while removing any obligations to investors.
Despite inherent denial from Yura and his team, these feelings are prominent across Reddit, in which drama behind the scenes of both Project Phoenix and Tiny Metal are discussed at length.
"People thought [Tiny Metal] was a scam from the start," Yura said to Polygon. "We have shown legal documents to US Gamer, outlining our investors … you don't show those kinds of things as a company to other people. We felt so desperate. Why would we do this? If we didn't like our game or want to finish Project Phoenix … I don't know. It's really hard to be convincing when someone is pointing fingers at you and saying you did all this and have no proof."
Early concept art for Project Phoenix
Now, Lacy might face legal action for defamation as Yura is proceeding to compile a case against him. Yura claims in a Steam blog post that Lacy's "posting of his lies has caused great distress among his former co-workers," and that "it is truly a sad thing to see false and evidence-less accusations cause such great harm."
Moving on from this debacle, Project Phoenix is set to debut next year with Yura adamant that development will continue from the profits of Tiny Metal, in the free time that the team gets, as was always stated during the former's Kickstarter campaign.
Tiny Metal, itself, is a fantastic if niche game that brings back many memories of the long-gone Advance Wars series, from the turn-based combat with simplified crit-hits to the base capture and unit production. While I imagine it will be wonderful on home consoles and PC, I found myself purchasing it for the Nintendo Switch to truly get the classic portable feel of the titles that inspired it.
KitGuru Says: It seems that backers of Project Phoenix have already been asked to wait an uncomfortable amount of time with no clarity on when they will receive something back for their investment, but 2018 is the predicted year. Hopefully we will see more coming from the backer pages in the coming months. Have you been playing Tiny Metal? Did you get burned by Project Phoenix?