It feels like Blood Bowl 2 has been in development for a long time at this point, but we're finally less than two months away from its eventual release. To celebrate that fact, the developer Cyanide has been stoking the hype train's engines and now we can have a look at a new trailer which features not only new gameplay footage, but two new teams: the Chaos and High Elves.
[yframe url='http://www.youtube.com/watch?v=ugN-1pYYxJc']
Along with all of the visual upgrades this edition of Blood Bowl has – like the giant stadiums and much more detailed crowds – the character models showcased are quite lovely too. The Chaos team looks suitably brawny, with mutation upgrades like tentacles and a second head showcased in an obvious fashion. In-fact much of the gameplay seems more overt than it's ever been, with tackle zones highlighted, along with per centage odds rather than dice rolls making things that bit easier for newer players.
The interface and angle of play is quite different from Cyanide's original Blood Bowl title, released in 2009, with a cleaner UI and more spectator friendly view. This can be changed to a more vertical angle for better player coverage, but it all looks far more watchable now and a perhaps a little easier for console gamers to navigate.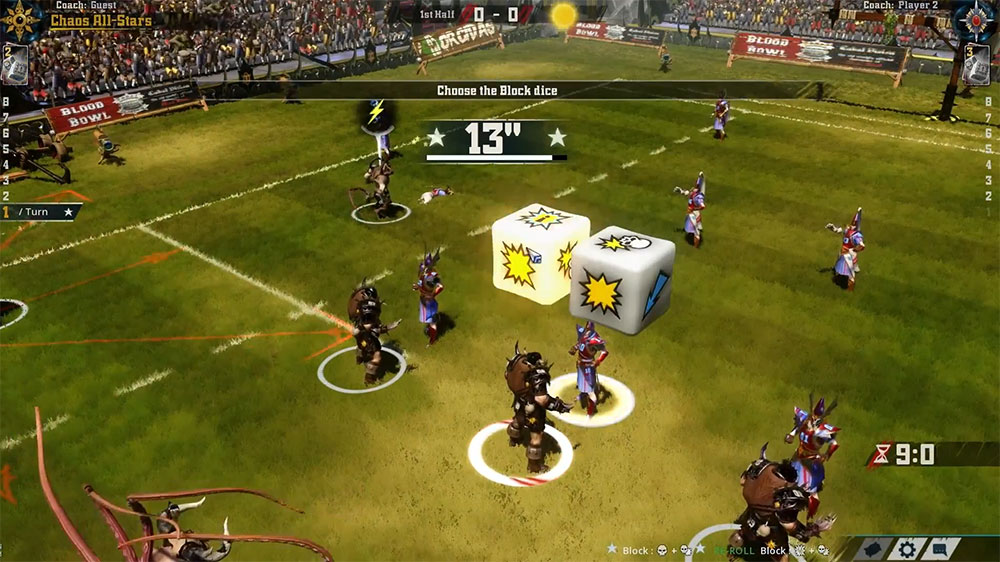 Dice that roll on the field itself are a nice touch
There's a few oddities in the trailer, like why whoever's running the game keeps trying to pick the ball up with a Minotaur, failing each time and fouls seem to happen immediately after a block in some cases. Here's hoping that those are just there to show what happens when a double is rolled, rather than an overhaul of gameplay.
Blood Bowl II is set for release sometime this June.
Discuss on our Facebook page, HERE.
KitGuru Says: I'll be loathe to ditch my long running teams from the original Blood Bowl, but as long as the game can be tweaked to appeal to long-time players as well as new ones, I'll happily move over to this one. It's very pretty.