Forget Zombicide, forget Shenmue 3, forget Exploding Kittens, none of them have received as much crowd funding money on Kickstarter as Kingdom Death: Monster 1.5 has. The dark and deep board game of unforgiving combat and settlement advancement has beaten them all and with less than two days to go, is edging ever closer to $10 million in pledges.
Kingdom Death: Monster 1.5, is an updated version of the original game which was Kickstarted back in 2012. Since then it's taken years of development and manufacturing to get a few thousand copies of the game and its miniatures out to backers and lately the developer, Adam Poots decided to make some more. So he took to Kickstarter once again.
What started off as a quick gold rush near the start of its campaign, steadied during the middle, but has now picked up again towards the end. Offering backers copies of the newly expanded core game, expansions galore, pin ups models, bases and a tonne of extras for their Kingdom Death campaigns, there's been plenty on offer and plenty of money sent his way in return.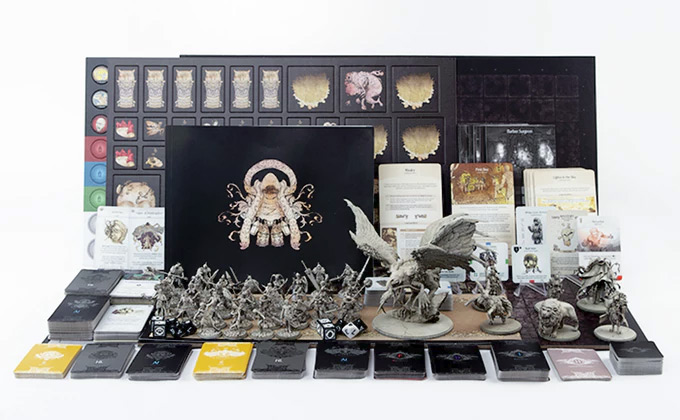 At the time of writing the total sits at $9,905,499, with 37 hours to go. That's more than a million more than Exploding Kittens, the previously most crowd funded game on Kickstarter (Star Citizen doesn't count, as it earned most of its money from after-campaign pledges). It also now sits as the fifth biggest crowd funding campaign ever, only beaten by the likes of the Pebble Watch's various campaigns and the Coolest Cooler.
More impressive however is that it's done this with just 17,250 backers. Exploding Kittens had more than 200,000, while other top campaigns like Shenmue 3 and Torment: Tides of Nimura had around 70,000 each. But then again, Kingdom Death is a $250 board game, even at a discounted Kickstarter price.
With less than 48 hours left in the Kingdom Death: Monster 1.5 campaign, the developers have announced a new crossover with the Pathfinder RPG. Players will be able to play Pathfinder-like survivors in the dark and deadly world of Kingdom Death.
Note too that Poots recently said there would likely be a one to three month delay on a  lot of pledges due to the popularity of the campaign.
Discuss on our Facebook page, HERE.
KitGuru Says: I've played some Kingdom Death before and while a little heavy on the bookeeping, it's great fun. The name seems really uninspired though for a game that has had so much time and thought put into it.