Seagate Technology on Wednesday introduced Samsung Spinpoint M10P hard disk drive, which features 4TB capacity and 2.5"/15mm form-factor. The drive will initially be used inside the company's external HDD products, but HDDs based on the same leading-edge platters will address other applications eventually.
Seagate, which acquired hard disk drive manufacturing assets from Samsung back in 2011 and continues to use this brand for select products, on Wednesday introduced two new Samsung-branded external hard disk drives that not only set a new bar for compact external storage, but also use 2.5" platters with record capacity of 800GB. In fact, the Samsung M3 and Samsung P3 drives significantly redefine Seagate's positions in the market.
Seagate's Samsung M3 Portable (with enhanced endurance) and P3 Portable (with sleek design) 4TB external hard disk drives are based on the all-new Spinpoint M10P 2.5" hard drive. The new external storage devices feature USB 3.0 interface (with up to 5Gb/s peak bandwidth), they weigh only 373 grams (8.3 ounces) and are only 19.85mm thick (0.78"). The drives require USB power and thus are pretty energy-efficient.
"Previously only attainable in desktop or bulky multi-drive internal designs, we can now achieve a 4TB capacity in a compact drive thanks to the latest Samsung HDD technology," said Dave Klenske, director of product line management at Samsung HDD.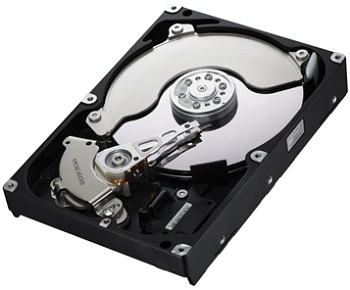 The Spinpoint M10P is based on five 800GB platters, which presumably use shingled magnetic recording (SMR) technology. The drive likely uses Serial ATA-6Gb/s interface, but other specifications, such as spindle speed, cache size and latency are unknown.
"The Spinpoint M10P 4TB hard drive enables this innovation with the highest aerial density, 800GB per disk in the world," said Doug DeHaan, general manager of Samsung HDD division. "With consumer demand for external storage capacity continuing to grow, the P3 and M3 4TB answer the increasing appetite for storage and are positioned to lead future capacity needs from the mobile market."
The biggest intrigue about the new Spinpoint M10P hard disk drives is the manufacturer of platters. For many years Showa Denko K. K., the last remaining independent producer of HDD platters and heads, has been manufacturing platters with the highest areal density in the industry. Earlier this year SDK introduced its eighth-generation perpendicular magnetic recording (PMR) platters for 2.5" HDDs that can store 750GB of data. Unless the company has quietly unveiled its new media for portable drives with even higher capacity, it means that Seagate made the new 800GB platters in-house.
Production of platters with leading-edge areal density is something that is hard to overestimate. If Seagate can mass product 800GB SMR media for 2.5" HDDs, it can also make 3.5" SMR platters with 1.5TB – 1.6TB capacity. Such media opens doors to enterprise-class six-platter hard drives with 9TB – 9.6TB capacity. Moreover, if Seagate can produce leading-edge platters itself, it will not have to buy them from Showa Denko and can therefore improve its profit margins.
The Samsung 4TB M3 and MP Portable hard drives made by Seagate will be available in late June through authorized distributors.
Discuss on our Facebook page, HERE.
KitGuru Says: 800GB platters for portable hard drives is nothing, but a breakthrough. It is unlikely that Seagate will use SMR platters for all of its drives any time soon because of performance concerns, but a 4TB 2.5" HDD is a remarkable achievement.