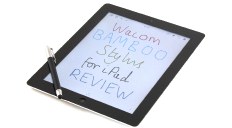 July 28th, 2011 at 8:00 am - Author
Many touchscreen devices these days are designed to be used with your fingers, therefore negating the need for a stylus.  But, in some circumstances, having a stylus to accompany your device is preferable.  For example, taking notes and sketching can be difficult with a finger but is much easier when you have a stylus.
Today we are going to look at the Bamboo Stylus from Wacom which is designed to be used in conjunction with an iPad.  It should work with any device with a capacitive touch screen, whether it be an iPhone or any other brand of tablet or phone.  We will be testing it thoroughly to see if it can justify its £25 price tag.
Features
Improves experiences with applications for sketching
Sophisticated black and silver design with satin-textured metal body
25 % slimmer tip than other solutions on the market (6 mm vs. 8 mm)
Weight-balanced design
Smooth soft conductive tip for best pen-on-screen feeling
Pen dimensions: 9 mm diameter and 120 mm length
Pen weight: 20 g
Exchangeable pen nib
Compatible with all media tablets using capacitive touch technology
Wacom Bamboo Stylus for iPad Review

,