While Android's ecosystem is flush with a variety of applications, its operating system adoption rate has always been noticeably slow when compared to its rival. Android Oreo seems to be no exception, finally hitting double digits 10 months after its release.
Although Oreo's adoption started off distinctly slow in comparison to its predecessors, taking five months to breach the 1 percent barrier, a recent surge in popularity has placed it back on track. Google's Android Developer dashboard showcases that the operating system managed to hit double figures 10 months after its debut, up from the reported 5.2 percent back in May. Currently Android 8.0 holds a 10.1 percent adoption rate while 8.1 sits at 2 percent.
This combined distribution of 12.1 percent pales in comparison to Android Nougat's 30.8 percent split across 7.0 (21.2 percent) and 7.1 (9.6 percent), but it does place Oreo higher than Nougat's 11.5 percent at 10 months into its lifespan. Despite being five years old, 4.4 KitKat still holds a respectable 12 percent distribution, showcasing just how ridiculously slow Android adoption can be.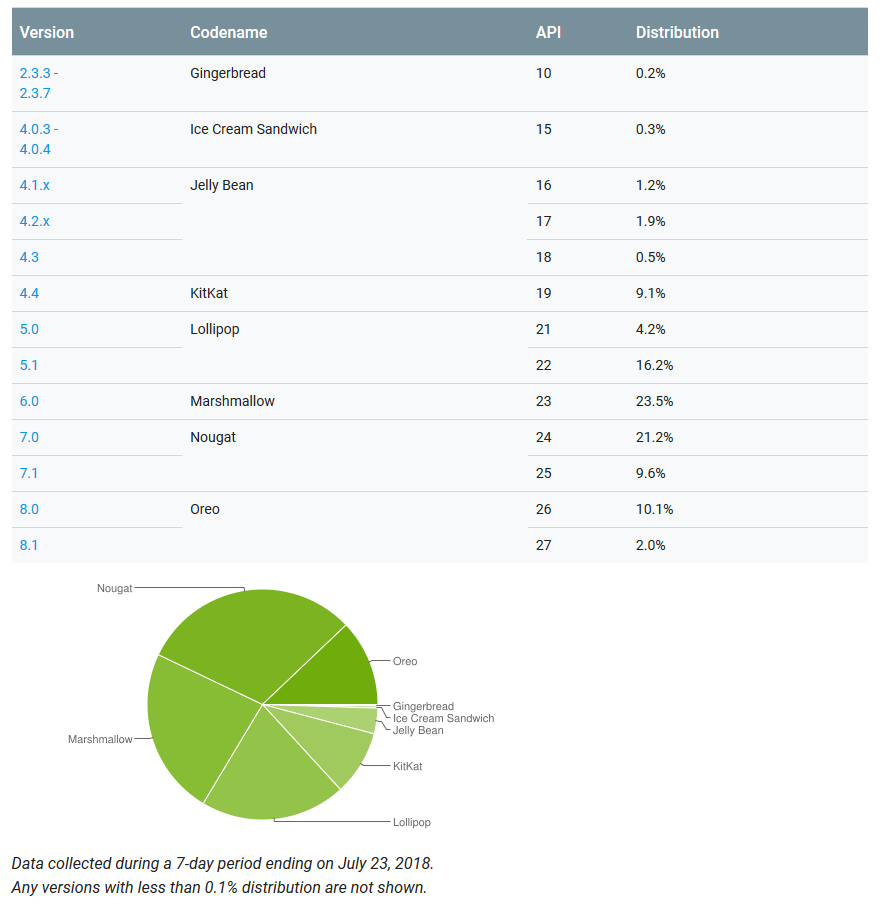 It's worth noting that the Android Developer dashboard relies heavily on Google's Play Store to collect its data, meaning all devices not running the proprietary software aren't included in the survey. This includes a significant portion of the market given the Play Store's omission in China, as well as Amazon's Fire line-up in the West. Older operating systems predating Android 2.2 are also missing from the list, meaning the table isn't representative of the overall distribution of Android.
In the majority of cases, it's certainly not the fault of users. The Android market is currently so fragmented that manufacturers often forgo significant updates on older pieces of hardware, leaving users high and dry. We've seen willing users struggle to get their hands on Oreo despite sporting brand new devices before, meaning it's the responsibility of the manufacturers and carriers to ensure the operating system is accessible.
KitGuru Says: Unfortunately, this trend is unlikely to buck itself any time soon, meaning Android users might have to get used to the operating system they are on. While this is perhaps for the best, with bugs running rampant in new launches, users should always be given the choice when an OS finally rolls out. How do you feel about the availability of new Android operating systems?