Over the past two years, the gaming chair market has become highly competitive, with several newcomers entering the market, posing a serious challenge to bigger brands. One such newcomer has been Nitro Concepts. Last year, we saw the company release its E200 and E220 gaming chairs and this year, they are stepping it up again with the S300, which launches today.
The Nitro Concepts S300 is built to appeal to all, with plenty of adjustment options to strike the right balance for comfort. While previously Nitro Concepts decided to forgo the lumbar support and head rest cushions, this time around, they are included. The seat of the chair now comes with a breathable cold foam, which should be able to withstand the test of time without flattening out.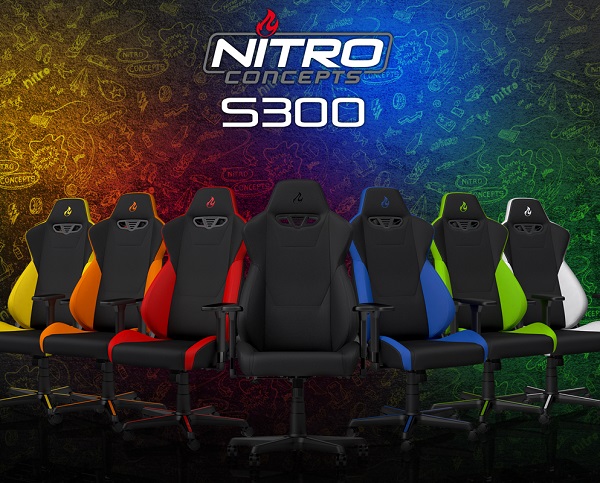 In terms of design, these chairs opt for a more 'open' approach. The S300 is a bit wider than previous models and aims to offer improved ergonomics and increase surface contact area. Right now, the main body of the Nitro S300 sits at 87cm in height with a width of 57cm. The main seat rests on a class 4 gas lift that adjusts between 48cm and 61cm, which should be perfect for most users.
The arm rests this time around are designed using polyurethane, allowing for more adjustment and better wrist support. Finally, the chair can also recline up to 135 degrees with an integrated rocking mechanism, so you can lay back while watching videos or perhaps playing a game with a controller.
The Nitro Concepts S300 Gaming Chair launches today at Overclockers UK. It is available in Black, White, Red, Blue, Green, Orange and Yellow colour options. Prices start at £229.99.
KitGuru Says: It has been a while since I've looked into new gaming chairs. Are any of you currently in the market for one? What do you think of the Nitro Concepts S300?