Razer is looking to help out during the coronavirus pandemic with a $50 million fund to support businesses impacted by the economic downturn. That $50 million fund will be deployed throughout 2020 with three main support arms.
Razer Co-Founder and CEO, Min-Liang Tan, commented that there are "many growing implications with COVID-19 on the global economy and it is affecting everyone from all walks of life". With that in mind, Razer plans to "support business partners", starting its own ecosystem, consisting of Razer Gold, Razer Fintech and zVentures.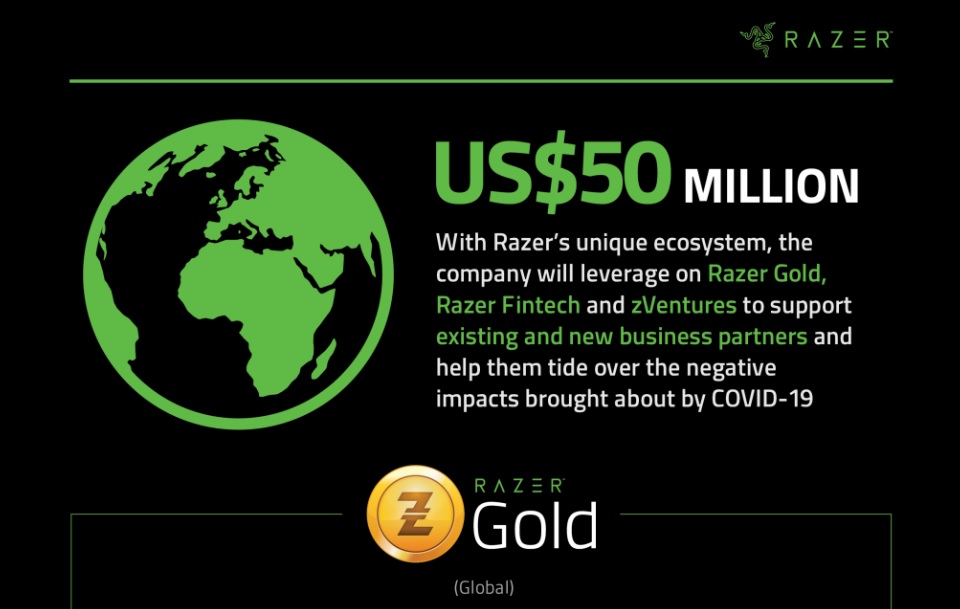 Razer Gold is one of the largest virtual currencies for digital content. Using this, Razer is going to provide support for current and new content partners with marketing contributions and other immediate cashflow relief measures, including cash pre-payment, rebates, special rates and other potential investment opportunities.
Razer Fintech is an offline-to-online digital payment network set up in Southeast Asia, which has been used to process billions of dollars since launching in 2018. Here is how Razer plans to leverage this arm of business to help others during COVID-19:
"Razer Fintech's B2B vertical, Razer Merchant Services (RMS) will help new and existing merchants and platform partners via cashflow assistance, fee waivers and customized marketing programs for essential services and online businesses. Razer Fintech's B2C vertical, Razer Pay will offer special packages such as reduced rates and value-added promotions. In addition, Razer Fintech will selectively explore potential investment opportunities with startups and businesses."
Through this, Razer should help with saving Fintech jobs, lowering business costs, facilitating sales and stimulating funding for companies that would benefit from this program.
Finally, zVentures is Razer's corporate ventures arm, focusing on investments. Through this, Razer will focus its investment efforts on companies with technologies dedicated to fighting COVID-19 or supporting people affected by the pandemic. This includes companies focusing on "autonomous food and beverage, delivery and logistics, and healthcare".
Discuss on our Facebook page, HERE.
KitGuru Says: It has been good to see companies in the tech world stepping up to support during these uncertain times. Hopefully this $50 million will go on to do a lot of good and we can get the world returning back to normal within the months to come.