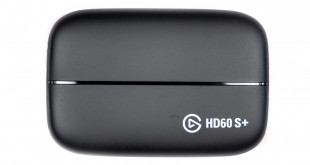 Replacing the original HD60 S, today we are looking at Elgato's new HD60 S+ capture card. This new and improved external card offers some great improvements to the old tried and tested design, with features including 4K 30FPS capture, 1080p 60FPS with HDR 10-bit recording capabilities, and finally it even offers 4K passthrough. This card looks to be great solution for not only streamers, but also for DSLR film makers. Let's dive in!
Watch video via Vimeo (below) or over on YouTube at 2160p HERE
Specifications:
Capture resolutions of 2160p30, 1080p60, 1080p30, 1080i, 720p60, 576p, 480p
HDR (High Dynamic Range) capture
10-bit recording for 1 billion colours
Dimensions 112 x 75 x 19 mm
Weight 115g
External capture card
1x HDMI in
1x HDMI out
1x USB C in to USB 3.0 out
4K Capture Utility for recording
Compatible with all broadcasting/recording software for streaming

The Elgato HD60 S+ has launched today, and you can buy it from Overclockers UK for £189.95 HERE.
Pros
4K30 ability makes this a great external recorder for video.
Small, light and portable.
Perfect choice for streamers that use console.
HDR and 10-bit recording for a much better image quality.
4K Capture Utility is great for recording footage.
Ability to use your broadcasting/recording software of choice.
Cons
Only comes with 1x HDMI 2.0 lead.
4K Capture Utility has no use for streamers (but you can use other software).
KitGuru says: With the new 4K passthrough technology, the HD60 S+ is a great option for any PS4 Pro or Xbox One X streamers as it lets you stream at 1080p or lower, while continuing to game at higher resolutions. We're more excited by the fact that this card offers 4K 30FPS recording, despite only being stated in the small print, as this opens up huge doors for video makers filming from DSLR/mirrorless cameras at 4K 24/25fps.
Be sure to check out our sponsors store EKWB here