Innodisk, a leading manufacturer of special-purpose DRAM and NAND flash products, has introduced its new breed of memory modules with conformal coatings applied are protected from moisture, dust and chemical contaminants. Such modules are useful in extreme environments, including industrial, embedded, automate and so on.
Innodisk conformal coatings refer to chemical materials applied in layers as thin as 0.03mm, and up to 0.13mm thick onto the surface of the DRAM modules, to create a protective film for components. The coatings on the modules protect against moisture, contaminants, dust and acid-or- alkaline materials, in line with IPC-A-610 standards for electronic components. They also protect against issues caused by electrical or thermal conduction, static electricity, and heat.
Innodisk conformal coatings use materials – such as acrylics and silicones – from HumiSeal, a leading supplier. They are then processed and applied at Innodisk's in-house production facility. The tightly controlled QA process eliminates the chance of contamination or damage that typically occurs during third-party handling and transportation. Innodisk quality control also ensures that coatings are applied with an even thickness, and avoid excess chemical buildup.
Traditionally, to create DRAM modules with conformal coatings module makers contacted external contractors. Innodisk claims that it has integrated coating into its production flow, which allows it to cover the modules with protective substances at its own factory once clients demand this.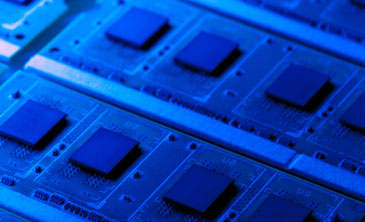 Reliability is an absolute requirement for industrial computers and their components when used in mission-critical applications. Innodisk conformal coatings completely cover the surface of the DRAM modules, except for the gold conductor interface. The coatings shield the DRAM modules from harsh environmental factors, and they increase the life and reliability of the entire system.
Innodisk conformal-coated DRAM modules are suitable for use in all applications where environmental challenges may be encountered, and reliability is critical. Applications include defense & aerospace, with conformal coatings that observe MIL-I-46058C standards; outdoor signage, where conformal-coated DRAM modules help systems withstand wind, rain and direct sunlight for real time data handling; embedded vehicle applications, enabling collection and recording of event data in real time, and while keeping the user connected to the Internet of Things (IoTs); and factory automation, in which conformal coatings can protect the system from water sprays, airborne dust and acidic materials.
KitGuru Says: While everything about conformal coatings sounds cool, it should be noted that to create a system that can really withstand moisture, dust and chemical contaminants, the coatings should be applied onto virtually all components…