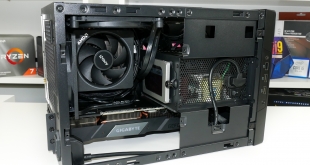 The SilverStone SUGO 14 is a Mini-ITX cube-style chassis that comes in at a compact volume of just under 20 litres. Despite the relatively compact mini-ITX design, you still get impressive hardware support; full sized tower air coolers can be installed, the chassis will take 240mm AIOs and ATX PSUs, and triple-slot graphics cards up to 330mm length are designed to fit. Of course, you also get support for the larger Mini-DTX standard of motherboard to go alongside the more common Mini-ITX options.
With a relatively modular design, £90 current price point, and seemingly good hardware flexibility, let's take a closer look at the SilverStone SUGO 14.
Watch via our Vimeo Channel (Below) or over on YouTube at 2160p HERE
Main features:
Supports 3 slot full length graphics cards with adjustable graphics card holder
Compatible with Mini-DTX / Mini-ITX motherboard & ATX PSU
Supports up to 240mm radiators
Modular design with 4 removable panels (top, left, right, bottom)
Different configurations support various storage components for 5.25″, 3.5″ and 2.5″
Front I/O port includes: USB 3.0 x 2, USB 2.0 x 1, combo audio x 1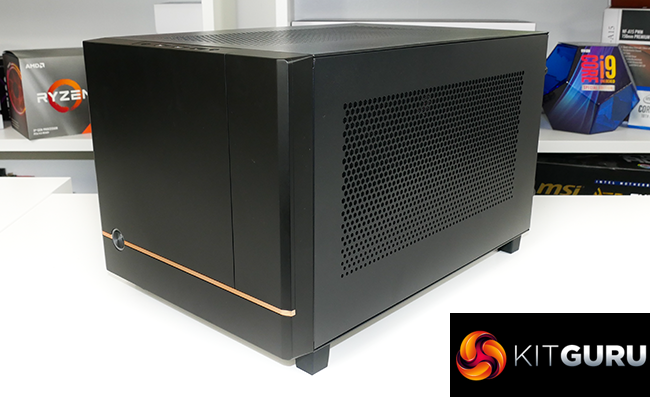 Specifications:
Material: Plastic front panel, steel body
Motherboard: Mini-DTX, Mini-ITX
Drive bay: External 5.25″ x 1 (without radiator and 3.5″ x 1 installed), Internal 3.5″ x 2 (without radiator and 5.25″ installed), 2.5″ x 3
Cooling system Front –, Rear 120mm / 140mm x 1 (120mm black fan x 1 included), Side 120mm / 140mm x 2, Top –, Bottom –, Internal —
Radiator support Front –, Rear 120mm, Side 120mm / 240mm, Bottom —
Expansion slot 3
Front I/O port USB 3.0 x 2, USB 2.0 x 1, Combo audio x 1
Power supply Standard PS2(ATX)
Limitation of VGA card Length: 330mm, Width: 148mm
Limitation of CPU cooler Air cooler: 182mm (without top fan), 240mm AIO water block: 55mm
Limitation of PSU 150mm
Net weight 4.89 kg
Dimension 247mm (W) x 215mm (H) x 368.1mm (D), 19.55 litres
Visually, the case is unique thanks to its cube design and relatively compact Mini-ITX form factor. The black colour scheme looks good and premium enough in my opinion and there is a white version if you prefer. The gold strip running in line with the power button is an odd choice of colour and, to me personally, it acts as a needless eye sore.
Dimensions are 247mm wide, 215mm tall, and 368.1mm deep. Weight is 4.89kg as the chassis is comprised of a steel body and plastic panels. You can rotate the chassis to have it either standing with the supplied and removable feet or have it in a laying down orientation with the IO ports facing upwards. Of course, this decision also depends on the hardware you install and your cooling configuration.
All four panels can be fully removed and this aids with installation ease during the build process or upgrades. Ventilation on the panels is quickly noticeable and looks to be well positioned to aid with sensible cooling.
Front IO ports are two USB 3.0, one USB 2.0, and one 3.5mm combo audio jack. No USB Type-C is highly disappointing.
There are three primary chassis fan mounts – one on the rear and two on the multi-purpose side panel if you don't install other hardware such as 3.5" HDDs there. These three fan mounts take 120mm or 140mm fans, but only a single 120mm black rear exhaust fan is included. No intake fans are supplied, which is a bit disappointing at the price point.
You also get a fourth fan mount for a 120mm unit via a top bracket. This can take a 120mm fan and is positioned to be useful for an exhaust fan to pull hot air expelled from a graphics card. Watch out for interference with this fan location though, especially with tall tower air coolers or thick side-mounted radiators and fans.
The SUGO 14 can take up to a 182mm tall air coolers without the top fan in the bracket installed. Of course, the top fan will reduce the maximum height and you also need to watch out for air cooler dimensions with the proximity to the rear fan and side fans
Liquid cooler support comes in the form of a 120mm unit in the rear and then a 120mm or 240mm unit on the side panel. I wouldn't recommend putting an AIO in the top 120mm fan mount as this looks needlessly complex and interference ridden. Importantly with liquid coolers, you need to watch out for pump height interference with the side mounted AIO coolers. SilverStone highlights a maximum AIO pump block height of 55mm, but this will depend heavily on radiator thickness and other factors such as motherboard CPU socket placement.
Graphics cards up to 330mm in length can be installed. SilverStone highlights a maximum width of 148mm. And the three PCIe slots allows two-and-a-half or triple-slot cards to fit inside. SilverStone also supplies an adjustable graphics card holder with the chassis. This helps to mitigate GPU sag via additional stress on the PCIe slot screws when using particularly long graphics cards.
The SUGO 14 is reasonably good when it comes to flexibility for storage configurations. You maintain support for 3x 2.5" SSDs throughout. By using the multi-purpose side bracket, you can also add: a 5.25" bay device with 120mm rear radiator capacity or a large air cooler, two 3.5" HDDs whilst still maintaining rear 120mm AIO support or substituting in an air cooler, rear 120mm and side 240mm radiators, or one 3.5" HDD with 120mm rear and side radiators.
A standard ATX PSU up to 150mm long can be installed. 150mm of length is quite constrained when looking at popular models around the 750W+ capacity from the likes of Corsair and EVGA. Of course, there is also a selection of high-quality units from the likes of SilverStone themselves and Seasonic that should fit fine, such as the Seasonic Focus Plus Platinum 850W or the 1.2kW SilverStone ST1200-PTS.
We went for an ASUS ROG STRIX B550I-Gaming Mini-ITX motherboard with a Ryzen 7 5800X CPU, Aorus plus WD_Black M.2 SSDs, and Corsair Vengeance LPX RAM. The install was as simple as usual thanks to the solid amount of space in the SUGO 14. We also had no real pain attaching cables – just make sure you connect IO cables prior to that internal 2.5" SSD as it can get in the way.
There is also plenty of room to deal with CPU cooler installation inside the chassis, even for big air coolers, thanks to the big rear cut-out. The build used a SilverStone ST-1200PTS. This is a 1.2kW 80Plus Platinum unit that is very compact at just 140mm long and therefore provides plenty of room for modular cables.
Graphics card installation is as straightforward as it would be inside an ATX chassis – just make sure you have pre-positioned the power cables. You can also use the adjustable GPU mount to prevent sag, as we did.
With regards to CPU coolers, we tried a 240mm SilverStone IceGem 240p AIO cooler, but it would not fit. This cooler uses a thick radiator and relatively inflexible tubing with a large CPU block. We could not bend the tubing appropriately to get the cooler to fit inside the SUGO 14. Make sure you watch out for radiator thickness, tubing flexibility, and pump block height when choosing your AIO.
We could not quite fit a Noctua NH-D15S Chromax.black air cooler as it was marginally too wide for the side panel when used with our motherboard. When I say 'marginally', I mean by a few millimetres of clearance. I would not be surprised if this cooler was able to fit inside the SUGO 14 when used with a motherboard with slightly different CPU socket positioning.
A sizable Be Quiet! Dark Rock 4 single-tower cooler fit inside the SUGO 14 comfortably, but it would not allow a side intake fan in the nearest position. This is a caveat that some people may be happy with. Instead, we opted for the down-draft AMD Wraith Prism RGB cooler that we know is a competent unit as this still gave room for the rear 120mm exhaust fan and the side 140mm intake.
Build feedback overall:
The overall build process was very easy and that is testament to SilverStone's design work. We had no steps that were particularly tough and even the usually laborious task of connecting motherboard cables was easy enough even with my big hands. Sharp edges, limited build quality, and questionable layout choices were not an issue.
Test System:
Processor: AMD Ryzen 7 5800X 8C16T CPU (operating in 65W TDP Eco Mode)
Motherboard: ASUS ROG STRIX B550I-Gaming
Memory: 32GB (2x16GB) Corsair Vengeance LPX 3600MHz 16-18-18-36 DDR4 @ 1.35V
Graphics Card: Gigabyte RTX 2070 Super Gaming OC 8G
CPU Cooler: AMD Wraith Prism RGB
OS SSD: WD_Black SN750 NVMe SSD
Games SSD: Aorus 2TB PCIe Gen 4 M.2 SSD
Power Supply: SilverStone ST1200-PTS 1200W 80Plus Platinum
Testing:
Testing is conducted with the fan speeds set at standard in the ASUS UEFI or a consistent percentage for the added be quiet intake fan. We run the Ryzen 7 5800X CPU in its TDP-reduced Eco Mode as this will be an interesting operating scenario for a mini-ITX chassis of this calibre. Plus, it eases the cooling burden of the Wraith Prism RGB cooler with the particularly hot-running eight-core Zen 3 chip. The Gigabyte RTX 2070 Super triple fan graphics card runs using its auto fan speed mode.
We should note that testing was conducted with the taller rubber feet mounted for my preferred horizontal orientation. Realistically, however, a user should install these taller feet on the side panel nearest the graphics card to allow for greater airflow clearance when using the case's vertical orientation. SilverStone also highlighted this point to us.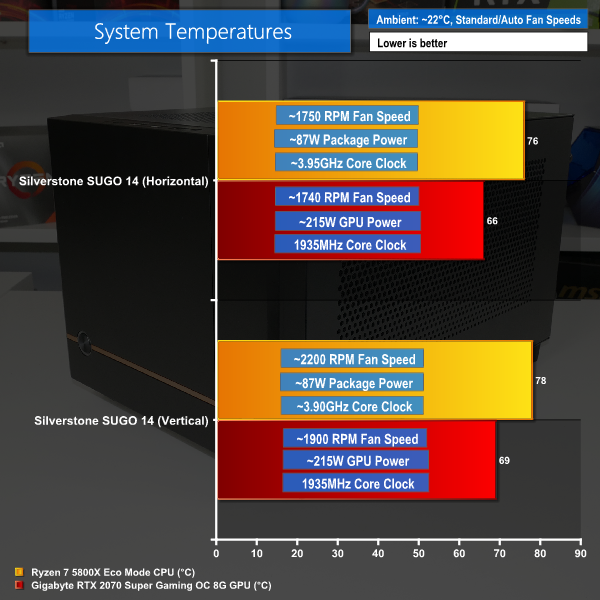 Looking first at my preferred orientation – horizontal chassis mount with the GPU getting fresh access to air, temperatures are solid for our build. The GPU keeps itself happy at around 66C whilst maintaining positive boost clocks of 1935MHz and a reasonable fan speed of a little over 1700 RPM. This is a good result for the GPU cooling and allowed the system to remain reasonably quiet in the SUGO 14.
The CPU runs at 76C with clocks in the region of 3.95GHz and an average CPU cooler fan speed of around 1750 RPM. Again, this is a reasonable enough result when using the AMD Wraith Prism RGB cooler for the particularly hot-running Ryzen 7 5800X even in Eco Mode.
Switching to the vertical orientation, let's have a look at how the cooling results differ. We can see that the temperature performance is vaguely similar, but the vertical orientation with our test hardware is slightly inferior. The CPU runs a little hotter, but importantly it drops 50MHz off its boost clock frequency and forces the CPU cooler fan to run considerably higher at 2200 RPM.
The GPU also runs a little hotter and with higher fan speeds, albeit with the same GPU boost clock. For the graphics card, this is a solid result given the limited clearance for airflow with the card sucking in through a small gap beneath the chassis.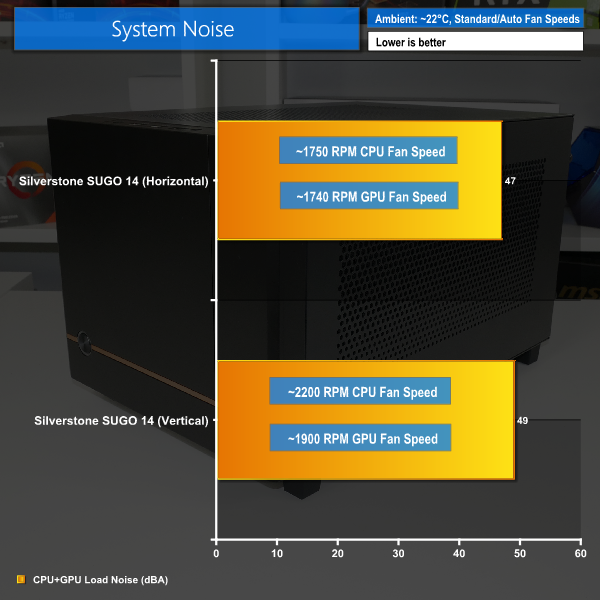 System noise output is obviously going to be more largely influenced by the hardware installed inside the SUGO 14. Noise suppression from the side panels is minimal and basically non-existent. However, the included SilverStone 120mm fan is not particularly loud, especially versus the partnering hardware that we installed.
Check out the video review for a better look at noise performance.
Closing Thoughts:
The SilverStone SUGO 14 is a solid case overall that has the design to handle particularly large hardware. Market leading graphics cards can fit inside, and SilverStone has been smart to also include the GPU support bracket for wide, thick, and heavy cards. I also like the vented side panel that is mounted directly adjacent to the GPU intake fans and allows a card to breath easily.
CPU cooling support is solid on paper, but there are limitations found in reality. If you want to install liquid cooling units, make sure to watch out for tubing flexibility, radiator thickness, and pump unit height. Likewise, air cooling support is not all plain-sailing and still depends on the exact positioning of your motherboard CPU socket and your individual preference for side mounted fans.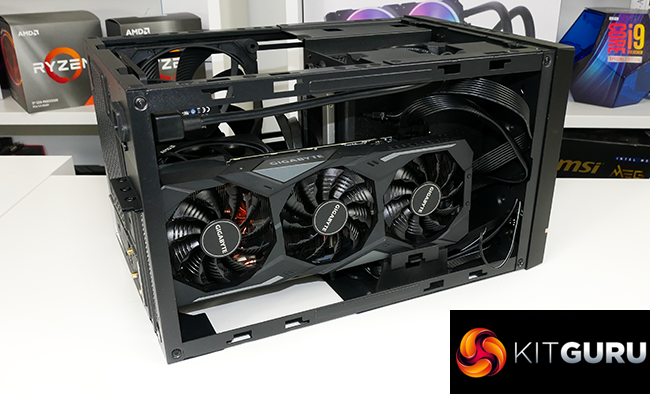 For storage capability, I like the always-available support for three 2.5" SSDs. The multi-purpose rail allows up to two 3.5" HDDs, which is a little on the slim side for a mini-ITX chassis of this physical size. However, 5.25" drive bay support is also a positive for some users and offers a reasonable amount of flexibility.
ATX PSU support will appeal to some, especially as there is plenty of room for accompanying cables. There is the argument that SFX PSU support would have been ample, but SilverStone fits the PSU mounting nicely into the chassis as it blends into the pre-allocated graphics card zone.
Build quality is absolutely superb and the side panel ventilation and sturdiness is very good. I was disappointed to see USB Type-C omitted from the front panel, but that is the only major area of concern with the SUGO 14. The ability to mount the chassis in a vertical or horizontal orientation is a cool feature that will certainly appeal to some. And the cooling – especially in the horizontal orientation – was strong in our testing.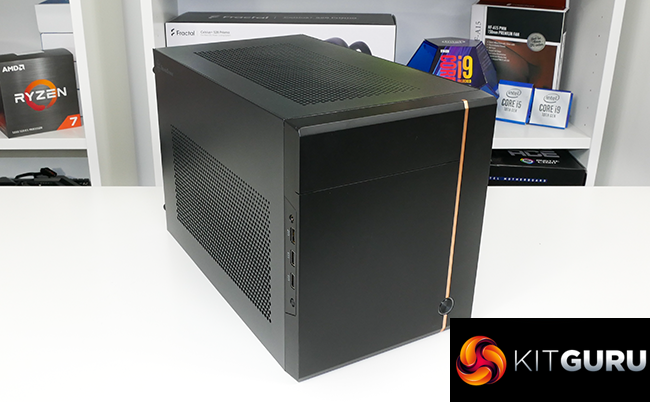 Available for around £90 currently on pre-order from Scan in the UK, I feel that the SilverStone SUGO 14 is a fair price. You get support for truly high-end GPU, motherboard, and CPU hardware, along with a good degree of cooling flexibility and decent enough storage capacity.
This is not a case that will appeal to home server and truly SFF mini-ITX geeks. But users wanting a relatively compact, cube-style chassis that supports two different mounting orientations, big CPU coolers, and market-leading GPUs are likely to be pleased.
You can pre-order the SUGO 14 for £89.99 HERE.
Discuss on our Facebook page HERE.
Pros:
Excellent graphics card support for Mini-ITX.
Good CPU cooling support.
ATX power supply capability may appeal to some.
Cooling performance proved reasonable.
Build quality is superb.
Two different mounting orientations.
Plenty of internal building space.
Cons:
No front panel USB Type-C.
SFX PSU support would have freed up more room for additional storage drives.
Quite strict limitation on CPU cooler width with the side multi-rail.
KitGuru says: A well-built, well-designed compact cube chassis that offers superb graphics card support and good cooling capacity.

Be sure to check out our sponsors store EKWB here