Lian Li is collaborating with PC Master Race for its new case. The O11 Vision will be available soon, featuring tempered glass panels and flexible configurations, designed to meet the aesthetic and performance needs of enthusiast gamers.
PC Master Race made a name for itself in the peripherals market with its own line of mice and keyboards. In collaboration with Lian-Li, PCMR has now provided insights to help craft the new O11 Vision case, while keeping costs reasonable. The O11 VISION offers a completely unobstructed view of the system with its top, front, and left-side tempered glass panels. The support structure along the glass edges has been eliminated. For structural support, the glass panels meet at the top left corner, held in place by a mounting key that aligns with magnets that provide up to 35kg of support force.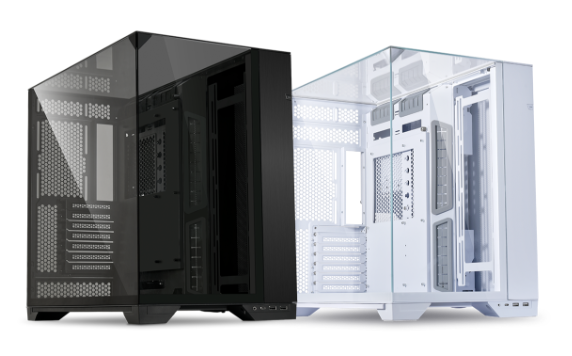 To enable different configurations, the case's motherboard tray is removable and can be repositioned for two different modes. In low mode, the case supports up to 2x 120mm fans and 1x 240mm radiator at the rear. In high mode, the case supports up to 3x 120mm/140mm fans and up to a 360mm radiator at the bottom removable bracket. For optimal bottom air intake, the base is elevated to 27mm, and with fans mounted on the bottom fan bracket, the height of the bottom fans can be raised to 40mm in total.
To keep your build looking clean, there is a second chamber to hide away your cables. The cable management bar is held in place by magnets, so you can route your cables neatly and keep them organised and out of view. You will also find a PSU mounting bracket that protrudes from the rear of the case by 15mm to provide more clearance in the second chamber for cables. Above the PSU, you can mount two drive cages.
The O11 VISION offers support for large components, including compatibility with up to E-ATX motherboards, 455mm long GPUs, and CPU cooling towers as tall as 167mm. It can accommodate a total of 5x 2.5" SSDs or 2x 3.5" HDDs, along with 3x 2.5" SSDs.
The O11 Vision is available for pre-order, priced at £130 for the White version or £124.99 for the Black version.
Discuss on our Facebook page, HERE.
KitGuru Says: Are you planning on building a new PC soon? Will you be picking up a Lian Li O11?