We have reviewed many of the Game Max lineup in recent months and today we take a look at the Game Max 'Titan' – a tower ATX case targeted towards the budget end of the spectrum (around the £65 mark) that includes three RGB Fans with an RGB and fan controller. How does the quality and performance hold up at the price point?

Specification:
Motherboard support: ATX, Micro-ATX, Mini-ITX
CPU Cooler Clearance: 175mm height.
GPU Support: 415mm length.
Expansion slots: 7.
Included fans: 2x 120mm front , 1x 120mm rear
Fan mounts: 2x 120mm/2x 140mm front, 2x 120/140mm roof, 1x 120mm rear.
Radiator mounts: 120mm/240mm front, 120mm/240mm roof, 120mm rear.
5.25″ drive bays: 2.
Internal drive bays: 2x 3.5, 3x 2.5.
Dimensions: 472mm length, 230mm width, 503mm height.
At first glance, there is no doubt that this is a very basic looking chassis. At the front of the case, the bottom half is equipped with a metal mesh, above which are the optical drive cut-outs. Along the top we also have the same mesh style with the I/O interface towards the front. This includes the fan speed controller, which offers 3 different speeds: OFF, slow and fast.
Overall, I would say that the chassis is well made. The main body is constructed from steel however the top and front panels are crafted from high quality, premium plastic. As I explained in the video above, I thought it was metal at first but upon further inspection it was evident they opted for plastic sections.
Another aesthetic choice Game Max made was the inclusion of an acrylic window side panel, which is a good feature as it gives you a clear view of all the hardware inside. We can't really expect higher grade tempered glass with RGB lighting at this price point.
The window offers a nice hazing effect to the hardware inside and is not too reflective – but you can tell it is plastic especially along the perimeter of the panel. A minor annoyance with this panel, is that it is held in place by six thumbscrews which makes removing it an unnecessarily long process. Some of the photos online show only 4 screws, but we checked with Game Max and they told us that the design moved to 6 holding screws as they felt it was necessary.
There is an included slide in dust filter at the bottom of the case for the power supply – this is the only dust filter that Game Max include with the chassis.
Inside the case we find a lot of space for high end components. Up to 415mm length for a graphics card and up to 175mm for a CPU tower cooler.
There is also support for 2 x 120 or 140mm fans at the top and front of the case and another 120mm at the back. In conjunction with the fan mounts you can also mount a radiator up to 240mm in these positions.
Attention should be paid to depth restrictions for the radiators though, as I measured 68mm of space at the front and 52mm clearance at the top. This should be more than enough for people looking at a case in this price range however.
Installing the radiators and fans is made simple by the fact the two metal meshes located at the top and bottom are removable by just pressing down on them – this is much more convenient than removing the entire top panel.
On the window side of the case you can mount two 2.5 hard drives in front of the graphics card. I find it strange Game Max never offered any mounting holes on the power supply shroud as I feel this would be an easier way to access the hard drives.
Moving to the cable management area on the right side we have a lot of room to manoeuvre. Cable routing is simple as there are multiple routing holes for getting the cable through to the components. There is also space for an additional 2.5 hard drive right below the CPU cut-out.
Along the bottom you have the power supply area where I measured around 190mm clearance for an HDD cage that will store 2 x 3.5 or 2 x 2.5 drives. This cage is not removable so do watch the power supply clearance, although I can't really see many people fitting anything much larger than a 190mm in this chassis.
It would be fair to say that the main feature of this case are the included RGB fans and RGB controller. The controller itself can be configured with up to eight RGB fans or led strips. They all seem to run on one channel so you can't control each RGB fan/ led strip individually, however at the price we need to keep our expectations under control.
The case also ships with a remote that allows you to control the lighting effects, change the colours and also the brightness. You can even turn them off entirely which is a welcome addition.
Unfortunately the remote is cheaply made and has a bad recognition sensor. Unless you point it directly at the sensor it will not work. Game Max recommend that you mount the sensor in between the mesh front plate and the fans. This did help but not enough to ensure it would always work – even from a couple of feet away.
If you want to avoid using the remote you can route the reset switch to the RGB controller and use it to change the lighting, however it's a bit difficult to use and you have to cycle through the effects to get your desired choice. You will also lose the functionality of the reset switch as it will just control the RGB devices.
As for the fans themselves, they are actually really good as they offer lots of colours and lighting effects and are not too loud either. The fans are 3 pin, but you can connect them to the fan speed controller located on the top where the front IO is – this is convenient if you can't be bothered fiddling around with BIOS control.
Testing
For testing I used Aida 64 and Unigine Heaven combined for a total of 10 minutes. Fans were set to high as there is not much of a noise difference between them. The test system specs are listed below:
Test System:
Processor: Intel Xeon E3 -1246 (stock speed)
Motherboard: Asus Gryphon z97
CPU cooler: Coolmaster Sedion 240V top mounted
Memory: Corsair Vengeance 2133mhz
Graphics card: GeForce GTX 1080TI Founders Edition
Power supply: XFX Pro core edition Bronze 850W
Storage drives: Samsung 850 120, Drevo X1 240gb
OS: Windows 10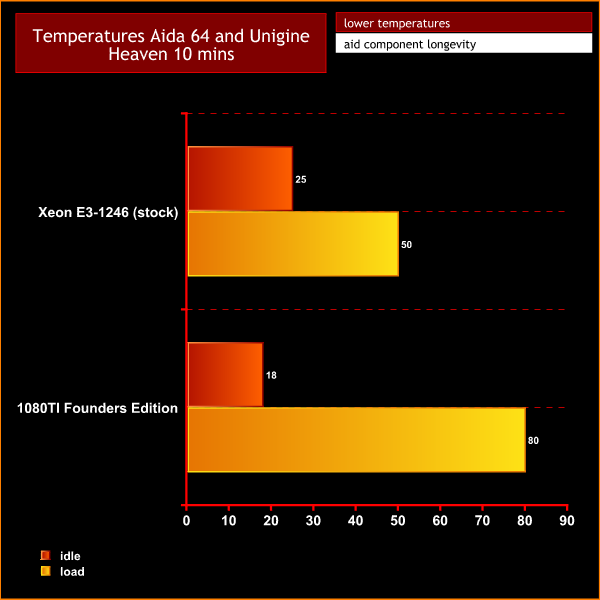 As you can see temperatures are completely acceptable, cooling should not be a problem.
Closing Thoughts
Overall my opinion of the Game Max Titan case is positive. It has a high level of hardware support and incorporates welcome features such as an RGB remote and fan speed dial. It is a pretty good looking case for the price and the window will be welcomed by the target budget audience building a colour coordinated system.
I am not a big fan of acrylic panels, but at £65 it might have been a tough ask for Game Max to include a glass panel along with all the RGB features.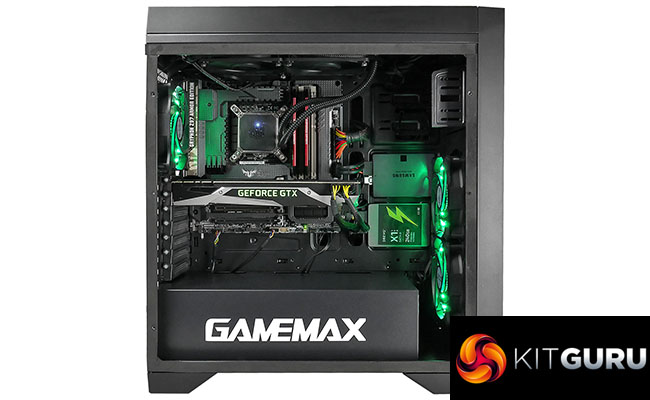 The RGB controller is a nice inclusion but the remote that comes with it could use a little more work in terms of quality and signal detection. I almost wish it was just integrated into the top I/O panel instead of being separate seeing as you can't really use it from that far away anyway.
The RGB fans themselves are great, lots of effects to choose from and they push plenty of air without making a ton of noise.
Thanks to the high airflow, the internal temperatures are well controlled and there is good radiator support. It is a shame Game Max didn't move the optical bays elsewhere though because that would allow you to fit a 360mm radiator along the front.
This chassis is targeting the enthusiast hardware user with a restricted budget. The Titan case is very functional and has features that generally cost more money, such as the RGB and fan controllers. Ultimately if you like the look of the Titan and want something that will handle larger, hot running components, it gets our unreserved approval. It really is a bargain at only £65.
We have found the case for only £66.95 from CCL ONLINE in the United Kingdom HERE.
Pros
Includes RGB Controller and fan speed controller.
Three RGB fans included.
Only £65 in the UK.
240mm Radiator support.
Solid cooling performance.
Good hardware compatibility.
removable meshes to allow easy installation of fans.
Cons
RGB controller remote is not the best of quality and has detection issues.
No 360mm radiator support.
Only one dust filter.
RGB fans only 3 pin.
Acrylic window not glass.
Kitguru says: The Game Max TItan is another great high value case from the company with fully customisable RGB support. At only £65 in the United Kingdom it is quite the bargain.